Although the majority of the machines produced in the present day are computerized or fully automated, mechanical sewing machines still have a substantial role in a sewing world. It may not have the precision that of a fully computerized sewing machine nor the added features, but it is somehow preferred on a large scale by the beginners as well as the intermediate seamstresses.
Mechanical Sewing Machine Review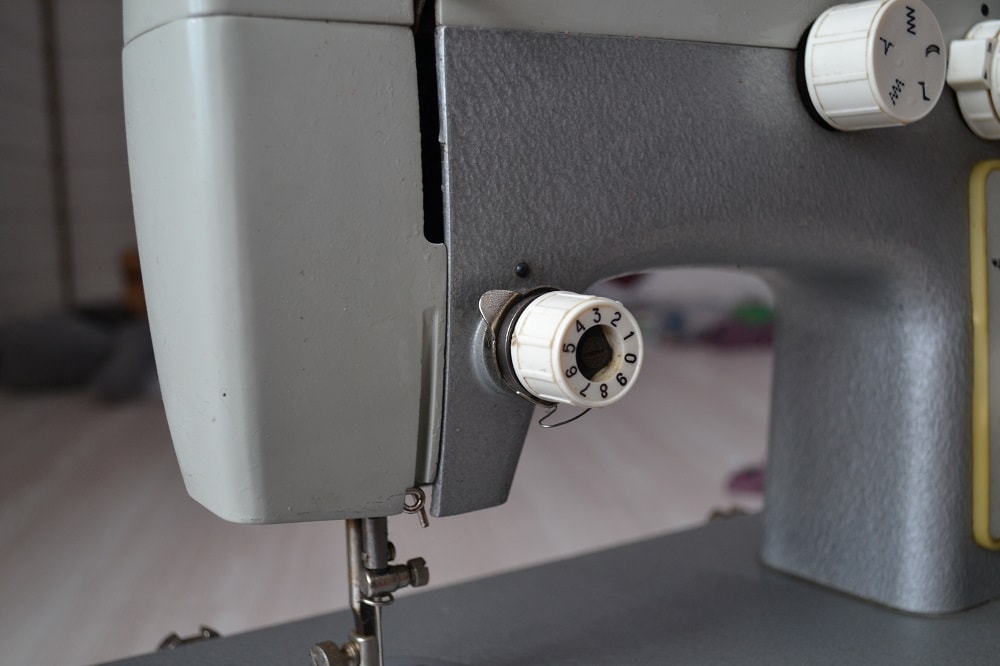 Considering its high demand, we decide to take a shot at some of the best mechanical sewing machines available on the market. But before we jump on to conclusions and talk about sewing machines in detail, we would like to shed some light on the sewing machine category. Along with some basic knowledge about the topic, we also include some tips that might help our readers to pick out the best sewing machine that suits their needs.
Before we can move any further, let us know what exactly a mechanical sewing machine is!
A machine with all the basic amenities which are then made available with simple knobs and levers is said to be a mechanical sewing machine. It may not have the precision of a fully computerized sewing machine but it is, without a doubt, more cost-efficient and affordable as compared to its counterparts from other categories. Also, these machines don't horribly go wrong when it comes to precision. It is just a matter of square inches at times.
Advantages of using a Mechanical Sewing Machine
First of the many advantages of using a mechanical machine has to be its price. The cost of these machines is very low. The cheap prices of these machines attract a lot of beginners and intermediate seamstresses. Not surprisingly though, it is also preferred more by the part-time seamstresses who do not know how long their sewing expedition would last.
A computerized sewing machine is sure of having a motherboard and a lot of micro-chip processers and more such technical terms. A glitch in any of the tiniest parts would force you to replace your entire system with the new one. However, with machines that have knobs and levers, one is prone to spend a lot less in terms of getting a repair done. Thus, maintaining a machine with levers is a lot easier than of taking care of a fully automated sewing machine.
You can hardly argue with the quality of the stitch and the overall productivity of a mechanical sewing machine. Some of the high-end mechanical machines have the ability to handle any project thrown at it regardless of the thickness of the fabric. In other words, it is safe to say that some of these machines are absolute workhorses depending upon a product from a trusted brand.
Although there are some really non-ignorable perks of using a mechanical machine, it does come with its own set of flaws. Not everything you see or use is pin-point perfect. These machines are no different. We figure out some of the drawbacks that one might have to face while using a mechanical machine.
Drawbacks of a Mechanical Sewing Machine
One thing that forces a lot of professional seamstresses to settle down on computerized machines is the lack of built-in stitches. With computerized models, one gets to browse through a thousand built-in stitches. Also, almost all of these machines give the users the liberty to download designs with the help of the internet. These features are however absent in a mechanical machine.
Just like there is a scarcity of built-in stitches, one can figure out that there is indeed a lesser number of buttonhole styles. This can put off a lot of seamstresses who wish to add a dash of creativity and freshness to their projects.
Last but surely not the least setback we figured out on a mechanical machine was its ease of use. Mechanical sewing machines can be a tricky to set up as one has to manually tinker with all the dynamics. However, computerized sewing machines are smart enough to perform tasks at the touch of a button. This features might somewhat keep a restless beginner far from a machine that works mechanically.
Now that we are acquainted with all the basics, perks, and drawbacks of the sewing machines from the mechanical category, we can now take a dig at some of the best machines available on the market.
To be fair, it can be one of those models that will stay with you for a very long time without you having to complain about its inefficiency to produce outstanding results. Singer 4423 is an out and out sewing machine that can be apt for all your sewing demands. Right from small alterations to going past multiple layers of toughened fabrics, the machine holds the strength to put a basic industrial grade machine to shame. It is, without a doubt, one of the best machines that a seamstress can have for the domestic use.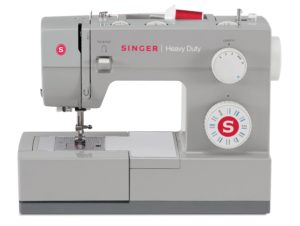 Although it is a mechanical machine, it can compete with a basic automatic sewing machine with all its fairness. It is easy to understand and easier to use. Also, it is incredibly fast and can undertake an extensive range of projects without complaining. The fact that it comes from a reputed company like Singer adds to its selling value.
Specifications & Features: It is a mechanical machine that offers, not many, but a sufficient 23 built-in stitches that include decorative, basic, stretch, and buttonhole stitches. It is inherited with an automatic needle threader to ease of the workload from the users. It is built with a heavy-duty metal frame from the inside and toughened plastic body on the outside that assures sturdiness and vibration-less sewing to the users. The 60 percent powerful motor also reflects on the speed which is clocked at 1100 stitches per minute.
It is weighed around th15-pound mark which is fair considering that it needs to be taken to the classes. It comes with a lot of basic sewing accessories including four sewing feet viz. basic, buttonhole, zipper, and button sewing foot. Singer inflicts a 25-year limited warranty on its product which speaks more of the performance of the machine in the longer run.
Our Expert Opinions: Singer 4423 can be a perfect choice for the home user who has to deal with a wide fleet of fabrics. Right from leather to cotton, the machine is capable of dealing with stubborn fabrics without causing any sorts of hiatus. Also, it can deal with multiple layers of fabrics with utmost ease. It stands true to its tag of heavy duty be producing efficient results within a limited time span. It is cheap and the quality of the stitch can be compared with some basic computerized models. Hence, it is a total value for money.
To simply describe the machine in one line, it is a simple machine that can stun you with its strength, productivity, and precision.
The fact that it is deemed to be an Amazon's choice suggests more about the machine's productivity. It is one of those machines that can help a seamstress hone his skills to attain perfection. Janome 2212 is a great machine, especially for the beginners. Regardless of a person's age and sewing skills, the machine is said to suffice the needs of each of the seamstresses. It is indeed a very first-level mechanical machine which can simply go about all the basic sewing assignments.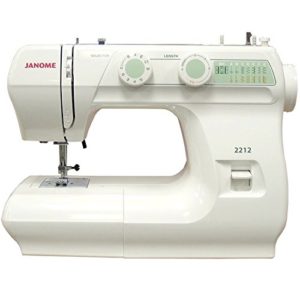 Unlike the Singer mentioned above, Janome 2212 cannot deal with stubborn fabrics like leather, fur, canvas, etc. However, it can come in handy while one is dealing with the basic fabrics like cotton, nylon, and other natural fabrics. For the fabrics that it can undertake, it provides outstanding results when it comes to the quality of the stitch and other such factors. This could easily be one of the best sewing machines for the beginners. It is capable of undertaking all the basic sewing assignments and can be best suited for the home users and part-time seamstresses.
Specifications & Features: It is one of the best entry-level models you will find out on the market at a very affordable price. It consists of as many as 12 built-in stitches and a simple four-step buttonhole. One can select the desired stitch with the help of an efficient dial. Adjustments can be made to the stitch width and length which adds to the ease of use. The best part of the machine has to be its feather-light weight. This makes it portable and efficient for the beginners to carry it to the classes.
The machine has the power and the ability to deal with an extensive range of basic fabrics like cotton, natural fibers, synthetic fiber, knits, etc. It can sew at the top speed of 860 stitches per minute. It is considered to be a decent speed when a basic entry-level model is considered.
Our Expert Opinion: Although the machine cannot stay up to the mark for the professional seamstresses, it can be a decent choice for the beginners as well the as the small-time business owners. It offers a fair speed and decent-looking results. However, one needs to keep a check on the tension. Choosing the wrong tension can cause you to break needles on a frequent basis. It can suffice all the needs of an entry-level seamstress.
The machine fails to work on stubborn fabrics. One should stay far away from the machine if you intend to buy a machine for the heavy duty purpose. For the price at which it is offered, Janome produces a classic in the form of 2212. It is packed with a lot of features that will definitely help you to hone your sewing skills.
It is a feature-rich sewing machine offered at an affordable price range. It is also very easy to use and has enough features to suffice the needs of an intermediate seamstress. Brother XM2701 is capable of undertaking an extensive range of sewing assignments. It would surely allow you to get your ideas into life with the help of the machine. The machine can even undertake quilting sewing projects. Although it cannot be directly compared to the high-end quilting machine.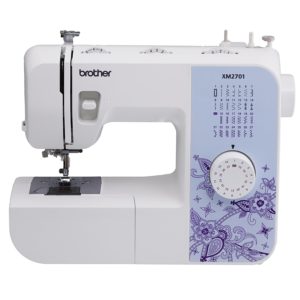 If you are tied down a budget and need a machine that could perform prolifically well, XM2701 is the way to go. It is lightweight and makes a good choice for the young seamstresses for its ease of use. Although it is not categorized into the heavy-duty category, it is capable of tackling some really stubborn jobs.
Specifications & Features: The machine is packed with 27 built-in stitches that include decorative stitches, blind hem stitches, zigzag stitches, and stretch stitches. Apart from a wide fleet of options, it offers a single one-step buttonhole and 6 sewing feet. The automatic needle threader is easy to work with. The drop-in bobbin is said to have jam-resistant properties that is certainly an added advantage. The free arm design allows the users to undertake larger projects without causing any hiatus.
It is inherited with LED lights that enlighten the workspace to the fullest. It comes with a bundle of accessories that are would come in handy while one begins his or her sewing expeditions. The user-manual is well-designed. One should go through the instructional DVD that comes along with the machine to have a better understanding of the machine. 800 stitches per minute is a fair speed considering that the machine is introduced for the intermediate seamstresses.
Our Expert Opinions: It is a well-designed machine with not too many flaws to be fair. It is fast, productive, and easy to use. Its ability to undertake a wide range of projects makes it a decent choice for seamstresses of all skill levels. It is a wonderful choice for the home users who do not have to deal with fabrics like jeans and leather. The machine fails to produce excellent results when a fabric like leather is thrown at it. That can overlooked for a machine that is offered at such a low price.
Also, the fact that it is made for the home user, it is very quiet. It is so easy to use that it could be used to help your children learn the art of sewing. It is one of the best portable sewing machines produced by Brother in the recent times.
Constructed with a robust metal frame, Singer 2259 still weighs around the 15-pound mark, making it one of the sturdier yet portable machines on the list. It is safe to call it a little workhorse considering the end results the machine manages to produce on a consistent basis. Apart from all it perks and excellent features, another trait that attracts a lot of seamstresses towards the machine is its affordable price.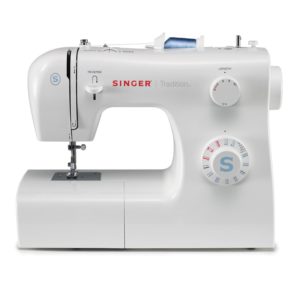 It is one of the easiest machines to use on the market. With all the features laid down perfectly, it is worth every single penny you would spend on it. The user manual will guide the beginners to use the machine to its best possible extent. It is a simple machine that can do almost every basic sewing assignment throw at it. However, professional seamstresses can stay away as it is an out and out entry-level design.
Specifications & Features: Singer lets you chose from two options, each with a different number of built-in options. One of the machine consists of 19 built-in stitches while the other one comprises of 23 built-in stitches. There is a difference of 20 dollars between both of these machines. Singer 2259 is very easy to thread, therefore, saving a lot of time of the users. The stitch length and the width can be adjusted giving the users the liberty to customize the stitches according to their needs.
The machine consists of 4 Snap-On presser feet that give a creative edge to the users. Selecting the stitches using the dials is a cakewalk. It also consists of an automatic bobbin winding system which also helps the users to save a lot of time.
Our Expert Opinions: It is not only cheap but full of features that can help an intermediate level seamstress to build upon his creativity. Also, the inclusion of added accessories gives yet another reason for the seamstresses to choose the machine over other models. However, these accessories are not up to the mark as needles tend to break.
One cannot simply write down the productivity of the machine as it is fast and capable of producing outstanding results within a limited time frame. Children would love to have this machine at their disposal, especially during their early sewing days.
It is one of the sturdy mechanical sewing machines on the list. It is not only sturdy, but equally fast. Janome hit the nails at the right place by producing a versatile, feature-rich, and efficient sewing machine at an affordable price range. The strong unit is also recommended by the experts on the largest online selling portals, Amazon. It is not a typical entry-level model nor a heavy-duty one. Instead it is a medium-sized machine capable of undertaking almost all the sewing jobs thrown at it.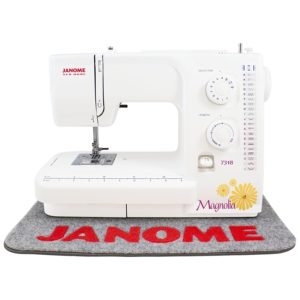 It can be even used for undertaking quilting assignments. It has the ability to deal with stubborn fabrics. It has all the features that would help a novice to hone their sewing skills.
Specifications & Features: The machine consists of 18 built-in stitches and a 4-step buttonhole to add to the overall creativity. All the stitches are well-laid on the dials which makes it easy for the users to choose from a wide range. It is easy to switch from one stitch to another just in a matter of few seconds. One can vary with their stitch length and stitch width according to their preferences. Also, for a mid-sized sewing machine, 17 pounds is a decent weight. It is clear from the fact that it is portable and could be used by the beginners.
Our Expert Opinions: It is a strong machine that inherits a simple threading system which helps the users to save a lot of time. Also, it makes it apt for the beginners to rely on this Janome model. For a person on a strict budget, it is a decent machine that is capable of providing excellent results regardless of the assignment thrown at it. It performs averagely when a stubborn fabric is thrown at it.
It is downright basic and could be used by the newcomers to get the knack for sewing. However, it doesn't right down the fact that this machine is powerful enough for a professional seamstress to use is as a backup. It is versatile than most of the machines mentioned on the list. One thing that keeps a lot of skilled seamstresses away from the machine is it isn't computerized. Apart from that, it is a sturdy sewing machine which would have answers to almost all sewing assignments thrown at it.
Now that we have spoken about some of the best mechanical sewing machines on the market today, we think it is about time that we should conclude our article. We hope that the tips, descriptions, and more importantly the sewing machine reviews were helpful for our readers to choose a machine that suits their needs. We stressed on machines that are averagely priced, high on features, and productive to the core.
We are up to a conclusion that most of the mechanical sewing machines are fairly priced. Although they do not consist of the rings and bells that we regularly see in a computerized sewing machine, there are enough features to get done with your basic sewing assignments.
For more sewing machine reviews, you can log on to our website that is www.sewcare.com. One would find sewing machine reviews for each of the categories that are nicely channeled to help the readers. Also, we would love to hear back from our readers. We would love to take in the suggestions and rectify our mistakes in the upcoming blogs. You can always write to us in the comments section below and we would try our best to understand each one of them.