Are you looking out for the best Singer kids sewing machines for the future designer? Do you want your child to fall in love with the art of sewing? Is Singer the brand that you mostly rely on when it comes to simplicity? The following space will have answers to all these questions. Also, we will review most of the Singer sewing machines for Kids.
Singer Kids Sewing Machine Reviews
We all know that Singer is a world leader when it comes to producing top-notch sewing machines in different genres. Right from the industrial sewing machines to the portable sewing machines, the brand has produced par excellence products in each of the sewing categories. Unsurprisingly so, Singer has produced some wonderful machines for the kids too. In the space below, we will discuss its specifications, ease of use, drawbacks, and everything a buyer would want to know before he purchases a sewing machine.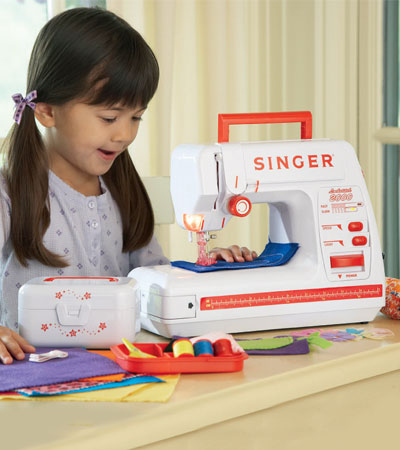 Before we jump to conclusions concerning the sewing machine for kids, we would like to share some tips for kids that will improve their skills at sewing. We are sure that these tips will surely help your kids to build on their skills and develop some love towards the art of sewing.
| Product | Product Name | Check on Amazon | User Ratings | Built-in Stitches |
| --- | --- | --- | --- | --- |
| | Singer 1304 Start Free Arm Handy Sewing Machine | CHECK ON AMAZON | 4.1 | 6 |
| | Singer EZ Stitch | CHECK ON AMAZON | 2.0 | 1 |
| | Singer Chain Stitch Battery-Operated Sewing Machine | CHECK ON AMAZON | 2.5 | 1 |
| | Singer Zigzag Chain Stitch Sewing Machine | CHECK ON AMAZON | 4.2 | 19 |
| | Singer 2259 Tradition Portable Sewing Machine | CHECK ON AMAZON | 2.5 | 1 |
1) If your child seriously wants to take up sewing or is going to tryhttp://amzn.to/2A8er02 his hands on a sewing machine, he or she is advised to know these three terms thoroughly. The most important three terms of any given sewing process are the seam, right side, and wrong side.
Seam: The line where two pieces of fabrics or a cloth are joined together in order to make a meaningful garment. In simpler words, it is a noticeable line where stitches clamp the item together.
Right Side: The part of the fabric which is visible to the onlookers when one wears the garment in said to be the right side. To mark it down in an easier way, the side of the fabric which is seen by the people when worn is said to be the right side of the garment.
Wrong Side: The inside part of the garment which does not appear to the onlookers is said to be the wrong side. By default, it is exactly contradictory to the right side.
2) Make your child proficient in threading a needle before he or she starts working on a sewing machine. It would only require a needle and a thread, and it would give your child a fair idea of what threading is. A machine can be introduced later. The Kid will be fascinated to see how a sewing machine threads the needle.
3) Get the Basics Right: While working on the sewing machine, it is important for a kid to learn about the fundamental stitches. There is a possibility that the machine you throw towards your kid may have several distinctive stitches. However, there are some basic stitches that a novice seamstress has to master to acquire the necessary skill level at sewing. There are three of these stitches that can help your kid to strengthen his sewing skills. It could be categorized into following:-
Straight Stitch: This is the most used stitch during the entire sewing span. This is the normal forward going stitch which is used to perform multiple sewing functions on a fabric. It is also considered the most basic stitch of all the sewing processes known to the man.
Lock Stitch: The stitch used to put a closure to the end of the seams of a fabric or a garment is said to be a lock stitch. It is more or less an invisible stitch used at the borders of a garment. It is used at the start and the end of a sewing project.
Back Stitch: A stitch used to stretch the fabric to the borders is known as the back stitch. It can also be termed as a method of stitching with overlapping stitches. This kind of stitch is mostly used while working on the seams of the garment.
4) Help your child to know the machine and its associated parts: After you have given all the detailed information of the basic stitches and its functions, you can jump on to the machine and let your child discover the dynamics of it. Also, you can help your child to go through the functions that a machine has to offer.
These days, sewing machines have a lot to offer even in a machine made for the kids. Therefore, it is important that your child focuses on the basic stitch functions in the early days. The other creative functions can gradually be inherited in their sewing exercises. Now that we have a fair idea of how to groom a child to be a decent seamstress, let's hop on to some of the best Singer sewing machines for kids.
It is cheap, affordable, productive, and one of those machines that will make your kid fall in love with the art of sewing. Not only it could be used by the kids, but you as parents can also use the machine to get done with all the basic household projects. Although it is extremely lightweight, it has a very sturdy construction which allows the users to sew at a considerable speed without worrying about the turbulence.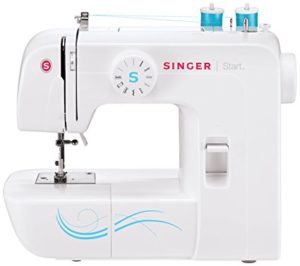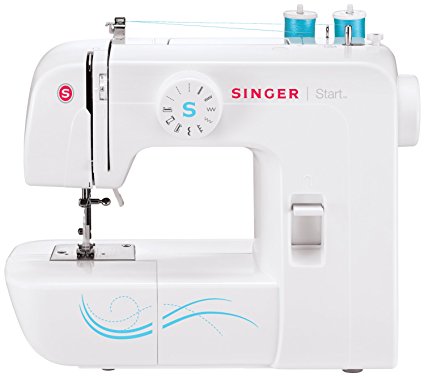 The portable sewing machine can be carried out from one place to other even by the kids. It doesn't boast too many features that don't confuse the seamstress. Overall, it is a wonderful sewing machine for the beginners. Although you can refrain from it, if you are looking out for an out and out kids toy machine.
Specifications & Features: Although it may look like a sleek delicate machine from the face of it, it inherits a strong metal frame in the inside which adds to the sturdiness of the machine. It is as light as just 7 pounds and measures 13*7*11.5 inches. The compact sewing machine consists of 6 built-in stitches that include zigzag stitch, scallop stitch, blind hem stitch, satin stitch, and the regular straight stitch. It comes with a single 4-step buttonhole and variable stitch width which can be stretched up to 5mm.
Even though it is a machine designed for the entry-level seamstresses, it can sew at the top speed of 750 stitches per minute. It does not have a lot of features to confuse the beginner to bits. Also, the automatic winding system would be a great feature to have, especially for the kids.
Our Expert Opinions: It could be a great option for your kids if they are particularly serious about picking up sewing as a longtime hobby. It wouldn't confuse them at all and work like a dream without causing any fuss. Also, for parents, they can use it to stitch their domestic projects. It can also be a good option for someone who runs a smalltime sewing business from home.
With all the excellent features, there are few drawbacks, which every machine has of its own. One has to get used to the occasional jams that this machine produces time and again. Also, one cannot adjust the speed according to one's preferences. It may take some time to fully understand the dynamics of the machine. Overall, for the price at which it is offered, it is an excellent sewing machine apt for the toddlers to begin the sewing journey with.
If your child is too young to be handed a semi-professional sewing machine, you can hand him or her a machine that performs all the task of a sewing machine but at a very low intensity. It can be a good option for a kid to get acquainted with the dynamics of sewing. It comes with a lot of accessories and features that will hold of a young seamstress for enough time. Also, there is a dedicated carrying handle given so that the machine can be easily carried from one place to other.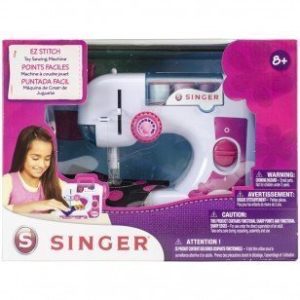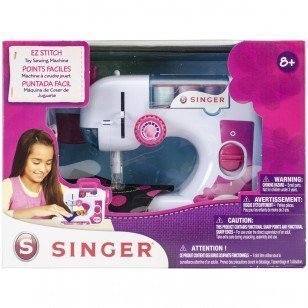 Specifications & Features: Not much can be spoken about the specifications of sewing machines dedicated to children. It is more of a toy sewing machine from Singer. Therefore, it is better not to compare it with the entry-level models. However, this kind of machines can be really important in inheriting the love for sewing in a kid. The machine comes with three spools of thread, measuring tape, instruction manual, and a needle threader. It could be best suited for the toddlers from 8 years to 12 years.
Our Expert Opinion: For the parents who are trying to involve their kids into some serious sewing, this machine is a big no. However, if your toddler is very young and watches you avidly while you sew, you can get the machine for him or her. It can be a great device to start up with the sewing basics. The fact that it is a toy machine, it wouldn't harm your children by any which ways. Having said that, it has several small parts. Therefore, one should keep an eye on their children for accidents such as choking hazards.
If you are looking for a beginner's sewing machine for your very young daughter, this could be a perfect choice. This Singer machine runs on a couple of C type batteries. It is capable of producing neat and crisp stitches that will make the girls fall in love with the beauty of sewing. Also, they will get to hone their skills and get ample of experience when they turn their attention towards a semi-professional sewing machine. There are enough features in this toy machine that will make your daughter fehttp://amzn.to/2A7cqRIel like as if she is working on a full-fledged sewing machine.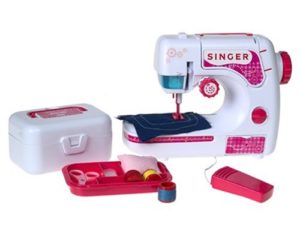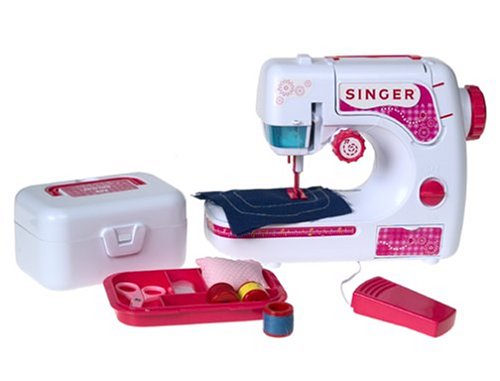 Specifications & Features: It is a fantastic sewing machine for young toddlers weighing just about 2 pounds. It measures 15.8* 4.8* 8.8 approximately and can give you decent results owing to its weight and size. Not only very small girls, but young girls of every age would love to sew on the machine. The floral prints on the machine are enough to attract young girls towards it.
You will be surprised to see what this machine has to offer. It consists of a tension dial, foot pedal, control pedal control, and a working light. All these features that too packed in an ultra-lightweight sewing machine can seriously surprise you to bits.
Our Expert Opinion: There could be several reviews that have a negative remark on the sewing machine. But one has to always remember that it is a toy machine, and not a full-fledged sewing machine, not even anywhere close to it. It is a childlike machine designed for the children. Children below the age of 14 can have a fun time sewing on the machine. For the category that it is released, it provides quite a neat stitch. Therefore, there are hardly any points we can complain about. Overall, it is a decent option if you want a toy sewing machine for your 9-year-old daughter.
This could easily be the first sewing machine for someone who is under the age of 12. It would help the kid to know about the stitches. Also, it would help the child to add to the knowledge of a sewing machine. Not only basic stitches, but the machine would also allow the user to choose between two stitch options. There is a zigzag stitch inherited in the machine just to gi.ve a creative edge to the sewing assignments of the toddlers.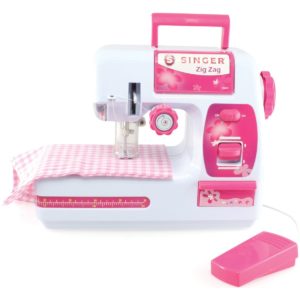 The company strictly advices adult supervision while the toddlers learn to sew on this machine. That might possible because of the two reasons- too many small accessories and its ability to perform decent quality stitches. It requires a couple of D type batteries.
Specifications & Features: At 2.2 pounds, it is undoubtedly one of the lightest sewing machines on the market today. The fact that these machines do not have a powerful motor nor a sturdy metal frame to accommodate a strong motor, these have to be light. Also, the lightweight has everything to do with the age group for whom the machine has been made for.
It consists of a lot of accessories that include a foot pedal, built-in light, storage compartment, detachable bobbin winder, tension dial, extra bobbin, needle, and a bundle of the thread. Also, there is a carrying handle inherited on the machine so that it is easy to carry the machine from one place to another. The noise of the machine can also put off a lot of users.
Our Expert Opinions: A Toy machine capable of performing a chain stitch is enough of a reason for one to buy the sewing machine. Once your child gets acquainted with the tension, he or she will acquire the skills to get the perfect seams. Please admire the fact that it is not even a basic sewing machine but a toy machine. Therefore feeding a stubborn fabric can quite be a daunting task. The best part of the machine is the plastic needle guard. Its right edge also doubles up as a fabric guide to the users.
There are complains of the users about the tension being too lose. However, one can give that extra point of benefit to the brand as well for churning out a decent sewing machine for kids at a considerate price range.
If you are willing to spend big on your child's love for sewing, this has to be one of the best sewing machines in such cases. The portable sewing machine is designed to produce excellent quality results without creating any complications. Simplicity at its best. It is, by a mile, one of the easiest sewing machines to use. Therefore, handing it to a toddler can be a great option.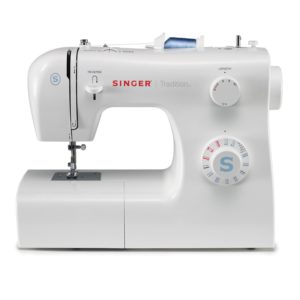 It just weights enough for a toddler to carry it to the sewing classes. Although it is lightweight, it has a nice and sturdy heavy duty metal frame that gives the desired steadiness to the machine. User-interface is nothing less than a cakewalk. Also, it has several options that can suffice the needs of an intermediate seamstress. Although it might be the costliest machine on the list, it would be worth every penny once you and your toddler start using the machine.
Specifications: The machine is very easy to thread. Therefore, it takes away the biggest headache away from the children. It not only saves time but also saves a lot of efforts. Stitches can be customized according to the desired lengths and widths. It comprises of 19 built-in stitches and a single 4-step buttonhole, thus, giving you ample options to complete the basic household assignments. Selecting a stitch is as easy as selecting a game from a video game. Hence, the portable sewing machine can be aptly used by the entry-level seamstresses too.
Our Expert Opinions: Considering the semi-professional options, it is the cheapest machine you will find on the market with such great features. Also, you will get the reliability of Singer when you a buy this machine. That means there is a surety that this machine would last for years to come. There are enough features in the machine that can suffice the needs of an intermediate level seamstress as well as of a professional seamstress.
There are not many drawbacks that one can find on this machine. However, there could've been a chance that the accessories that came along with the machine could've been better. The needles that are included in the accessory box lack the desired quality. One can hardly point out on a glitch that the machine possesses. It is one of those machines that can be used by the mother as well as her growing kid with equal ease.
Now that we have spoken about almost all the sewing machines made by Singer for the kids, we would like to conclude our space. We hope that we provided enough information to our readers in terms of which Singer Kids Sewing Machine would perfectly be apt for their little ones. Also, we hope that you get the right idea so as to choose from a semi-professional portable sewing machine or a complete sewing machine for kids.
For more sewing machine reviews from several other categories, you can log onto our website www.sewcare.com. We have tried our best to cover a lot of information in concerns to several sewing machines from distinctive brands and categories. You can also write to us in the comments section below if you think any of the Singer Kids sewing machine we have missed out on. We would be glad to take a dig at our reader's suggestions.