Sewing is one such business which is done from the home at a very big scale. Whilst one cannot afford to have industrial sewing machines at the home, one has to look forward to sewing machines that are best suited to the home environment. Also, it is almost impossible to have dedicated sewing machines for a particular kind of work at home.
This results in the user opting for a sewing machine that is capable of doing all sorts of work without creating raucous. Although one seeks for an all-around sewing machine, there are various other factors that make a machine the very best for the home user.
This space is dedicated to reviewing a few of the best sewing machines for home use available in the market.
Factors to consider before buying a sewing machine for domestic use
Say No to Noisy Machines
There could be n number of factors that a seamstress might desire from a sewing machine. But whilst he or she wants it to use in the space where he or she lives, then the very first factor has to be the noise.
Noisy machines can cause a terrible headache while being used at home. It can disturb the people in your family which will pile up on your irritation.
This can eventually show up on the end results. Therefore, one should largely avoid noisy sewing machines for home use.
Lightweight & Portable
Another factor that should be given the top priority before buying a sewing machine is its weight. Heavier industrial sewing machines are very difficult to move around.
Therefore, one should opt for sewing machines with minimal weight. This gives you the liberty to carry around your sewing machine whenever you feel like moving out or changing the interiors.
Portability will help the users to commute with the machine while they go their sewing classes. It is an important feature that adds to the efficiency of the machine.
Ease of Use & All round features
Now that you want a sewing machine for the home user, you would either want a machine to start a smalltime business from home or you require it to get done with your basic household projects.
Depending upon the reason for your purchase, you can select a machine that is high on features or an equipment that provides just enough features to keep your hobby intact.
Regardless of the usage, it is advisable to buy a sewing machine which is very basic easy and simple to understand.
Not all the people in your family would share the same passion as you. Therefore, in case you have to learn about a sewing machine, you have to do it on your own. So it is better to buy a machine which is not at all complicated.
Money Matters!
Money matters, and there is no proof required to add weight to the statement. It is nothing but a universal fact.
Therefore, spending hugely on a sewing machine and getting nothing to very minimal reaps from it doesn't make sense.
So again, depending on the complexity of your work, choose a machine which will help you develop your skills without inflicting a loss.
With all the factors right up there, we are sure that you have a better picture of a sewing machine made up in your mind that'd suit your home and your requirements. Thus, we proceed further to complete our motive, which is to review the best sewing machines for home use.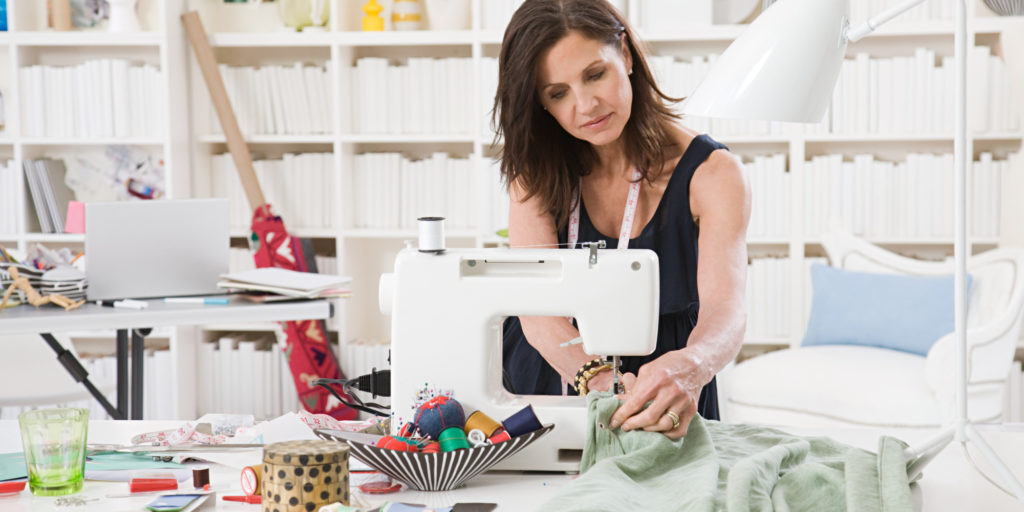 | | | | |
| --- | --- | --- | --- |
| PRODUCT | PRODUCT NAME | RATINGS | BUY NOW |
| | Spiegel 60609 350 Stitch Computer Machine | 3.3 | |
| | Brother HC 1850 Computerized Sewing Machine | 4.4 | |
| | Janome DC- 4030P Electronic Sewing Machine | 4.4 | |
| | Brother CS- 6000i Computerized Sewing Machine | 4.5 | |
| | Singer 8770 Curvy | 4.0 | |
| | Janome 8077 Computerized Sewing Machine | 4.0 | |
Best Sewing Machines for Use at Home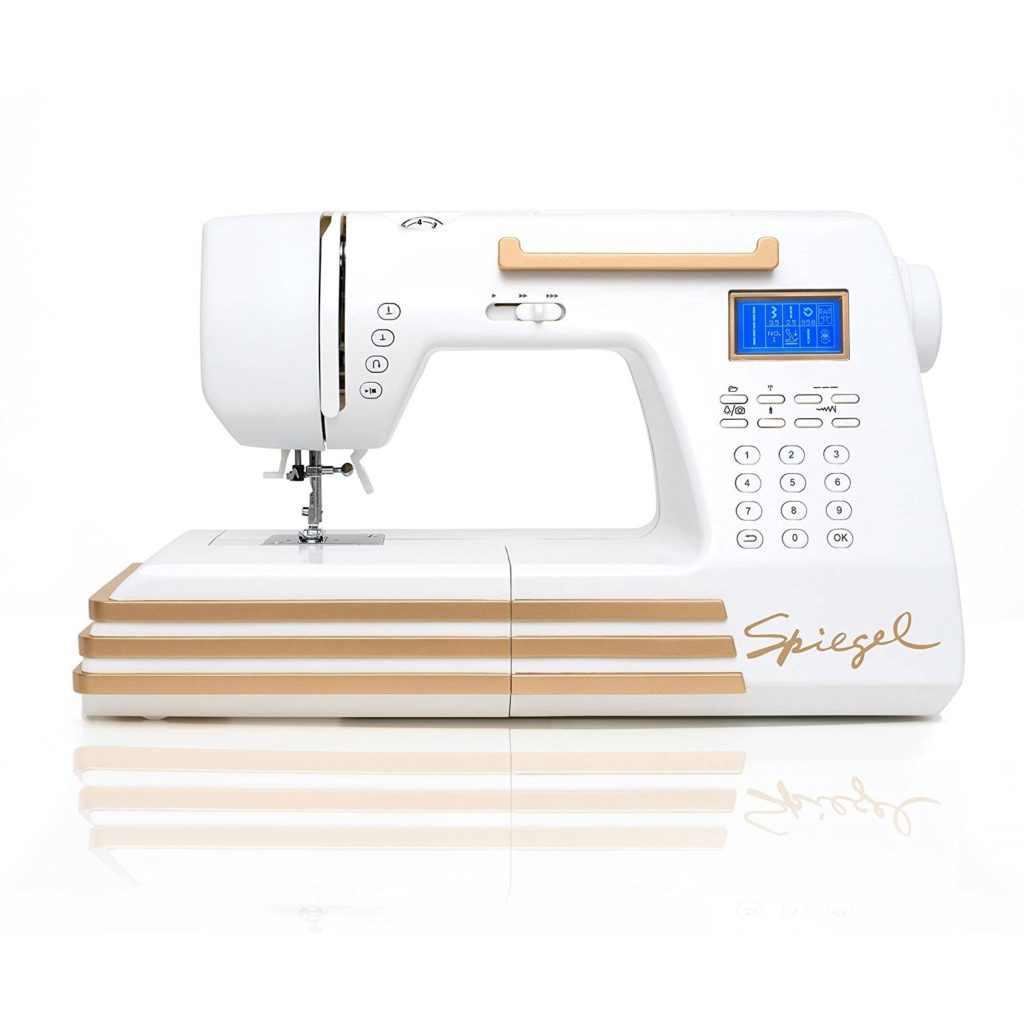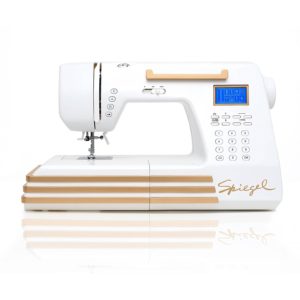 Its name says many things about its features, doesn't it?  Just as the name suggests, it is packed with a 350 built-in stitches and computer accessibility.
All this comes to you at a much-discounted price of $242. You can even connect your smartphone or tablet so that you get a better view of your needle and the cloth.
This would refrain you from bend over and over gain on the machine to check its preciseness. The machine comes from a brand less known to the sewing world. However, this doesn't affect the effectiveness of the sewing machine.
Specifications
This Spiegel model comprises of 300 built-in computerized stitches which can be varied in more than 1000 different ways. Also, it has 7 automated buttonholes which add to your never-ending weaponry of built-in stitches.
There is a stitch came situated for you to view your sewing projects from a closer range by using your mobile phones or tablets. It can be connected to most of the smartphones using Wi-Fi connections.
The inclusion of an automatic start-stop button and speed control helps you to maneuver the machine in the way you like. In other words, it hardly would perform tasks outside your command.
Our Expert Reviews
It is a decent machine that can suffice the needs of the skilled seamstress and a novice seamstress alike.
The machine apart from the regular sewing can indulge in embroidery and quilting projects, which is an added advantage.
The endless possibilities with its stitch functions help you to give an extra edge over your creativity. Setting up this machine is a cakewalk. The only downfall of the device is its inefficiency to connect with iOS.
Overall, considering all the factors, usability, and the price at which it is offered, it is an excellent buy for the home user.
However, you can opt for other sewing machines if you want to go with the traditional brands like Singer or Janome.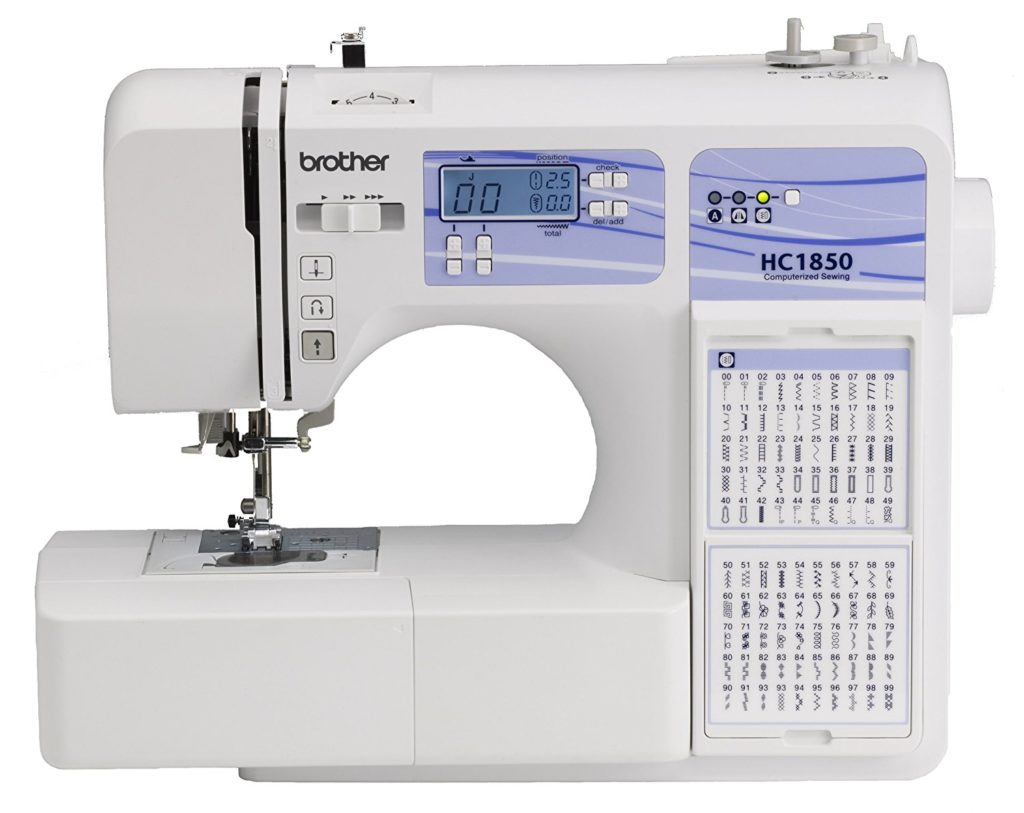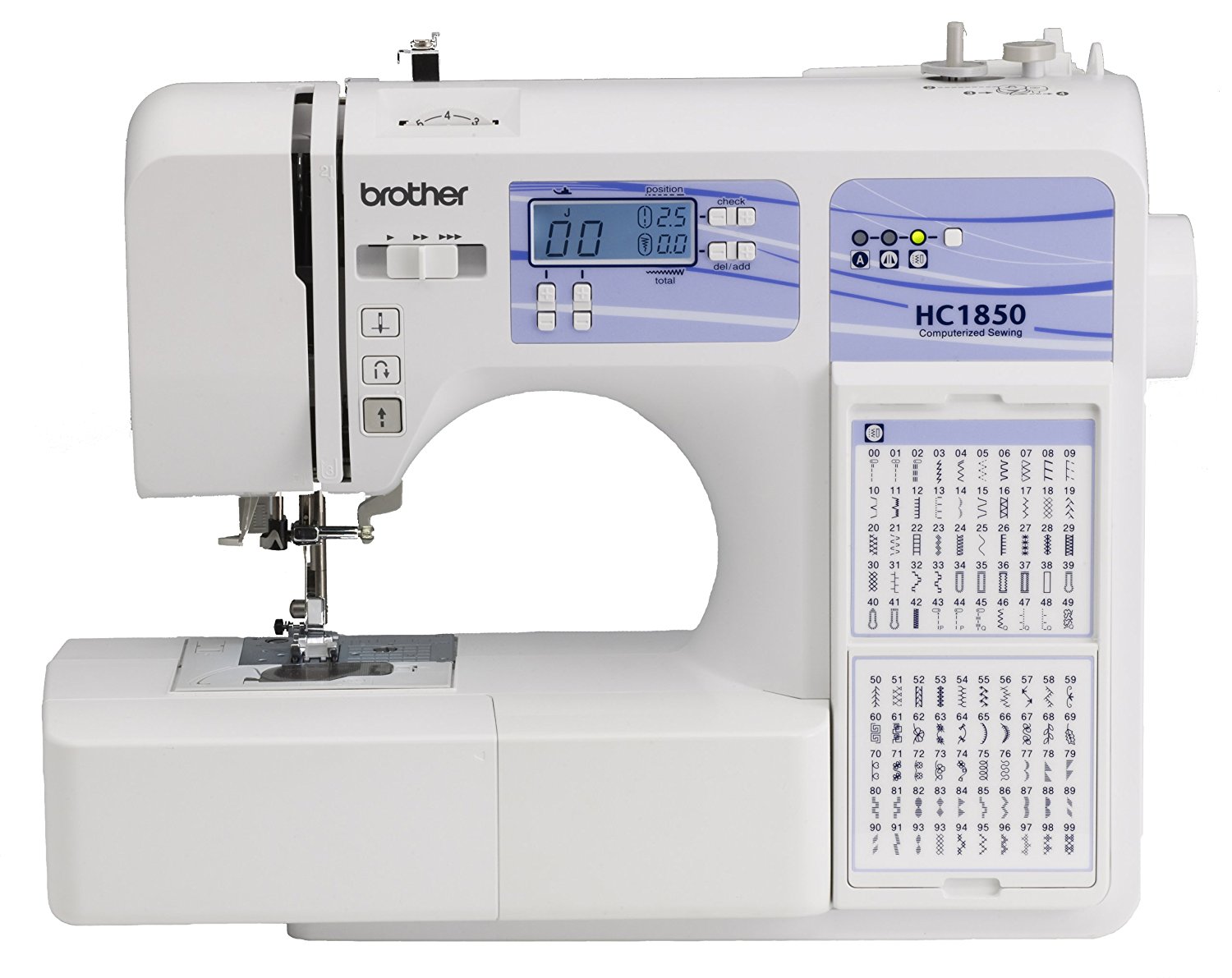 How could we refrain from addressing the elephant in the room? Brother is one of the largest sewing machine selling brands in the world, and no list can be complete without the inclusion of at least one Brother Model.
This model is highly rated by the intermediates who are new to the sewing world as well as the professional seamstresses.
The instructional DVD helps you to know your machine in a better way. One cannot doubt the performance of a Brother Model.
It is very lightweight, which makes it an apt machine for domestic use. Foot pedals have an alternative on the machine giving you the liberty to use it according to your liking.
Specifications
With 130 built-in stitches, 8 simple buttonholes, and a lettering font, it provides you with all the features required to complete any task related to embroidery, basic sewing, monogramming, and heavy quilting.
Threading it is a relatively easy task. It comes with a detachable wide table which can be used while you undertake quilting projects.
Apart from all these basic features, there are 8 specialty feet given to get over your hemming, zipping, overcasting, quilting and other sewing processes.
Our Expert Reviews
This Brother model is packed with efficient features which can suffice the need of even professional seamstresses.
One can blindly rely on the stitch strength and stitch quality when it comes from a byproduct of Brother.
It is versatile and can be easily relied upon which makes it a decent choice for the home user. Everything in it is the result of minute detailing done by the company.
It is user-friendly and a workhorse at the same point. After a fair amount of use and practice, it could make any novice seamstress look like a professional one.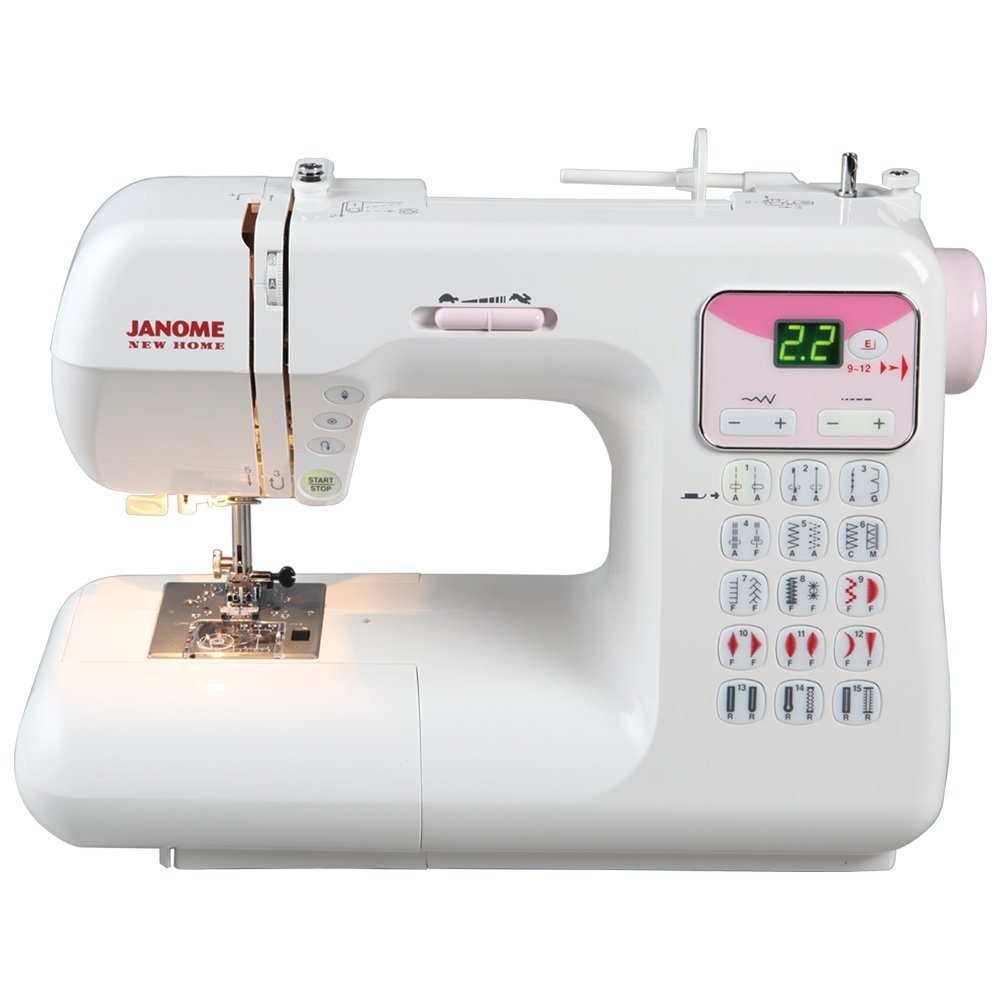 Although it ends on the higher side of the price, one cannot argue with the best in class usability and super easy functions.
Simpler the machine, better it is for the home user. As it stands, the electronic machine has the ability to perform most of the tasks thrown at it without creating a fuss.
From the most intricate of works to deal with the toughest fabrics, Janome's model wouldn't disappoint you even a bit.
One can set it up in a breeze. Also, the auto tension system allows the fabric to glide past the needle effortlessly. All and all, it gives an exquisite sewing experience to say the least.
Specifications
It inherits 30 distinctive built-in stitches along with 6 one-step buttonholes. The easy reverse button is one of the highlights of the machine.
This helps the user to cut down on his mistakes and create projects with ultimate precision. It also has a free arm that allows you to undertake quilting and embroidery sewing projects.
Speed Control slider allows you to adjust the speed according to your liking. Another small yet very effective feature is the memorized needle up/down button. You don't have to worry about the machine skipping a stitch or two.
Our Expert Reviews
The best part about the machine is its end results. You wouldn't find better results that this machine has to offer. The stitch quality and stitch strength are uncompromised.
Although the machine is downright sturdy, its weight still surprises most of the people. To get that down in numbers, it weighs around 18 pounds which are very less compared to its other counterparts available in the market.
It is made up of metal parts and yet doesn't create a lot of noise. One cannot rely on the machine for free motion quilting, as stitch quality can deteriorate.
The machine has the strength and the ability to sew past multiple layers of fabrics without taking a halt.
One can try and highlight its lesser number of built-in options and its inability to connect to a computer. But all these, cannot overshadow the stature of this little workhorse. Try as much as you can, and you would still not be able to find glitches in this particular machine.
If we had to name our top 3 in the list, it would've surely made the podium without having second thoughts over it. For that price, it is a superb sewing machine to own regardless of your professional background.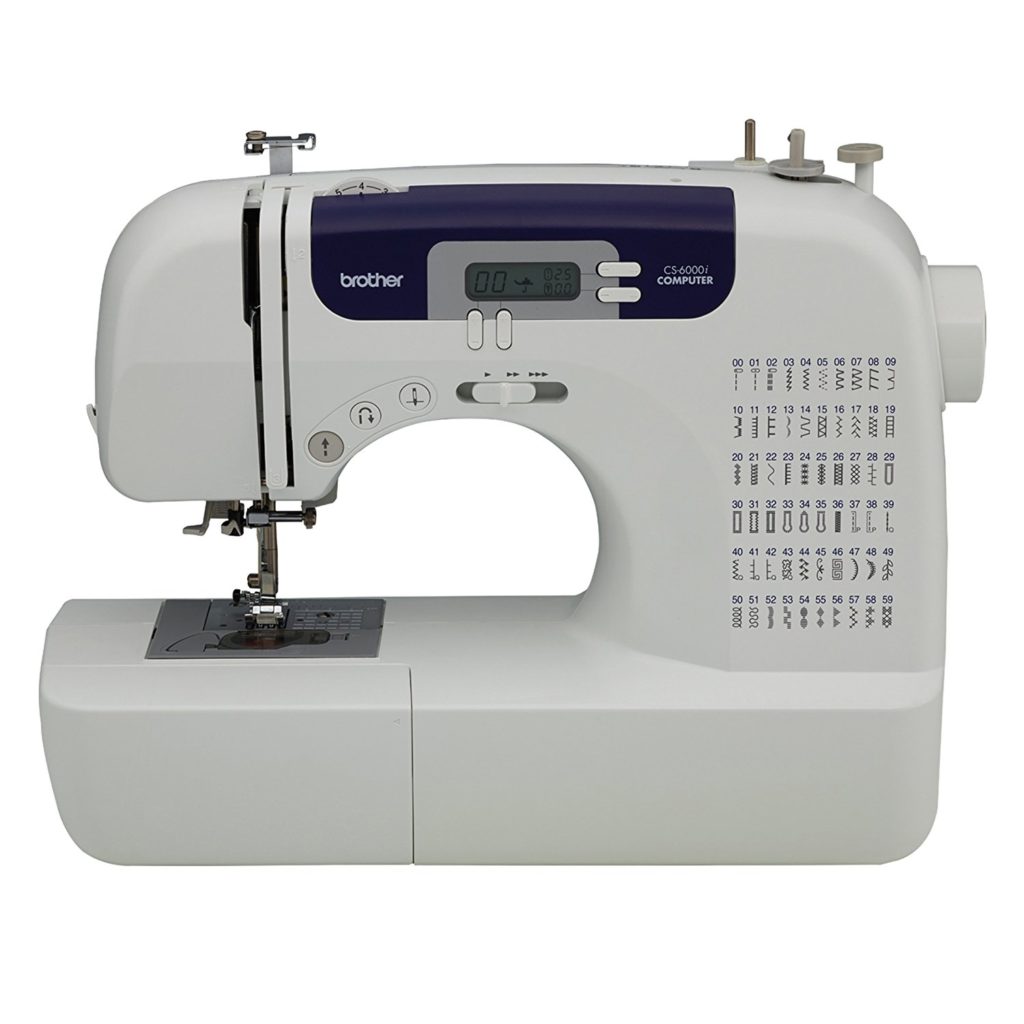 This is one of the highly rated sewing machines available at the market today. If you ever go through our other blogs, you would find out that CS-6000i makes the list of most of the categories.
Such has been the efficiency of the machine that it comes across several categories and turns out to be a winner every time. Not only it is highly efficient but contradicts the relentless when it comes to its weight.
It is portable to the corner and can be moved to any corner of the house without stressing. It has the ability to work on several projects including heavy-duty quilting.
Specifications
It comes with an LCD screen display that allows you to select the stitch type and length just on the go.  Speed control lets you set the pace for yourself. Accessing the bobbin thread was never this easy.
It is packed with 60 built-in stitches that include decorative stitches as well. Also, there are nothing less than 7 automated buttonholes and 9 distinctive presser feet to give a wider perspective to the user.
Threading can be done within the blink of an eye on it. There is a designated extra table provided for you to undertake large quilting projects.
Our Expert Reviews
A machine that guarantees you high performance for a prolonged time can always be deemed as the best option to have in the house. Also, the high-end features let you create intricate designs and give them a professional look.
It is very easy to use and setup. Therefore, even the newbies don't take much to work fluently. It would fulfill all the requirements of a basic household project.
This machine doesn't tend to work even while dealing with tough fabrics. It is so lightweight that it can, at times, give you stability issues.
Undoubtedly, it is one of the best sewing machines to own, regardless of your skill levels and uses. By far, one of the most thoughtfully designed products in the last decade or so. We highly recommend this machine for our readers.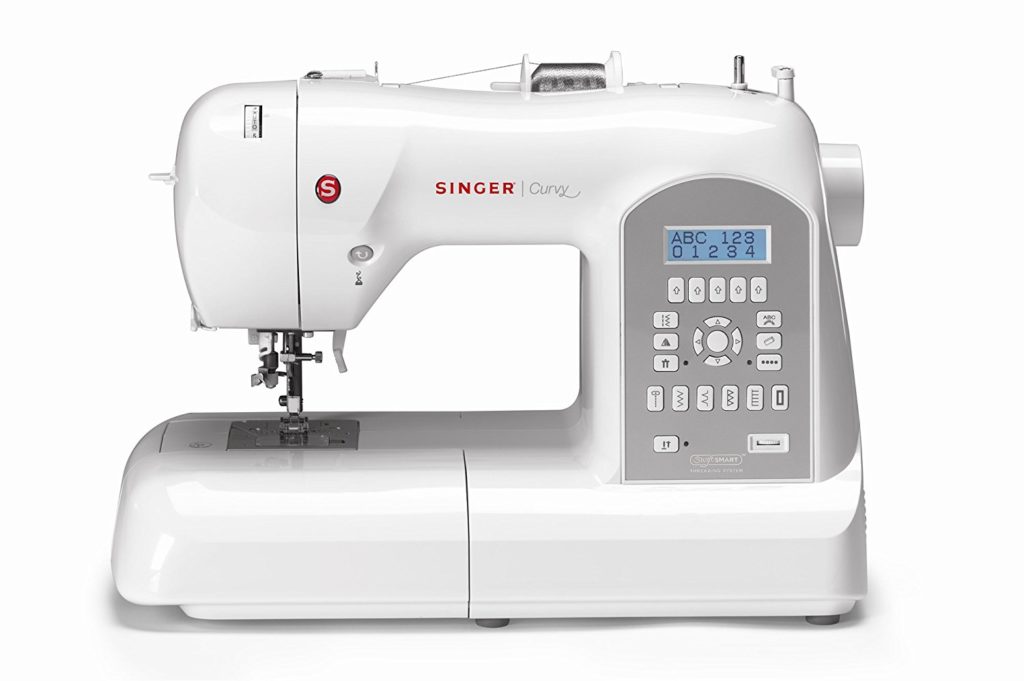 It is one of the easiest machines to thread. Also, quite the quickest of most of the counterparts available at the market in recent times.
The best part about the machine is although it looks like a delicate darling, it can sew through multiple layers of fabrics with utmost ease.
There is a lot that goes into the detailing of this sewing machine. The 3 LED lights at the frame of the machine is an evidence of that. It comes in with a lot of features which can be customized with the help of the computer intervention.
It is speedy enough to sew at the top speed of 750 stitches per minute which is more than enough for a sewing machine required for home use.
Specifications
The Singer model boasts as many as 225 built-in stitches that include stretch stitches, decorative stitches, and 7 buttonholes. Out of the 7, six are said to be fully automated one-step buttonholes.
It is inherited with a drop and sew bobbin system and swift smart threading system which allows you to thread a machine in the shortest time.
The LED lights are designed to stay cool even if the machine runs continuously for hours. It is built with a heavy-duty metal frame which makes it durable to the core.
Our Expert Reviews
If you don't have any idea about the machine and want to master it as soon as you can, then you have to go through its video tutorial, which guides you exceedingly well. The use of machine gets easier over a period.
The finished projects certainly have a professional look to it. It has the ability to sew through fabrics like jeans and leather with utmost ease. It is strong, durable, and one can rely on it for at least a decade or so.
If and only if it is maintained and well-oiled regularly. Many users point towards it ineffectiveness to work fluently like other Brother and Janome models.
Another drawback is it ends on the heavier side of the weight and price. Still, it is a great option as in the selection of heavy duty sewing machine.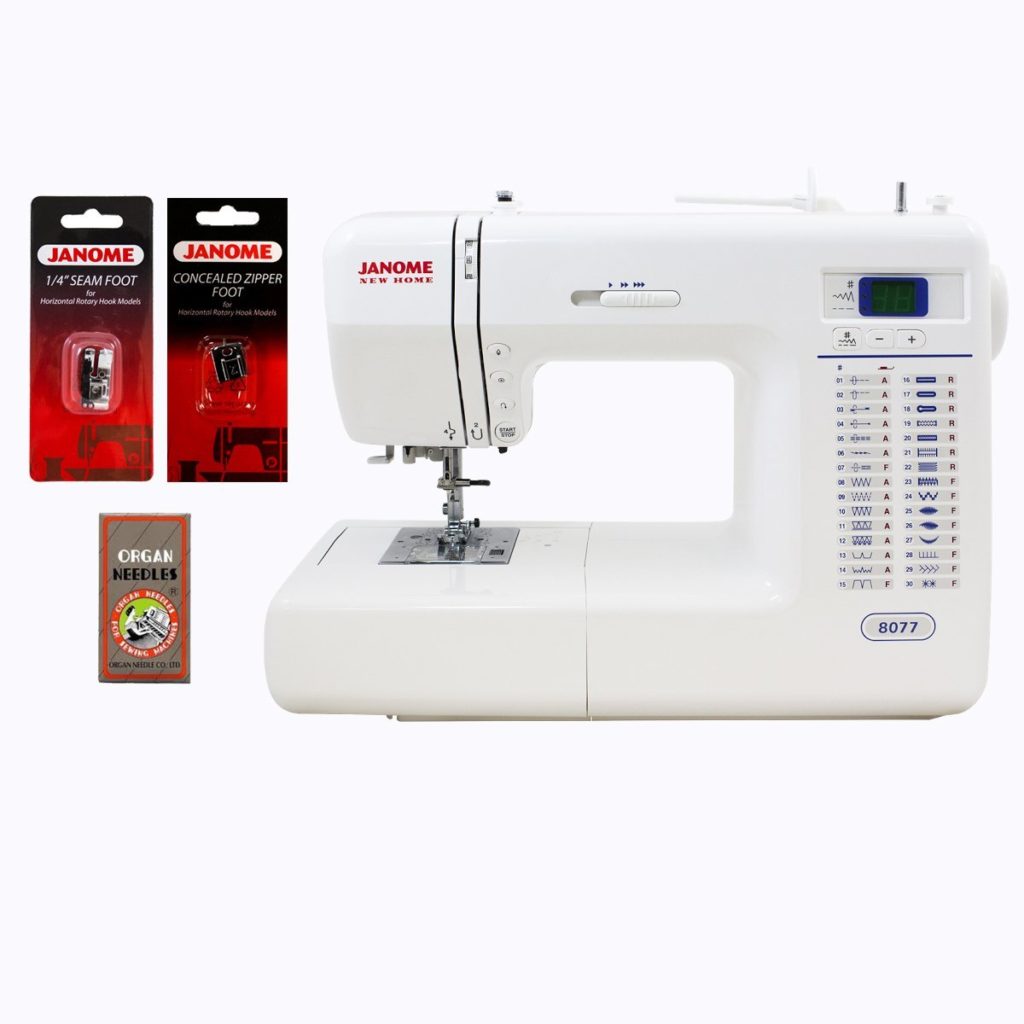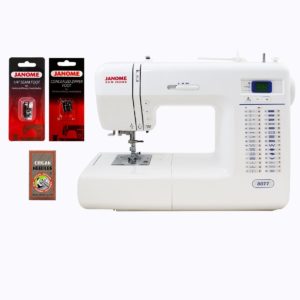 This machine offers almost everything that a seamstress desires from a sewing machine. Great features, dependable quality, ability to work on various projects, all these at a negligible price of $349.
It is a wonderful sewing machine to keep at home. It doesn't make noise and yet allows you to complete the most critical of sewing assignments in a brisk. If you are planning to buy the machine for the first time, this machine is the way to go.
It is very easy to set up and easier to thread. The feeding system is smooth as silk which allows the fabric to glide past the needle.
To describe this machine in one sentence, it is a complete value for your money. It offers great strength, shows immaculate versatility, and has the ability to perform the difficult of sewing tasks without consuming much time.
Specifications
It comprises of not much but 30 essential built-in stitches along with 6 one-step buttonholes. There is a dedicated start-stop button given for one to control the speed of the foot pedal.
The rotary hook is jam proof which is an exclusive feature of the Janome. The machine comes along with concealed zipper foot, quarter seam foot, and a pack of size 12 needles.
However, we cannot guarantee the quality of the needles that come along with the box. It is also inherited with the extra high presser foot lift and a sliding speed override.
Our Expert Reviews
Go through any reviews about this machine, and all you are going to hear are praises for this wonderful piece of engineering. You can snub the Janome Magnolia for this machine as it would cost you $50 less even after providing exact same features.
Janome charges $50 extra for the Magnolia because of the flower prints on the design, which is utterly useless to a dedicated seamstress.
The machine, just like basic sewing projects, can undertake quilting projects without creating any fuss. It is fast as you like, and the end products from the machine are flawless.
We highly recommend this machine for domestic use. Not at a single point of time, you are going to regret spending $345 on it. Also, it doesn't make much noise, rather it hardly makes any sound, which makes it a perfect fit for home use.
Advantages of having a good sewing machine at home
It is always advisable to have an average sewing machine at home, especially when you have mastered the art of sewing. If not at a business level, it would help you to cut down on your expenses. It can help you to make household items like pillow covers, bedsheets, and make timely repairs to your outfits.
You can even run a small time business with the help of the sewing machine. Or if at all, you are a designer, you can experiment on fabrics using a machine at home.
No matter what the situation and your needs are, it is always advisable to spend on a trusted brand when you decide to purchase a sewing machine.
We hope we cleared all your doubts in respect to the best sewing machines for home use. By now, you would've gotten a fair idea about which sewing machine would make your work easy and fulfills all your requirements. So think wisely, and shelve out only for the features you are going to use in the future.
It is utterly useless to spend a major chunk of your money on high-end models which boast features you wouldn't use in a lifetime. So shop wisely keeping in mind about exactly what features you look forward to in a sewing machine.
With this, we conclude the blog dedicated for domestic sewing machines. We tried to feature such machines which were averagely priced and had all the essential features one would require while sewing at home.
If at all, you feel any of the machines mentioned-above shouldn't make the cut, write to us, and we will try to review it for you again.
We hope, we have helped you to cut down on your confusion and give the best possible details regarding the sewing machines for home use.