Brother needs no introduction when it comes to producing top-notch sewing machines in several categories. They have strived hard to provide innovative, user-friendly, and versatile sewing machines to its customers. Whether it is with sewing machines for kids or industrial sewing machines, they have left no stone unturned. The giant Japanese supergiant has made a unique name for itself in the sewing world. Having said that, it is obvious for them to have sewing machines under multiple banners. One such category of sewing machines we are going to review today is the Brother Quilting Machine.
Before we could go straight down on the machines, we thought of giving you some insights about why several seamstresses prefer a Brother quilting machine more than any other brand.
Factors why people turn towards Brother for their Quilting requirements?
Brother quilting and sewing machines are designed with utmost simplicity and a very user-friendly interface. It makes it convenient for people to keep their sewing processes downright simple. Also, the fact that these machines do not clog or hesitate to sew through several layers of tough fabrics makes it a definitive choice. A wide fleet of inbuilt options along with its ability to work for hours without heating up or getting busted makes it one of the highly preferred brands in the world.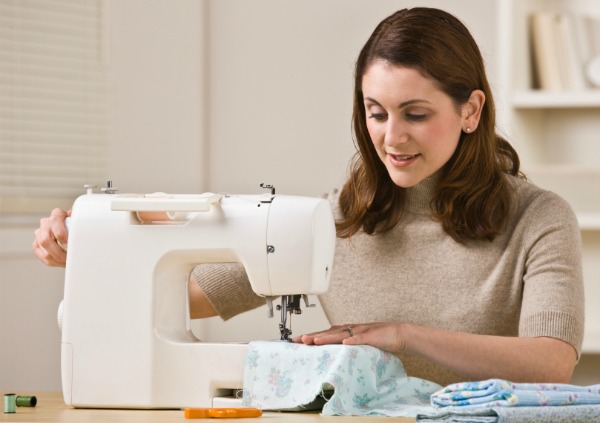 All you need to know about Brother quilting Sewing Machines
There are many Bother obedient fans who don't want to look beyond the brand while selecting a sewing machine. That happens with most of the brands when it provides excellent efficiency and smooth functioning. Also, its ability to last the test of time makes it a hot favorite amongst several seamstresses all around the globe. Therefore, for those people who want a quilting machine and doesn't want to look beyond the brand Brother, this blog is dedicated to them.
Name of the Machine
Built-in Stitches
User Ratings
Buy on Amazon

Brother CS6000i Computerized & Quilting Machine

60
4.5
 

Buy from Amazon

Brother CE8100 Quilting & Sewing Machine

120
4.1
 

Buy from Amazon

Brother PQ 1500SL Quilting & Sewing Machine

1
4.5
 

Buy from Amazon

Brother HC1850 Quilting & Computerized Sewing Machine

130
4.6
 

Buy from Amazon

Brother XR3774 Sewing & Quilting Machine

37
4.5
 

Buy from Amazon

Brother CE8100 Quilting & Sewing Machine

120
4.1
 

Buy from Amazon
If you go through rest of our blogs on sewcare.com, you would find that this machine has a place in most of the categories. All thanks to the versatility of the machine that it turns out to be the best seller product on the online portal, Amazon. Although it is mainly launched by the company as a high-end computerized sewing machine with a wide fleet of built-in options, it can be also classified as a quilting machine.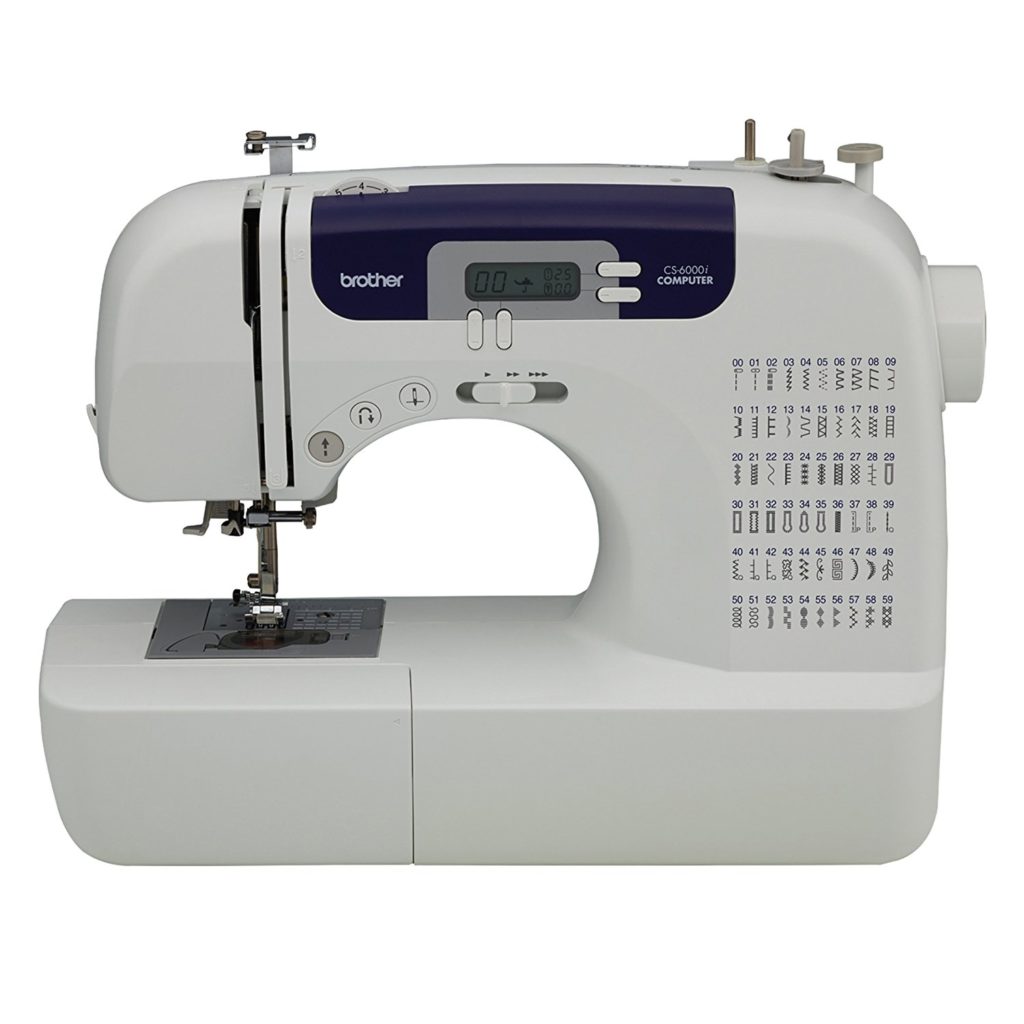 It can sew through multiple layers of fabrics without the needle being jammed or fabric being clogged. It comes along with a quilting table which makes it easier for the users to undertake large quilting projects. All the other features and its ability to import designs using the computer makes it one of the best sewing machines on the market in the present day.
Specifications & Features: If experts are to be listened to, it is one of the most versatile and value-packed sewing machines ever made. Without a doubt, one can claim it as the best ever Brother Product on the market today. One gets to change the stitches, its length, and sizes using an LCD screen dedicated on the front of the machine. One can keep a check on the speed of the sewing machine. Therefore, you can select the desired speed setting according to your skill levels with the help of the start/stop button. The top load bobbin makes it extremely easy for the users to change the thread and continue with the desired processes.
The machine comes with nothing less than 60 built-in stitches, 7 one-step buttonholes, and a quilting table. 25 years of warranty and Brother's reliability is enough for a basic seamstress to get pulled towards the machine.
Our Expert Reviews: We say it again, only a handful of sewing machine can compete with the versatility of the Brother CS6000i. One has to thoroughly go through the user manual before using the machine. It would help the user to know the machine in depth. Quilting can be done without banging your head on it. It is smooth and allows you to manage your quilting projects quite efficiently. It is one of the best sewing machines for Beginners and home seamstresses alike. However, if one wants to use it as a heavy duty sewing machine, one should refrain from buying this mini beast.
It is a decent option for one to undertake basic sewing and quilting projects. It is not as highly advanced as the Brother CS6000i. Instead, it has a more simplistic approach towards things. However, one can totally rely on the versatility of the machine. It can sew, quilt, and undertake embroidery projects at the same time. It might not look tough, and indeed it is not, but serves as a good option to get done with all your domestic sewing projects. The best part about this machine its simplicity. Regardless of your skill levels in sewing, one can easily get acquainted with the dynamics of the machine within a very less time.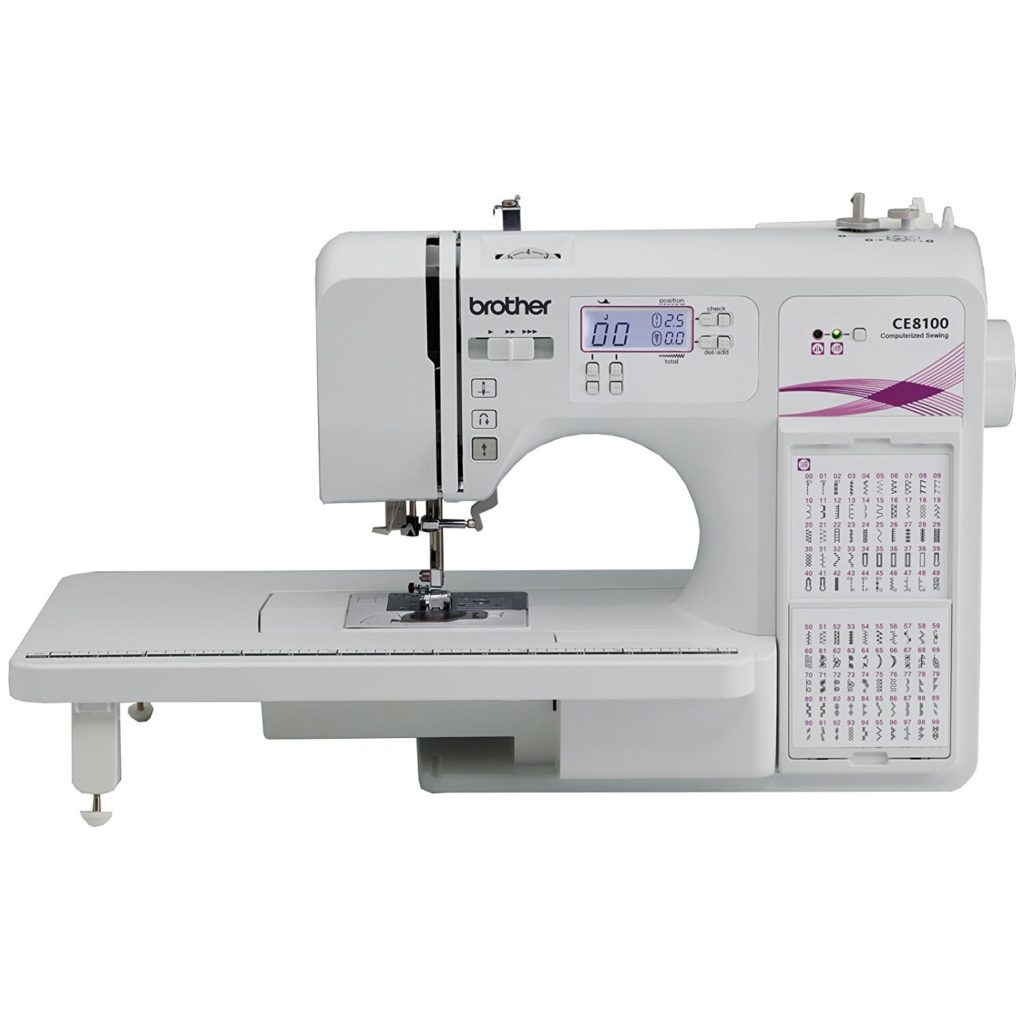 Specifications & Features: The machine is packed with a lot of inbuilt options which can attract any seamstress towards it. To get that into numbers, it is packed with nothing less than 120 built-in stitches, 8 one-step buttonholes, and as many as 160 stitch functions. Along with staggering features, it boasts a superlative feed system that lets you work on a wide variety of fabrics. The inclusion of drop-feed dogs let the users inherit free-motion-quilting and sewing. Threading a needle is a cakewalk. It hadn't got any easier than it is with the machine. Apart from all these wonderful features, it comes with a plenty of feet that give you a definite edge in terms of your creativity.
Our Expert Reviews: For the price at which it is offered, it can be termed as one of the better machines for the home user. Also, it can serve as a great back up for professional seamstresses. Compared to the other brands, it has plenty more options to choose from. The automatic needle threading and several minimal procedures are carried out with much suaveness. The only problem while undertaking quilting projects on this machine is its throat. It is quite smaller than it is expected to be. So the best way to undertake quilting projects on the machine is to keep the quilts on the rollers. Overall it is a wonderful machine to have at your disposal if you want to hone your sewing skills.
It is one of the heavy duty sewing machines from Brother which has to ability to deal with a wide variety of tricky fabrics at a very high speed. This high-speed quilting machine can sew as fast as 1500 per minute which automatically qualifies it to be used in the industries. It is a restless workhorse, to say the least, which will complete the most difficult of sewing processes without having to put in a lot of efforts. Although it may be a bit down of inbuilt features, it overshadows the drawbacks with its lightning fast speed and user-friendly interface.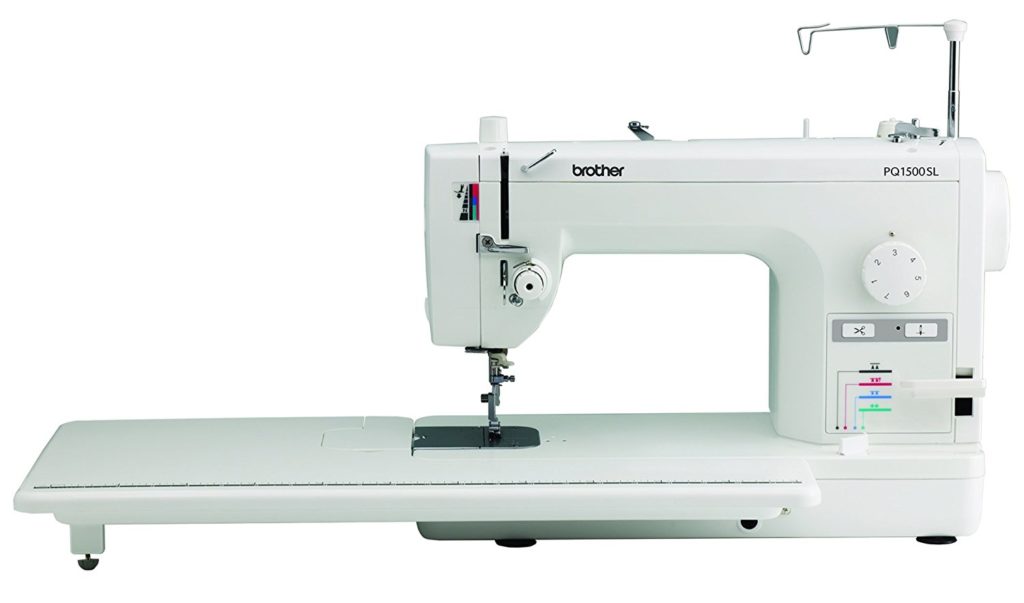 The amount of finesse Brother puts in the construction of this machine is commendable. It inherits an extremely fast sewing threading system which adds to the overall efficiency of the machine. One might look at its price and think it is costly, but once it starts undertaking sewing projects, one would know the value of each penny spent on it. Customer satisfaction is guaranteed.
Specifications & Features: The amount of preciseness Brother has put in the machine can be made out of the attention the company has given to its detailing. Some of these small features include push button auto thread trimmers and auto needle positioner. Therefore, it saves a lot of time and efforts when it comes to threading and setting the needle at an appropriate position. Also, there is a knee lever inherited for the presser foot lift which adds to the smooth sewing processes. The extension table that measures 12*18 inches allows the users to undertake large quilting projects.
It comprises of a single straight built-in stitch which is enough for the professional seamstresses to get away with their huge quilting and sewing assignments. However, it doesn't have any automatic buttonhole styles which can somewhere affect the brains of the buyers. It comes with 7 distinctive presser feet to get done with a variety of sewing projects. One can adjust the stitch width to as long as 7mm.
Our Expert Reviews: Many seamstresses may ignore the machine because of the unavailability of multiple built-in stitches, but a straight stitch is enough for someone to get done with most of his or her projects. More than 90 percent of your stitching projects would require stitching in a straight line. Therefore, it could be a suitable option for you. However, if most of your assignments require sewing with decorative stitches, this machine is simply not meant for you.
The reason why Brother refrained from providing additional built-in stitches is to maintain the simplicity and power of it. That is why if one is particularly looking out for a machine which can quilt through multiple layers of tough fabrics like leather and jeans with ease, Brother PQ 1500 SL is the way to go.
From creating quilts to letting you undertake basic monogramming projects, Brother HC1850 will give you several sewing options for you to choose from. Apart from the basic sewing options, the machine would surprise you with its versatility. Also, considering the number of features and innovative advancements it has to offer, the price for which it is offered is very minimal. Therefore, it makes it a go-to option for many Brother Fans out there. It stands shoulder to shoulder with several designs and models from other brands released under the particular category.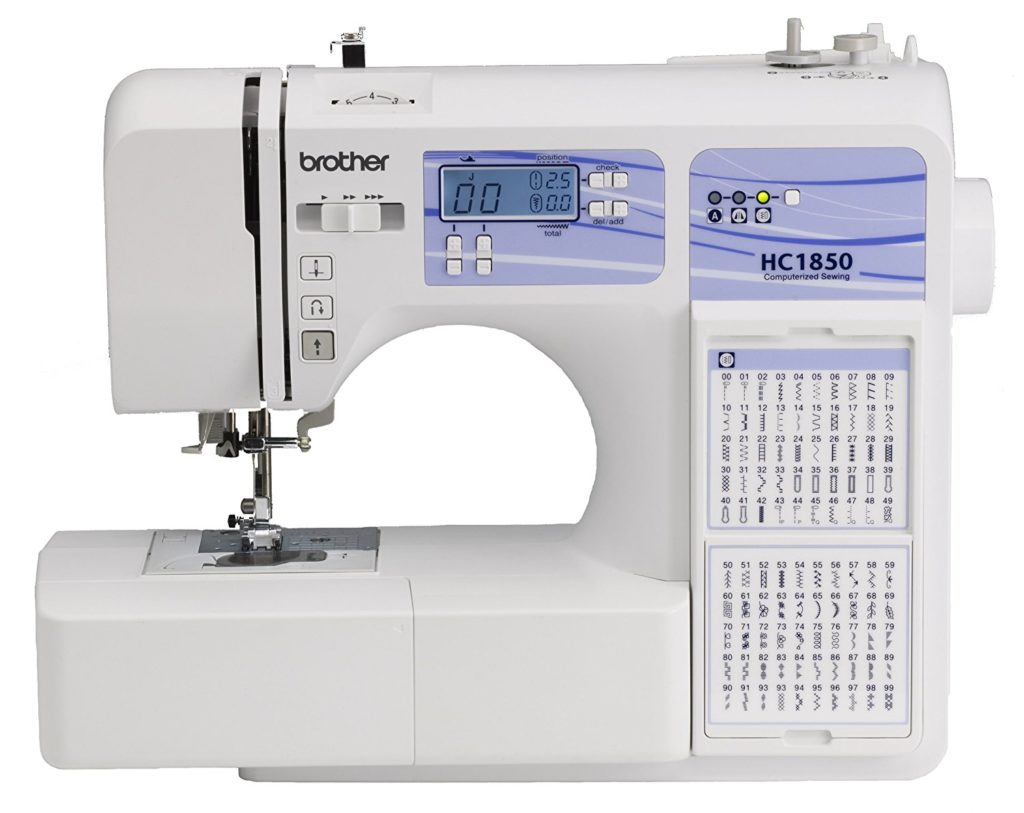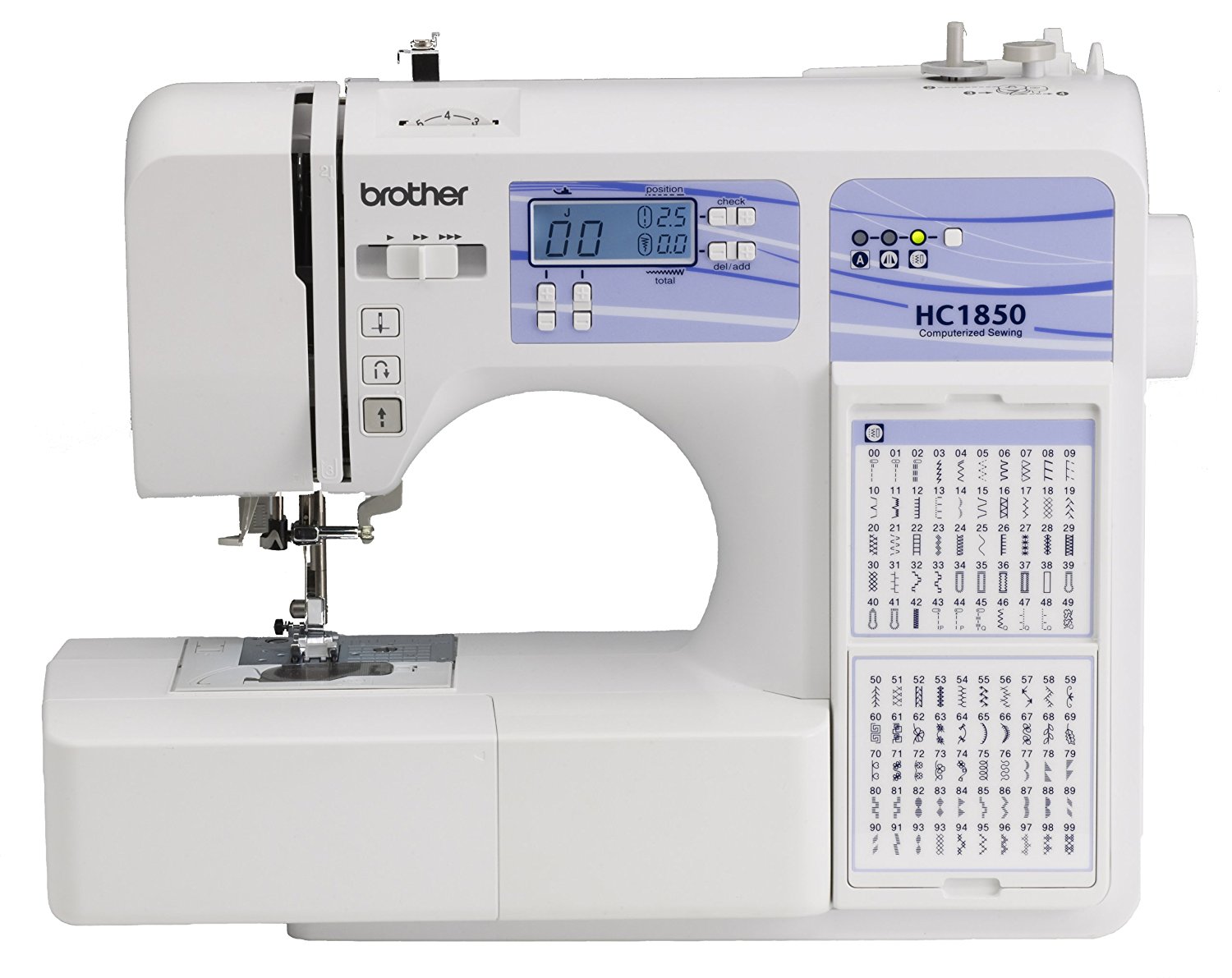 It not only gives you a creative edge over all your sewing assignments but also lets you complete them within a very less matter of time. Whether you are a professional seamstress or someone who has recently picked up sewing as a hobby, HC1850 would have answers to any challenges you throw at it. We can count on it as a complete machine with an extended ability to undertake a wide range of projects.
Features & Specifications: The machine comprises of as many as 130 built-in stitches and 9 presser feet. It also includes 8 automated one-step buttonholes and basic monogramming fonts. Automatic needle threading helps to reduce your workload and complete your work faster. It has a dedicated detachable quilting table which works as a boon for the regular seamstresses. Apart from the wide table, it comprises of a spring action quilting foot and 14 stitch functions which adds to the creativity in your quilting projects. One can easily do free-motion-quilting without having to worry about the fabric being clogged.
Our Expert Reviews: This Brother model gives you everything you require in order to sew, do embroidery, and quilt, that too at a lightning fast speed. Considering the overall look of the machine, you would be surprised to see the outstanding results it produces. It is very easy to set up which makes it a perfect choice for the beginners. It has a plenty of stitch options which allows you to undertake any sewing project you think of.
It would have everything in store for you to complete any sewing projects to your liking. One can even change the speed of the machine with three-speed variables. Also, one can adjust the stitch length and width according to one's preferences. Although it has a plenty of options to impress any regular seamstress, it cannot be totally recommended for the heavy quilters. However, it is an ideal sewing machine for the small time quilting projects. One can snub this machine in order to buy Brother's 1500SL if he needs a machine for serious quilting.
Brother produces yet another product which can prove useful to professional and novice seamstresses both. It can help the user to undertake a wide array of projects without creating much fuss. The machine weighs somewhere around 15 pounds which makes it easy to be carried around. The portability is the best feature of Brother's XR3774. Although the company boasts it as a machine exclusively designed for the beginners, it can still be in use after one master the art of sewing.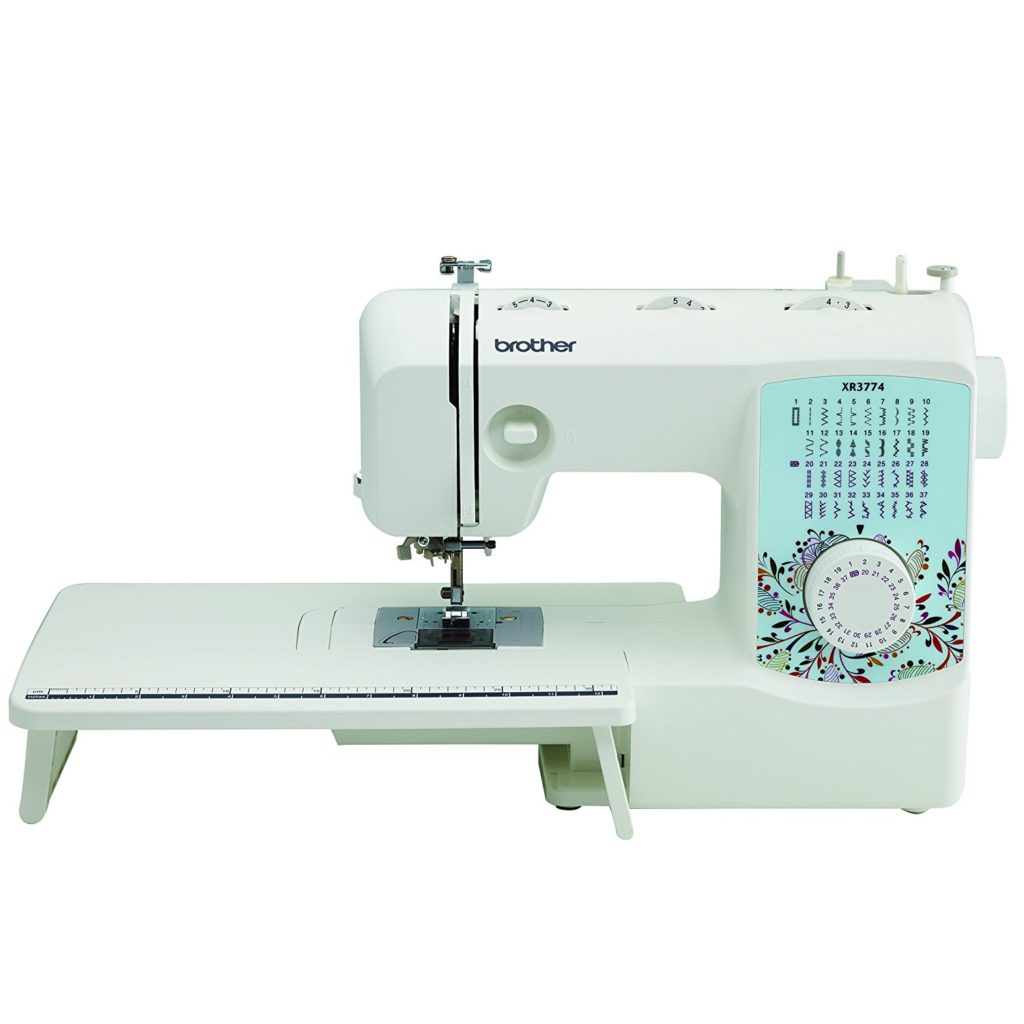 It is a decent machine offered at a very affordable price. One thing is for sure, one can use this machine for a lengthened period without it being worn off. It is safe to say that it is an out and out workhorse specially constructed to last for a prolonged time.
Features & Specifications: It is one of the best Brother sewing machines for the everyday use. It is versatile, packed with a lot of features, and provides mere perfect results with professional finishes. Also, at $11 it is one of the cheapest Brother sewing machines that come with a wide table for undertaking larger quilting projects.
It consists of nothing short of 37 unique built-in stitches that come along with 74 distinctive stitch functions. It is also inherited with a single automated buttonhole which can cut out perfect buttonholes on a consistent basis. Brother XR3774 comprises of 8 sewing feet that include buttonhole, zigzag, blind stitch, button sewing, narrow hemmer, quilting, and walking feet. There are a lot of features that make it very easy for the users to get a knack for the machine. These features comprise of automatic needle threader, top loading bobbin which is far from jamming up, and an automatic backlit LED for making it easy for the users.
Our Expert Reviews: The machine is much-loved by the users because of its mobility. This is a perfect machine for someone who wants to learn the art of sewing. Also, its lightweight makes it possible for the machine to be carried around to the desired places. It is very easy to set up that eventually makes it very popular amidst the professional seamstresses.
One thing is for sure, the machine can disgust a skilled seamstress with the amount of noise it makes. However, it is not as loud as many sewing machines in that price range. Therefore, one can have a decent sewing machine at a very affordable price.  For this very reason, one can always overlook the noise the machine produces.
It is one of those basic sewing machines which would get away with its efficiency for the intermediate seamstresses. However, unlike most of the models on the list, it cannot impress a heavy or a professional quilter in that case. It is very basic, has a very simplistic approach, and can suffice the needs of a beginner.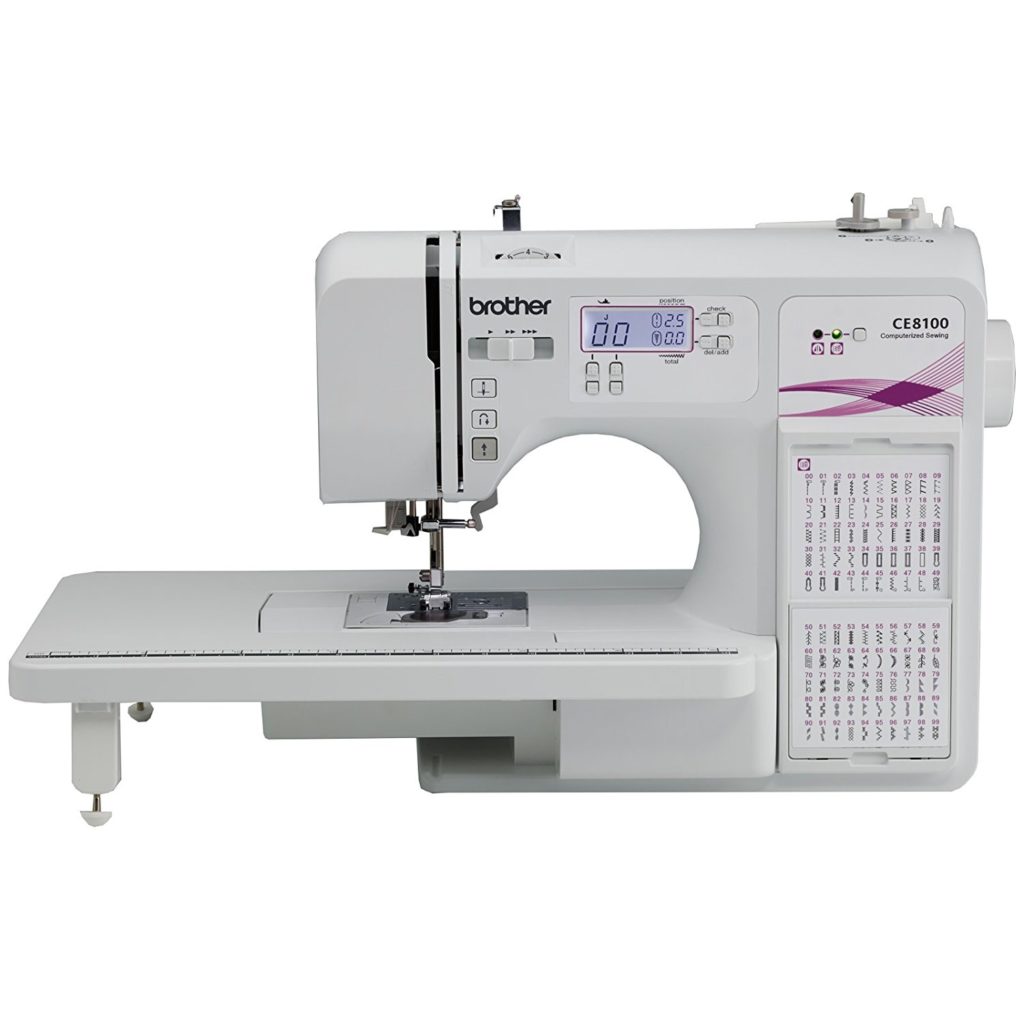 It is very easy to use and has a group of very basic features which can only be useful to a novice. It is not at all highly advance nor has the ability to sew at great speeds on a consistent basis. Despite having its own problems and setbacks, it is efficient in what the company gives into the machine. It is worth the price and perfect for someone who wants to master the art of sewing.
Specifications & Features: The machine consists of a decent range of options when it comes to built-in options. To get that into numbers, it comes with 120 built-in stitches which can be customized in 160 distinctive stitch functions. Along with that, there are 8 one-step buttonholes and a terrific feed system to smoothen the sewing process. The presence of highly advanced feed system makes sure that the fabric doesn't clog or stick while sewing. It inherits a drop feed dog which allows its users to undertake free-arm quilting and sewing.
Auto needle threading is an integral feature of the machine. It eases out a lot of efforts of the users and also saves a lot of time. When buying on the amazon.com, one would get a set of feet for multiple purposes. These feet include ones used for zigzag, buttonhole, zipper button, etc.
Our Expert Reviews: Although it cannot pierce through multiple layers of stubborn fabrics, it can handle a wide range of fabrics. From jeans to cotton, the fabric being jammed up or needle being broken is never an issue. This is all because of the advanced 7-point feed dog system which ensures smooth feeding of the fabric regardless of its nature. One would get a creative edge over the undertaken projects because of the lot of built-in options and a wide array of feet.
Its user-friendly interface and ability to deliver outstanding results when it comes to quilting make it a decent choice for the novice seamstresses. Its portability is an addition to all the good points of the machine. Although this machine has the ability to deal with multiple fabrics, the performance might drop down when you try to feed several layers of a given fabric. It is a decent machine but should refrain from buying it if heavy duty sewing is on your mind.
There are many other versatile machines from Brother which have the ability to quilt. However, in our blog, we decided to stress on such machines whose primary purpose is quilting. If not, we have mentioned only those names which have a superior quilting ability when compared to the others. For a professional outcome, you can always bestow your trust on a machine like SL1500. In general cases, Brother CS6000i is worth your every penny.
With this, we complete out reviews for some of the best Brother quilting machines available at the market today. If we have missed out any machine that you think should be on the list, right to us in the comments section below and we'd be glad to review it for you.