It is termed the highest selling sewing machine on the Amazon speaks volume about the machine and its performance.
Brother SE400 is a versatile machine that boasts innumerable features. Apart from it being versatile, it is strong, sturdy, and has the ability to perform excellent quality stitches. Also, it is safe to call it as one of the best-computerized sewing machines on the market today.
Detailed Review of the Brother SE 400 Combination Computerized Sewing & Embroidery Machine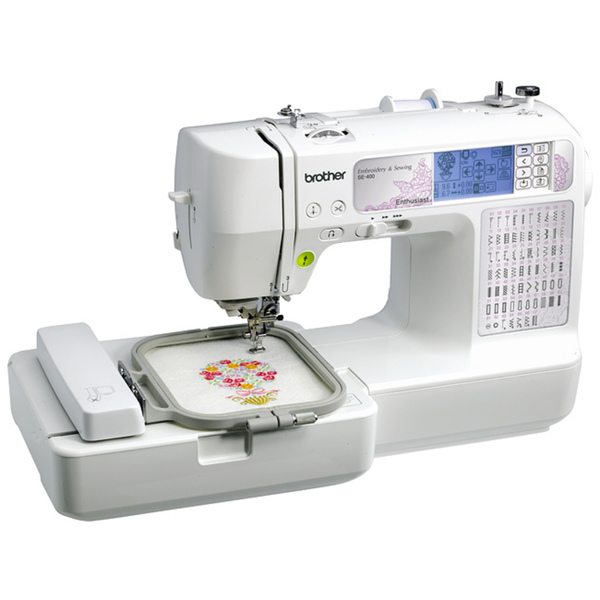 We will use this space to give you detailed insights about the Brother SE400. In the space below, we will talk about its pros, cons, features offered, drawbacks, and design in detail.
This would help the users to know a machine thoroughly before they can make a hearty investment in a sewing machine. It is always better to know what we are buying, isn't it?
Brother- A Sewing Machine Brand Known for Years
Brother is one of the oldest sewing machine brands known to the sewing world. Therefore, one who knows Brother and its product would have a rough idea that the company has strived hard to provide excellent quality sewing machine to its users.
The USA-based company has been influential in producing sewing machine in almost all categories.
The extra care and precision inherited to design sewing machines for the home user are reflected on their products.
Brother SE4000 Combination Computerized and Embroidery sewing machine is one such product.
Eye Pleasing Design & Excellent Numbers (The First Look)
Without a doubt, it is one of the best-looking sewing machines in the category. The white color and an agronomical design make it apt for any modern-day sewing room.
Also, it has the best-in-class workspace which makes it easier for the seamstresses to handle distinctive assignments.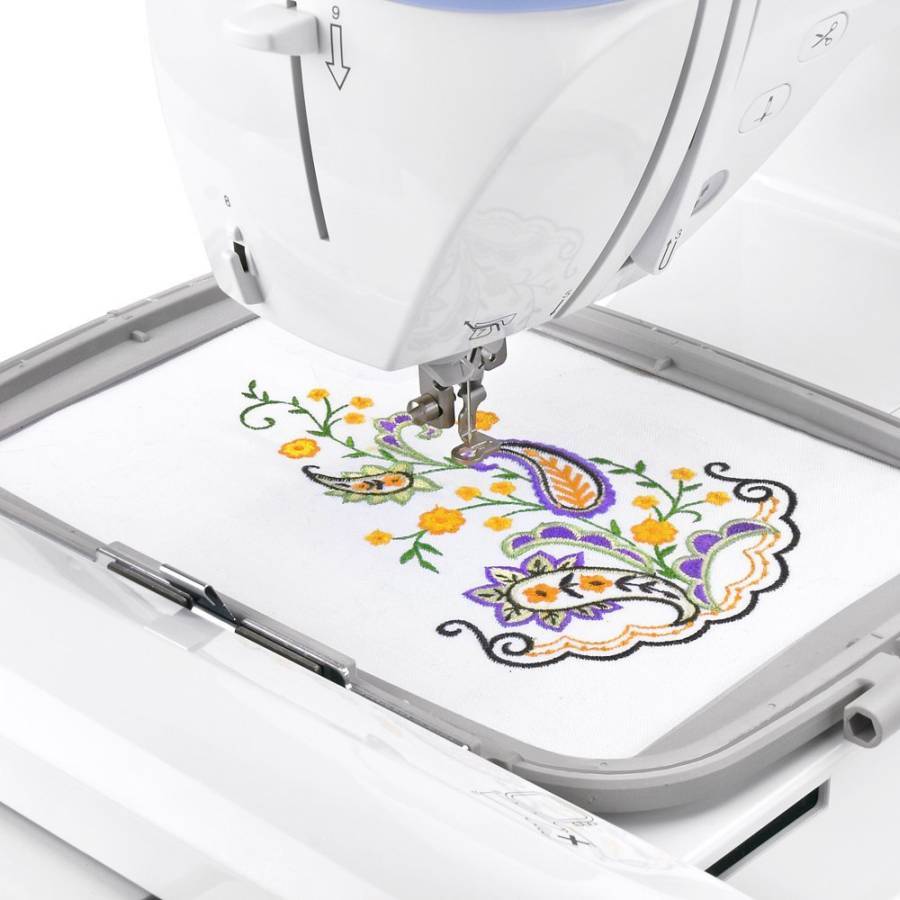 It boasts a 4*4 inches work table which allows the user to undertake intricate embroidery assignments with utmost ease.
The machine comes up with a brightly lit workspace so that one can look through the design being created without creating a fuss.
Apart from being sturdy, effective, fast, and versatile, it is a portable sewing machine which can be carried around from one place to another. Also, it boasts a touchscreen LCD screen which makes it easier for one to select the desired stitches.
Dimensions
20.3 * 15 * 15.2 (all the measurements are in inches)
Weight
10.9 pounds; 4.94 Kilograms
It is safe to call it one of the best feature-rich sewing machines available on the market. It is packed with innumerable features which in some, or the other way make the sewing experience fruitful.
Although it has a lot of features packed in a compact-sized machine, Brother has made sure that all of these features are accessible and easy to use.
Large Working Space
The fact that we are stressing on the word versatile has a lot to do with how the machine should be described.
You can sew, quilt, and embroider, all at once without the machine creating any nuance. It inherits a 4*4 inch working space which allows the seamstresses to deal with intricate embroidery assignments with ease.
Plenty of Built-in Options
The one advantage of having a computerized sewing machine at your disposal is the number of built-in options that it has to offer.
Apart from the basic inbuilt stitches, it is integrated with the Ibroidery.com.
One can download or customize innumerable designs using the website. The website has a hefty number of embroidery designs which can be used to give a creative edge to your projects.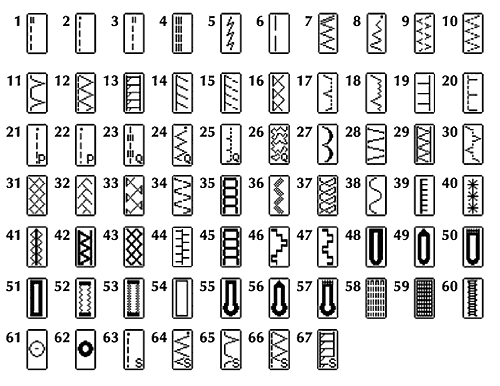 The machine is said to have 67 exclusive sewing stitches and 70 embroidery designs. It also consists of as many as 5 lettering fonts for one to undertake monogramming assignments.
One can always download embroidery designs using the website because of the computer connectivity inherited in the machine.
Threading System
Brother SE400 is said to have automatic threading system which saves a lot of time and efforts of the user.
Also, the presence of one-touch automatic thread cutter makes it easier for the seamstresses to cut the top and bobbin thread.
Sewing Feet
Versatile is as versatile does. The sewing comes with as many as 8 sewing feet which can be changed pretty quickly. Thus, doing two distinctive projects in a succession wouldn't be much of an issue.
The sewing feet included in the machine are the zipper, zigzag, overcasting, buttonhole, button fitting, embroidery, free-motion lettering, and blind stitch.
Easy to Set Up, Easier to Use
One should understand that Brother SE400 is a combination sewing machine. Therefore, it is pretty obvious for a machine like it to have a lot of features.
This makes it difficult for the company to arrange this features in an organized manner.
However, Brother has done a good job in terms of making the basic stitch functions accessible without having to bang your head behind it.
Using the advanced features might force you to refer to the user manual.
Throw any given project at it, and one could use the machine within the setup time of less than few minutes. You can jump from one project setting to another without having to face any problems.
A Quick Recap of All the Exclusive Features
Built-in Stitches: 67
Monogramming Fonts: 5
Built-in Embroidery Designs: 70
7–Piece Feed Dog
Free Arm Design
Computerized Sewing Machine
Import Designs from Ibroidery.com
One- Touch Thread Cutter & Trimmer
Automatic Needle Threader
4*4 Embroidery Work Space
8 Sewing Feet
Pros & Cons of Brother SE400 Computerized & Embroidery Sewing Machine
All sewing machines have its own set of problems and perks. It depends on the needs of the users that the problems get highlighted.
Therefore, if a machine has all the answers to all your sewing demands but lacks a quality that you don't require, you shouldn't be paying much attention to the drawbacks.
However, it is our duty and responsibility that our readers get to know about a machine's pros and ploys.
Positives of Brother SE400
Computerized Sewing Machine with an LCD Touchscreen
The fact that it is a full-fledged computerized sewing machine gives you the freedom to create designs using the internet.
You can always download the designs from the ibroidery.com and give a new creative dimension to your assignments.
Also, a plenty of built-in options makes it a decent machine to rely on whether you need the machine for the home use or the professional use.
Easy To Thread
It is one of the traits all intermediate and beginner-level seamstresses seek in a sewing machine. Many machines require a lot of hard work and time in order to thread.
However, it is one of the easiest machines on the market which has a swift threading system making it a decent choice for seamstresses of all skill levels.
Warranty, Customer Support, and User Manual
The number of features that the machine boasts require a user manual in order to keep track of all the built-in options.
Brother does a good job to create a bilingual user manual which is easy to go through. Also, the company offers a 25-year limited warranty and a lifetime free phone support to its users.
Drawbacks of The Brother SE400
Difficult to browse through 6 pages of built-in options
It is no brainer that the machine with so many features at the disposal could get a bit confusing. Brother SE400 is no different.
It can be a tricky affair to browse through 6 pages on the LCD screen and figure out a perfect stitch for the undertaken project.
Frequent Cleaning of Bobbin Case
Due to the presence of several sensors in the bobbin case, one needs to clean the case at frequent intervals.
Otherwise, keeping the case unattended might affect the overall performance of the machine. It is not a daunting task to get keep the case clean. However, it can get annoying at times.
Non-Adjustable Presser Foot
One thing we thought could be better in the machine was its presser foot. One cannot adjust the pressure of the presser foot.
Therefore, one doesn't get the desired settings while dealing with a variety of fabrics.
The Final Verdict
It is a good option if one is looking out for a computerized as well as an embroidery sewing machine. The combination sewing machine is proficient in doing both the jobs with finesse.
However, one shouldn't expect the sewing quality that is derived from the use of a heavy-duty sewing machine.
One thing that might keep a lot of seamstresses away from the machine is its price range. It is pricey, to say the least. For a non-heavy-duty sewing machine, the price is too high.
Therefore, an intermediate or an entry-level seamstress might have to think twice before investing in a sewing machine as pricey as this.
But for someone who runs a small business or needs a backup for the heavy duty sewing machine, the investment could prove fruitful.
The machine is easy to set up and easier to use. It leaves behind most of its counterparts in terms of the ease of use. It is a perfect choice for seamstresses who want to dig in deep with embroidery projects. For someone who finds it difficult to deal with intricate projects, this machine could be a perfect fit.