Everyone desires to have a perfect sewing machine at his disposal. From a brand to its category, seamstresses try to be very particular while selecting a sewing machine that suits their dire needs. But apart from selecting an apt sewing machine, one thing that is overlooked for the most of the times is the sewing machine table. One needs to have a decent sewing table to get a perfect sewing experience.
Insights of Sewing Machine Table
Many of the home users rely on the regular tables for sewing. However, this may affect the overall sewing experience and restrain you from giving a professional result. Thus, it is extremely important to have a sturdy and efficient sewing machine table to get the best results out of a sewing machine. In this blog, we discuss some of the best sewing tables available on the market today.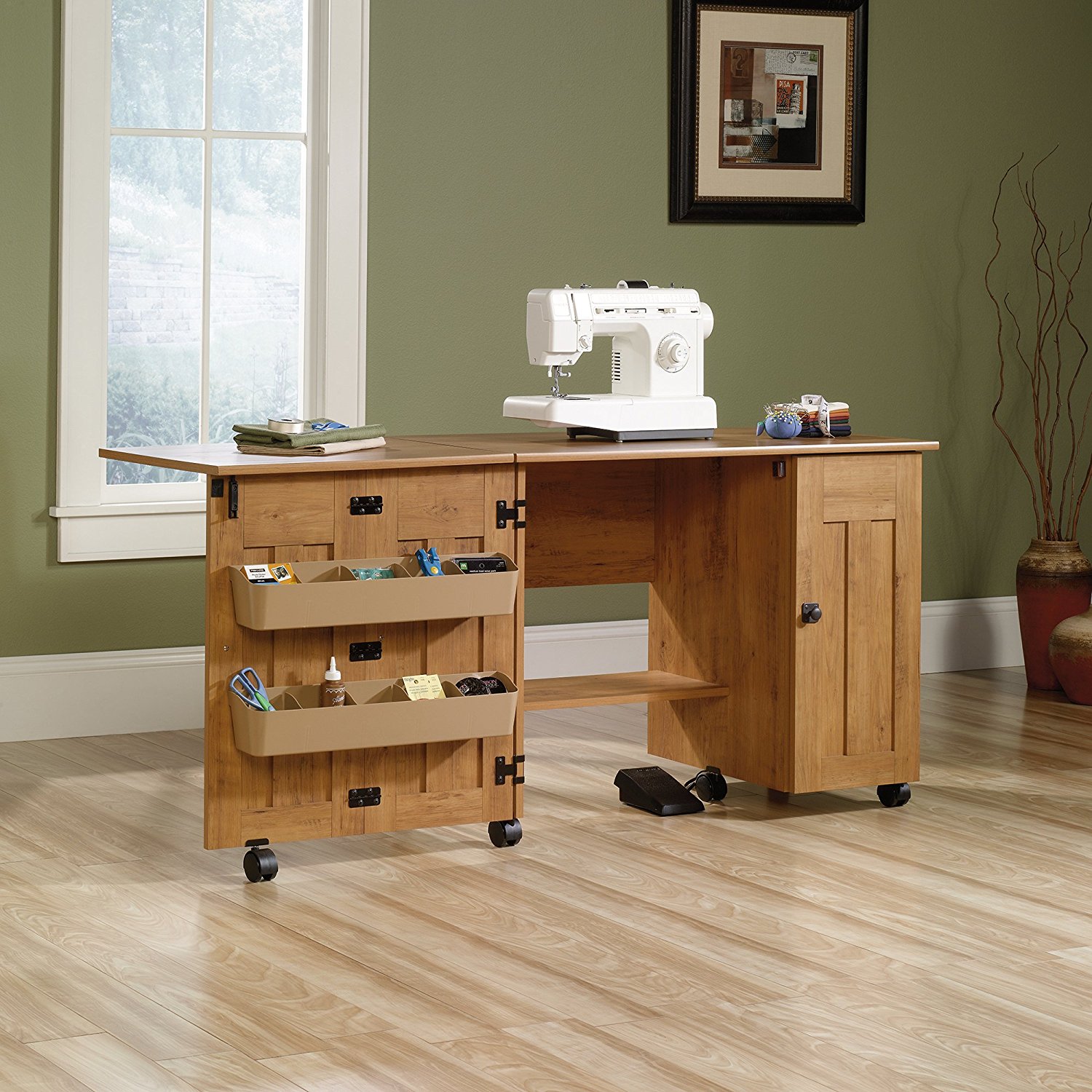 What are the Factors to Focus On Before Buying a Sewing Table?
Just like the sewing machines, there a lot of factors that need to be considered before selecting a table for your sewing assignments. One has to focus on the right ergonomics of the table before figuring out which is the best one that would suit their demands.
Height can be a deciding factor!
Before one decides to buy a sewing machine table, one should make sure whether it is comfortable for the user's height. Not all sewing tables are adjustable. Therefore, it is always better to be safe than to be sorry.
Not All Sewing Tables Will Suit All Seamstresses!
Individual preferences matter a lot. Some might require a table that is huge and has space for all the mess the user creates while some might prefer a table that is compact and entertains no other material than the sewing machine itself.
Some Tips to Consider Before You Buy a Sewing Machine Table
A Table That Allows Your Wrists to Land in a Straight Line
This is, again, a matter of the height. A sewing table that is small for you would have you to bend while you stitch your daily projects.  That would surely cause you to strain your lower back, neck, and shoulders. Also, it wouldn't let your legs to be comfortable while you work with the foot pedal.
A table that is inevitably big for your height will force you to shrug your shoulders upwards resulting in discomfort for your back, shoulders, and neck. Neck sprains would be a constant issue one will have to deal with after a long day of sewing.
Considering all these factors, one has to choose a sewing table that is set at a perfect height. A table that allows you to sit straight and lets your wrist comfortably land on its surface, has enough room for your legs to work with its foot pedal, and one which suits all your sewing demands can be deemed as a perfect one.
Wider Tables for Someone Who Undertakes Full-Length Assignments
One has to take a foresight into what kind of assignments he or she will be undertaking in the future. If the user is reluctant of sewing normal-sized projects for the most amount of time, a compact and an easy on the eye table would be apt. However, if the seamstress is someone who wants to undertake assignments like large wedding gowns or curtains, a wider and a bigger table will be a perfect choice. No one likes to bend over just to get rid of the extra fabric.
Customize Your Table to Suit Your Needs
A customization is an option if you are too short or too long for the tables available On the Market. One can buy a table where elbows adjust perfectly on the surface. However, if you are too long or too short for the general size, you can always customize one for excellent results. Also, make sure you carry a measuring tape along with you when you go to a supermarket to purchase the cabinet. Looking around the house for the available resources might help as well.
Use Your Wit and assemble it To Perfection
Very few sewing machines would make you feel perfect while you use them. Some might be a tad small or too long, or just too wide, you can make those small adjustments using your wit. You can either add to the height by adding wooden blocks at the base or lessen it by cutting down its legs. You got to use your wit to have a sewing table that perfectly fits your comfort levels.
It is one of the tables that will suit the height of most of the seamstresses. The versatile table has been a top choice for intermediate as well as professional seamstresses ever since its release. The folding table is said to be compatible with most of the sewing machine models available on the market. Its height can be adjusted according to one's preferences.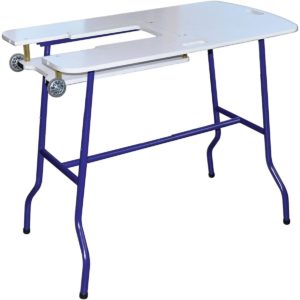 It gives you an option of sewing by standing or by sitting on a chair. Also, it is easy to store because of its foldable features. It can be stored around without consuming a lot of space. It has wheels that allow the users to carry it from one place to another without having to pick it up and bare all its weight.
The Numbers That Matter: It gives you a ranging height option from 29 inches to 36 inches. Therefore, regardless of your physical stature, it is certainly going to suffice your sewing demands. The working surface is measured around 18.75 inches in length and 7.75 inches in width. The overall thickness of the top surface is calculated at 3. 125 inches. The overall storage area compiles 1044 sq. inches.
Our Expert Opinion: Apart from its versatility, one thing that deserves the appreciation is the sturdiness. The table is said to stay steady even while you sew at higher speeds. However, in the efforts of making it a steady table to work on, the company piled up on the overall weight of the table. They have tried to compensate by giving tires at the end of the table, but that doesn't change the fact that it is a heavy table to be carried from one place to another.
This good-looking cabinet has the looks the allure the most stubborn of seamstresses. For the home user, it is a perfect fit for adorable looks and just enough features to suffice the sewing needs of a skilled seamstress. It is a compact sewing table that consists of all the features that a large sewing machine table might boast. Made of Oak, it is made to last and assures you the robust surface that one looks for while indulging in intricate sewing tasks.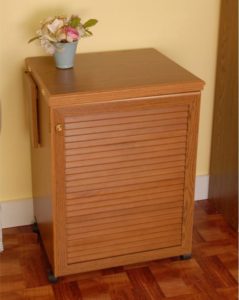 It is an adjustable table that could play with the height adjustments with the help of the airlift mechanism. Also, the fact the mechanism works on all types of machines gives you one more reason to fall for the Arrow Cabinet. It also allows ample space for your accessories to be around the reach of your hand. The table is easy to set up and takes nothing more than an hour and a hammer to make it ready for the use. Make sure you measure your sewing machine and then compare it with the sewing surface offered by Arrow before making this purchase.
The Numbers That Matter: The dimensions of the table when opened are measured at 68-7/16 inches wide, 19-5/8 inches deep, and 30-1/2 inches tall. The close dimensions are calculated at 23-3/4 inches wide, 19-5/8 deep, and 31 inches tall. If your machine is no longer than 12-9/6 and 18-7/8 in width, then and only then, the table would be compatible with the machine. It is fitted with caster wheels for moving it from place to place. It settles down as a good piece of furniture when not in use.
Our Expert Opinion: Setting up this table isn't a one-person job. It requires at least two people at max to get done with setting up the table. The pre-drilled screws are very small at first place. But with some efforts, it can still manage. It can take anywhere from an hour to 3 hours to set up the machine. But once it is done, you will fall in love with the strength and the sturdiness of the machine. The air mechanism is much loved by the users. Overall, it is a nice machine to have for all the home users.
It is an out and out cabinet made by keeping in mind about all the features that are desired from a sewing table. The table lets you take a total control over your sewing machine. It can transform your free arm sewing machine to a flatbed sewing machine with the help of the Wish table. Regardless of what fabrics, how intricate the assignments, and how big the projects, the table will let you showcase your creativity without standing between you and your artistic freedom. It will also protect your sewing machine if it does not come with a dedicated cabinet.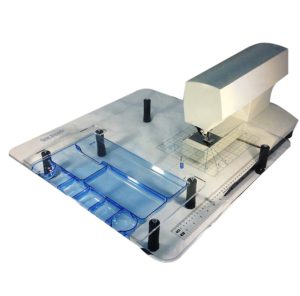 The segregated drawer is big enough to hold all your sewing accessories. This feature cuts down on your efforts in a considerable manner. Circular patterns can be a cakewalk with the help of the circle kit. You also get to measure your fabrics with the help of the universal grid present on the surface of the table. The edges are well-carved to provide utmost comfort and ease to the users.
The Numbers That Matter: The sewing table is said to measure 22 and a half inches in length and 25 and a half inches in width. It comprises of as many as 3 beveled edges. The accessory drawer is measured around 9 inches in length and 14 inches in breadth. The area offered by the compartmentalized notion trays is enough to accommodate all your sewing gears.
Our Expert Opinion: The best part of the machine is that it can accommodate any sewing machine regardless of its size. From the old models to the newest ones, it would be a comfortable sewing table for all the machines ever produced. However, unlike the model mentioned above, it isn't a table that will compliment your furniture. It is a no-nonsense table built for the seamstresses. It can undertake all kind of sewing assignments without creating any fuss. We recommend it for all the seamstresses regardless of their skill levels.
Studio Design 13362 is a wonderful sewing table that provides ample space for the seamstresses while they are into their sewing processes. It is designed in such a way that it is sure of saving a lot of time and space for the users. Its table top has enough space for the user to spread the fabrics, cut on designs, and get done with all the work that comes across while one undertakes a sewing assignment. The wide table can be adjusted and folded down to minimal when not in use.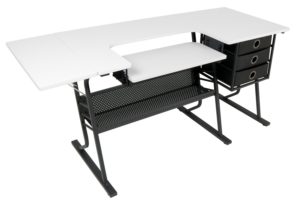 There are enough drawers and compartments inherited on the table to keep your sewing processes neat and clean. It has a large shelve at the bottom of it that allows you to store all the accessories. The platform shelf where the machine has to be placed can be adjusted according to the height of the machine. With the help of the six levelers, one can adjust it on any given surface, even if it is an uneven one.
The Numbers That Matter: The overall size of the machine table is calculated at 60.25 inches * 23.75 inches * 29.25 inches. Its width is said to be 60.25 inches while its length and depth is measured at 23.75 inches and 29.25 inches respectively. The top surface of the table is measured at 50.75 inches in width and 23.75 inches deep. The folding shelf is of 9.5 widths and 23.75 deep. The platform the hosts the sewing machine is of 23 inches wide and 10.75 inches deep.
The main surface of the machine can bare a maximum weight of 75 pounds and the adjustable side panel can hold around 25 pounds. The lower storage shelf can be measured at 32 inches wide and 9 inches deep.
Our Expert Opinion: This machine is totally apt for someone who is looking for a durable, versatile, and steady sewing machine table. It can easily stand the test of the time. It may take some time to assemble, but once that is done, it is a wonderful product to have a fine sewing experience. The drawers are made of an inferior material. However, they are strong enough to hold your sewing accessories like sewing feet, needles, thread bundles, etc. Also, users loved the markings and clear directions on it which simplifies the sewing assignments.
This is not an out and out sewing machine table, but it can be termed as a piece of furniture that can be used a sewing table. It is versatile and will compliment your contemporary furniture to perfection.  For someone who is a seamstress by hobby and not by profession, the table is a perfect fit. It has everything to offer from a large working space to a big storage compartment. Also, it is foldable that allows you to unpack the table when not in use.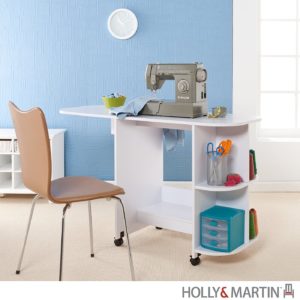 It consists of lockable rotating coasters that assist the user to carry the table from one place to another with utmost ease. It comes with a white laminate finish which is easily cleanable. The Lydia Table stands true to each of the seamstress's demands from a sewing table while complimenting your furniture proficiently.
The Numbers That Matter: Th overall height of the table is calculated at 29.5 inches. It is spread across an area of 31.5 inches wide and 19 inches deep. It is available in a laminated white color which adds to the physical appearance of the table. It is a multipurpose table which can be used for tasks other than sewing.
Our Expert Opinion: Just like most of the tables on the list, it looks easy on the paper to assemble, but in reality, it is simply not. Its high-end sophisticated look was much appreciated by the people who purchased it. The table is said to be sturdy and robust even when a high-speed heavy duty sewing process is carried on the machine. For the price at which it is offered and for the insanely attractive looks, it is a must-have for any seamstress who wants a sewing table at his or her home.
This is the last but certainly not the least sewing machine table on the list. It is one of the most handsome looking and efficient sewing tables available on the market today. Whether you are looking out for a table for your professional use or for the domestic use, this one is intricately carved to cut down on your efforts and save a plenty of your valuable time while you deal with your sewing assignments. Not only sewing, but it could be even used to carry out other artistic and crafty projects.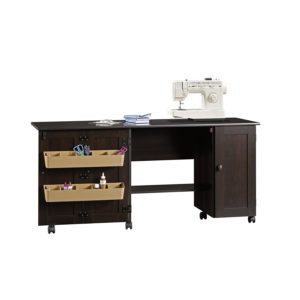 It comes with a lot of drawers and shelves that accommodate all your accessories with utmost ease. The table can be used as a nice showcase table or a corner table to flaunt your wide collection of wines or books when not in use. The best part about it is its working surface which is heat, water, stain, and scratch resistant. This gives you the freedom to manhandle the table and take heavy duty projects without worrying about the look of the table being spoilt.
The Numbers That Matter: Although it might just measure 38.5 inches when you first look at it, it can expand its working space up to 63 inches when you start working on it. Its width is calculated around 19.5 inches and the total height of the cabinet is said to be around 28.5 inches. It might seem a little way to heavy on paper with weight being said to be around 85.4 pounds. But with the help of the lockable wheels, it is quite mobile and extremely easy to port from one place to other.
Our Expert Opinion: This is a perfect sewing machine table which can be doubled as a normal table in the regular circumstances. It offers a lot of storage compartments with two additional compartments at the back of the door. This feature allows you to store the accessories within the table. This helps you to get your things all within reach saving a lot of time and efforts of the user.
It is also one of the soberest looker sewing tables on the market currently. The craftsmanship that goes into the making of it is top class. It is quite reflective of the product Sauder has managed to offer to its customers.
Now that we have reviewed quite a few sewing tables on the market, we hope you find the perfect one with the help of our tips and reccomendations. For more sewing machine reviews and tips, you can log on to our website www.sewcare.com. We have categorized a lot of sewing machine brands and their subproducts and have given our best to review them unbiasedly.
We are open to suggestions. You can always write to us in the comments section below on whether you find common grounds with our reviews or refrain from it. We'd like to take in your valuable suggestions and inherit the ideas in the future blogs.