Best Portable Sewing Machines Reviews
The machines that are considerably lightweight which can do the basic sewing work quite efficiently without being vibratory or unsteady are categorized as the portable sewing machines. These machines are most used by newbies in the world of sewing, young toddlers, and learners who require carrying the machine to the sewing classes or retreats. Also, these sewing machines do not consume much space in the room and can fit in a corner. These machines provide out and out basic features which are very easy to understand, and can be extremely helpful to the new users.
It is a difficult task for the new users to jot down on a particular sewing machine which is simple and portable at the same time. Therefore, we decided to sort down the best machines, so that our readers get competent while selecting the appropriate ones for the newbies and young children.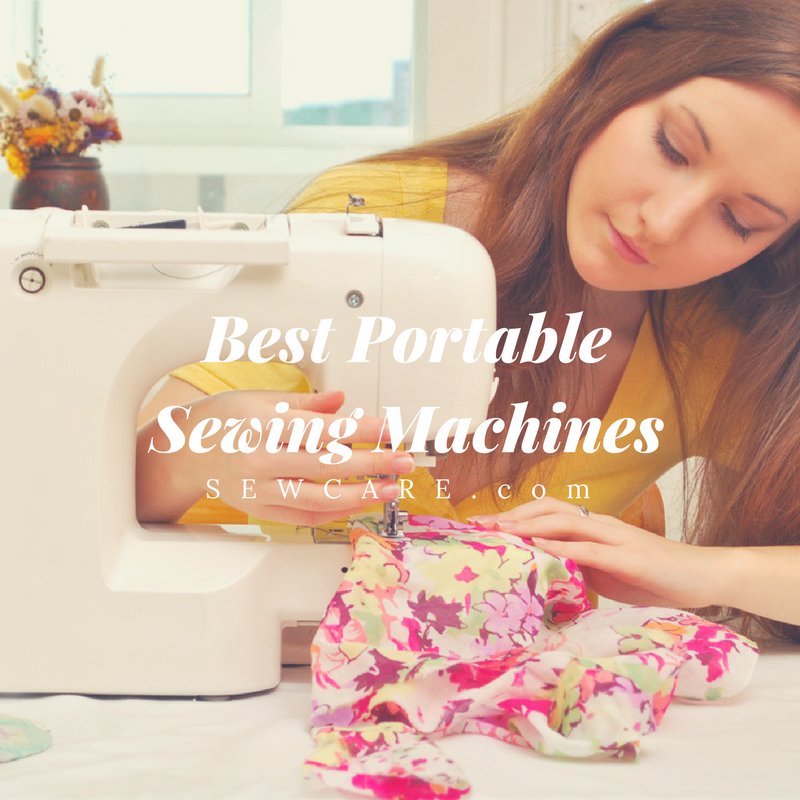 | Name of the sewing machine model | Weight of the machine | User Ratings | Buy it on Amazon |
| --- | --- | --- | --- |
| Janome Merlot Sew Mini Sewing Machine | 7 lbs | 4.0 | |
| Singer Pixie Plus Craft Machine | under 6lbs | 3.0 | |
| Janome Fast Lane Fuchsia | 5 lbs | 3.5 | |
| Michley LSS-202 Lil Sew and Sew Mini 2-Speed Sewing Machine | 2.2 lbs | 3.0 | |
| Easy Stitcher Table Top Sewing Machine | 3 lbs | 2.7 | |
| Brother XM2701 | 13 lbs | 4.5 | |
| Michley LSS-388 Sewing Machine | Not mentioned | 3.8 | |
| Janome 11706 Hello Kitty Sewing Machine | Around 12 lbs | 4.1 | |
| Brother CS6000-i | Around 15 pounds | 4.5 | |
| Michley LSS-505 Lil' Sew and Sew | Around 4.3 lbs | 3.4 | |
Factors to consider while selecting a portable sewing machine
There could be n number of factors that decide the fate of your sewing experience. The sewing machine is the number one cause that simplifies your entire sewing process. Therefore, one needs to have a sewing machine which oozes for perfection with its easy-to-use methods. Here are some factors to take in consideration before splurging on to buy a portable sewing machine.
Extremely lightweight and transportable
Cost considering the features provided
Hassle-free stitching for beginners
Easy-to-use features
It's efficiency for the new seamstresses
Best Portable Machines in the market today
This is one of the most-sold machines in the category on the amazon.com. It is considerably small and doesn't weigh much. It can be carried away anywhere you want with much ease. You can create all kind of basic sewing and quilting projects without being entangled or stopped. For a beginner who wants to explore the seaming realm and master the art of sewing, this machine is apt.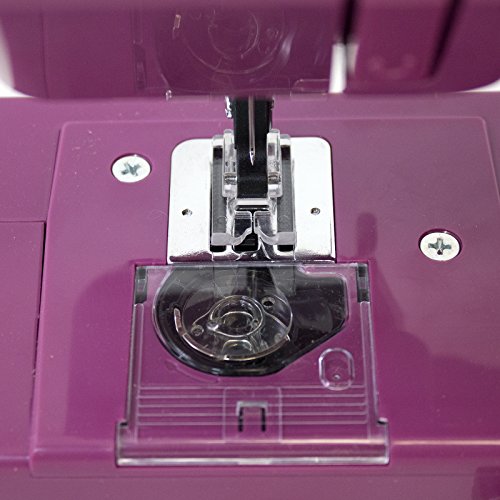 Specifications: The main prospect of this sewing machine is it's extremely lightweight. It weighs only 7 pounds to be précised and sizes at 10 inches in length and 8 inches in height. It's only 4.75 inches wide and. Apart from its size and shape, it provides integral features that ease the sewing processes. It comprises of a J-style drop-in bobbin, 1 presser foot, and 4-point feed dog. The machine can stitch up to 6 layers of fabric at a time.
It is a well-constructed machine that offers feasible options for all its new users. The reverse button available in the machine can cut down on mistakes. Lesser fuss and greater efficiency are what defines the machine in a simpler way.
This is the cheapest Singer sewing machine available on the market. The machine is excellent in all ways possible providing almost all essential features to all kind of seamstress. It outclasses its counterparts in the departments of the sizes and its portability.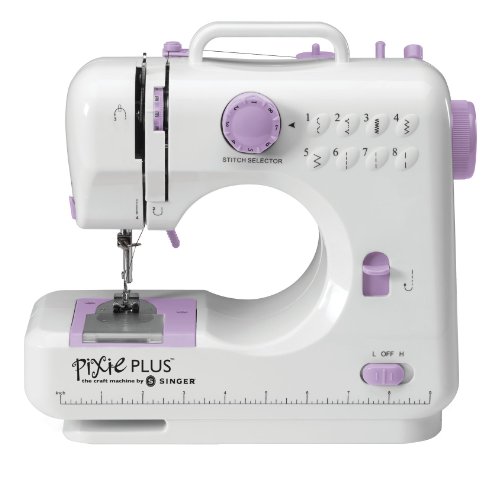 Specifications: It comes with 8 built-in stitches, a foot pedal, reverse button, and a carrying handle made into the top. It has two power options. The machine can run on the AA+ batteries as well as electricity. The machine like any other machine in the class has a J style drop-in bobbin. The machine has a LED light fixed over the needle which lit up the workspace. The inclusion of a reverse button in the machine makes it easy for the newbies.
The machine is colorful, quirky, and well-crafted for the young seamstress. Also, it can undertake any sewing projects without it being too big in size. Although the machine provides all efficient features for new users, it can be a complete no for someone who is a seasoned seamstress. However, the cost at which the machine is sold by the company makes it a good buy.
Janome has worked on its color which makes it extremely attractive for toddlers and beginners. The machine has 8 colorful variants and is so lightweight that it can be easily carried around at the place of your liking. A beginner can get the basics right with this machine as it works flawlessly once set up.
Specifications: The machine consists of 10 built-in stitches, power cord, hand wheel, and a finger guard. Also, it has a couple of loading drop styled with J bobbins. It can be arranged in the left and center needle position and weighs just below 5 pounds. It is available in 8 colorful variants, viz. Blue, gray, lilac, fuchsia, mint, pink, teal, and purple. It comes with threading diagrams which help the newbies to the core.
Even though the feed dog is unmovable, it can sew through the most of the fabrics known to a machine. It occupies very less place, and the available colors offer options to people of all age and sexes. It can undertake all kind of basic sewing projects and complete them without wearing out. It's extra added features make it a suitable machine for toddlers so that they don't sew their fingers while doing a fabric.
This machine is meant for its users to carry around wherever they want. Its lightweight allows its user to carry it under their arms. Also, it offers all the perks offered by a regular sewing machine at a very low cost of around $25. It is so lightweight that you can use the machine by keeping it on your lap. This makes it an easy device for children and people who want to use it for very basic things.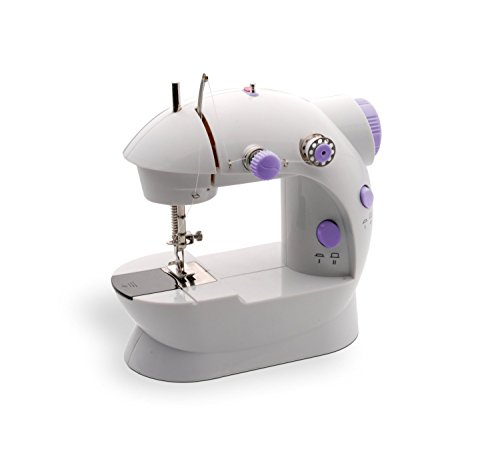 Specifications: It is designated with a foot-pedal and an adaptor. It also comprises of 42 piece sewing kit, a threading bag, and electric scissors. It has two very basic built-in stitches, viz. straight and zigzag. The machine comes with a hand wheel and can be powered by the batteries as well as the electric current. It is a wonderful machine that provides all the basic amenities that newbies sought after while selecting a sewing machine.The machine is capable of pulling off more sewing projects while it is connected to electric current.
The machine can easily undertake sewing and hemming projects. Also, it is efficient for sewing tougher fabrics like jeans and blankets. Basic quilting can be done easily. There is a lot of added features that come along with the machine which attracts new buyers. There are plenty of colorful threads available with the machine which lure the buyers. The machine is very cheaply available in the market. But if you are a seasoned seamstress, you'd want a machine with much more amenities.
This machine leaves many famous companies behind with its super light stature and profound built-in quality. It is extremely safe for children as the company emphasizes safety with their glorious production. The price is not in the higher size either which makes it one of the best domestic sewing machines available in the category.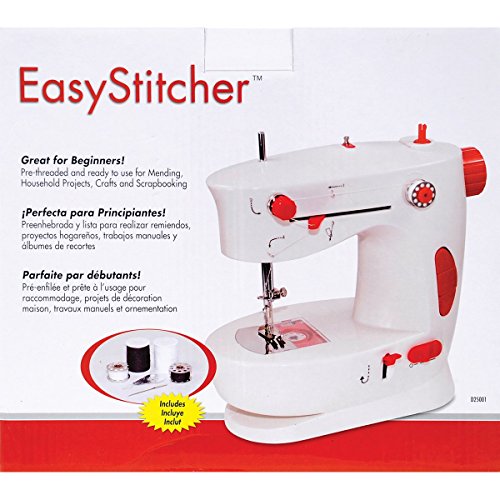 Specifications: The total weight of the machine is not even 3 pounds which qualify it to be tagged as a portable one. The machine comes with double speed control and the parallel drop in bobbins. It can be used efficiently on the battery as well as direct electric current. The fabric of almost all consistencies can be sewed using the machine.
The machine can go head to head with other regular machines when compared to the work done. Also, it can go past many fabrics including tougher fabrics like jeans. The manual that comes along with the sewing machine proves helpful to its users as it introduces users to all the dynamics the machine can perform. Its reverse stitch is most loved by the new users as it allows them to redo their mistakes. It is one of the best basic machines available in the market which can help you master the skill of the sewing without confusing the user with loads of features.
It is an easy machine to work on which can undertake all kind of sewing and quilting projects. Free arm included in the machine makes several sewing processes easier. It is completely automatic, and threading and cutting the thread is done without human intervention. The rotary dial adds to the efficiency of the machine as it allows the user to select the type of thread with just the turn of the dial.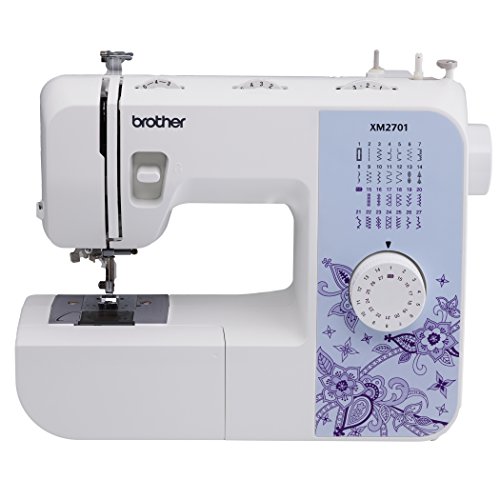 Specifications: Brother XM-2701 comprises of 27 built-in stitches, foot pedal, and a one-step buttonhole. Although it is not lightweight as many of the machines in the list, its weight of 13 pounds is still okay to call it portable. It comes with different foot pedals, automatic needle threader, and an easy-to-use stitch selector. It is equipped with a top drop-in bobbin which is completely jam resistant.
It is doubtable to consider it in the section of the portable machine, but 13 pounds is not that heavier either, is it? Therefore, this machine made the list even after being heavier than the rest. The machine can be at its complacent best for the experienced as well as the new users. The machine's quality is unquestionable which makes it a pretty choice at the price it is offered.
Well, many in the industry doubt the durability and the working of the Michley Company, this machine has to be on the list for its sheer portability and much-needed basic features. It is comparatively cheap than the most of its counterparts. But the company compromises with the quality in the quest of delivering a low-cost product. Another downfall of this machine is it is totally depended on electricity for power. There is no battery slot available for the machine.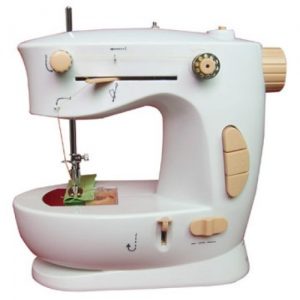 Specifications: It is a 2-speed sewing machine which is extremely lightweight and portable. It offers a great stitch control and gives you the option of a hand switch or a foot pedal. One can adjust the length of the stitch with one of its features. Threading with this machine is extremely easy as it comes with a top drop-in bobbin. The built-in light provides enough visibility to undertake any project.
The machine works just about fine at lower speeds but drops down on performance at higher speeds. Also, it is less recommended to sew hard fabrics on the machine as it may leave with disgusted or no results. It can do the minor sewing projects like cuffs, sleeves, and buttons within a while but cries down on bigger sewing projects. The only reason it took a place on this list is that of its portability.
Don't be deceived by its cute looks and vibrant colors. This machine can surprise you with its immaculate performance without taking a halt. It works absolutely fine and provides all the basic features essential to master the skill of sewing. The machine is most apt for children above the age of 7. Also, its lightweight allows its users to carry it to their desired place, whether it is sewing classes or nanny's house. Even after it is designed for children, it can do all kind of basic household sewing without creating a fuss.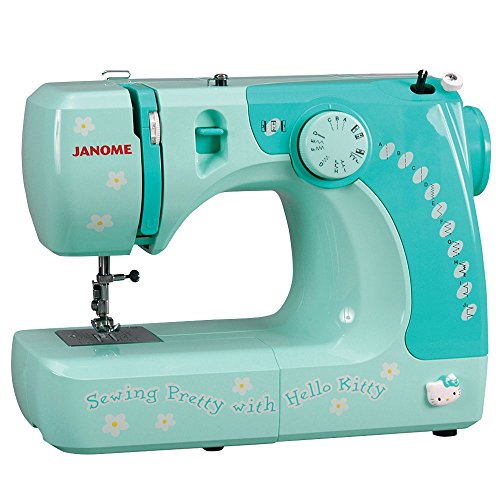 Specifications: Janome 11706 comprises of 11 built-in stitches which are more than enough for someone who is trying their hands on sewing for the first time. It weighs around 7 pounds which make it easily portable. A free arm adds to the value of the machine as it offers a larger workspace for its users. It is equipped with a single four-step buttonhole along with an extra high-pressure foot lift.
This machine is a wonderful appliance to undertake all kind of basic sewing and quilting projects. Machine's free arm, lightweight, and a carrying handle make it extremely portable. Also, it is drop-dead précised and can do the work of a regular machine with the help of its sturdy built and powerful motor. Even though Janome designs a completely quirky machine for the toddlers, they don't compromise on quality even a bit which makes it the best buy in the market.
There are hardly any companies in the market that can match the efficiency of the Brother machines. This machine is an absolute beast. The price at which it is offered makes your every penny worthwhile. $150 for a fully computerized machine is a big bargain. Also, it is durable, delivers high performances, and is well-crafted for the longer run. What makes it even more fun and easy to use are its wide fleet of stitches and features it offers.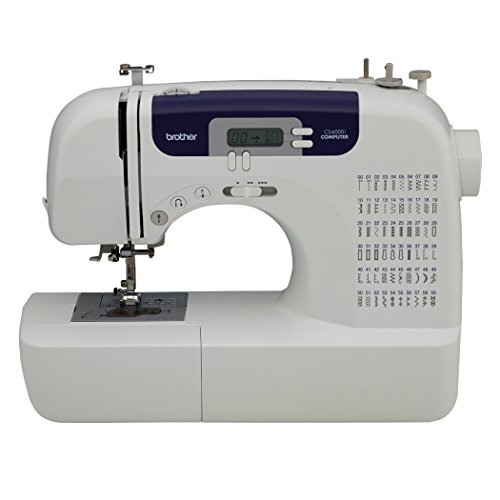 Specifications: The machine is packed with 60 exciting range of built-in stitches that include 20 decorative stitches, 7 quilting stitches, and 6 heirloom stitches. Also, it provides a great variety of buttonholes providing 7 different one-step buttonholes. LCD screen and the stitch selector is easy to use which allows you to make mistake-free projects. Adjustable sewing speed and oversized table allow you to undertake large quilting projects.
It is another masterstroke from the Brothers. The machine is made to last and can outperform most of the regular as well as the portable machine with its high-class performance. The fact that it comes with a hardshell case and yet weighs around 13 pounds makes it a considerate buy in the portable machine category. The machine is more than perfect for beginners and doesn't disappoint the professional seamstresses too.
The machine can perform wonders regardless of its extremely lightweight and a diminished size. It just weighs around 7 pounds which make it feasible for children and learners to carry around to their classes. This machine works absolutely fine when basic household work is undertaken by it. But we wouldn't recommend you to buy this machine if you are a heavy machine worker and take sewing way too seriously.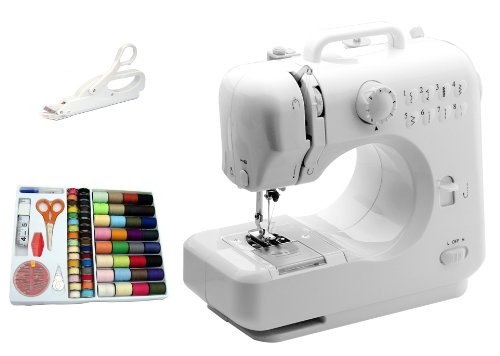 Specifications: The machine is equipped with 8 built-in stitches and 2 variable speed selector. It gives its users the courtesy of reverse stitching and double threads. It comes with an extra foot pedal, adaptor, and a thread bag.
The machine works fine until one chooses to sew hard fabrics with it. The machine gives you the option of the hand or foot pedal which can be opted according to one's convenience. The lightweight makes it easy to carry. However, this machine is tailor-made for beginners, and seasoned seamstresses should stay away from it. It has mixed reviews on the Amazon which are because of its inefficiency to perform heavy-duty work.
The Final Verdict
Portable machines are apt for someone who is a newbie in the sewing world. Also, it can equally prove handy for the aspiring young seamstresses. It can also prove worthy to the professional seamstress as a backup for their full-fledged machines.
These machines are low on cost, provide basic features, and are easy to use, which is why many beginners opt to buy such machines. Apart from its usability and low-cost, it could be the best option for small household repairs and small projects.
How to choose the best machine?
The size and weight of the machine play the integral role while judging the machine on its portability. You need to be drop-dead sure about the size of the machine which can fit the desired corner of your house or office. While there are so many options available in the market, one should prefer for machines that provide maximum features with a great motor and diminished structure.
Another thing to consider before buying a portable sewing machine is its ability to perform and complete projects. These machines are far from the competence provided by the regular or industrial machines. Therefore, one needs to buy a portable machine which is considerably fast and can deal with tougher fabrics in a better way. A professional seamstress should play more attention to its efficiency as they might get bugged with the inability of these machines to work fast.
The best of the lot
After reviewing more than 10 machines, we came to a conclusion that the first machine mentioned in the blog is the best of the lot. Janome Sew Mini is a mere perfect machine for users of all skill levels. It can be a delight for someone who is new to the world of sewing and at the same hand can surprise the professional seamstress with the work done in disguise of a smaller stature.
Although it is super light, it is sturdy and offers you great steadiness while you undertake heavy projects. There is hardly any machine on the list that can match the technical abilities of the machine. It outperforms every machine in the list to become the best portable machine to have graced the sewing world.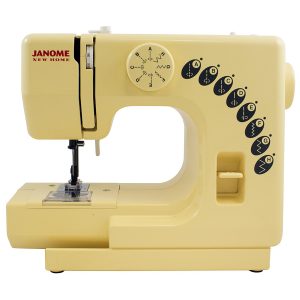 Our experts tried to sort down the best portable machines available in the market. The above-mentioned list has some honorary names in the world of sewing. Portable machines may not offer the efficiency of a regular machine but are still sought after because of its cheaper price.
Weight becomes an important aspect of the portable sewing machines as these machines are carried to the classes by the learners. Because of its lightweight, these machines can also be categorized into the sewing machines specially designed for children.
Now that you have a fair knowledge about these sewing machines available in the market, you can pick one from the online market or the retailer near you and start sewing. These machines are much helpful for the beginners. As professionals, do not expect these machines to provide an average speed of 1000 stitches per minute. These machines are built with the plastic body which makes it less durable and highly portable.
Yet again Janome, Brother, and Singer prove worthy of their name and produce the best in the category of portable sewing machines. Michley machines are highly portable and cheap but do not offer greater efficiency like their counterparts. Therefore, it all comes down to you to select the best machine that'd suit your needs, requirements and the cost. Last but not the least, make sure you compare the prices online as retailers might charge you extra for any machine you buy. Amazon.com is a great option in that terms.