Not every child finds sewing fascinating, but those who do are glued to it and run their creative minds to make something purposeful and well-designed. It is important to have an effective yet safe sewing machine for kids at their disposal. They should have a machine that'd suit all their requirements without making too much fuss and boring them altogether.
Selecting an appropriate sewing machine for kids can be a daunting task. Therefore, we figured out the best ones available in the market today so that your children turn into designers for tomorrow.
Before these machines were added to the list, we went through all its technical abilities and selected only those machines which were totally apt for young lads. The main features we stressed on before qualifying these machines into our list are:-
Safety
Technical Aspects
Implementation
Simple user interface
It is important to keep in mind that your kid's sewing requirements and yours are completely different. Therefore, for your kid to stick to his hobby of sewing without getting bored is entirely dependent on the sewing machine. Any fussy machine can get on your kid's nerves. Therefore, the machine has to be outright simple, easy to use and work at the desired pace. The technical aspects to keep in mind while buying a machine for your infant are mentioned below.
5 Things to Keep to pick a right Sewing Machine for children
Feet: It is an integral part of the machine. While some machines come down with the silkiest of touches, few machines are inherited with the snap-on feet that securely stay abode in place. In case you are worried about the machine running over your child's fingers accidentally, you can go out for the feet that are attached to the screws.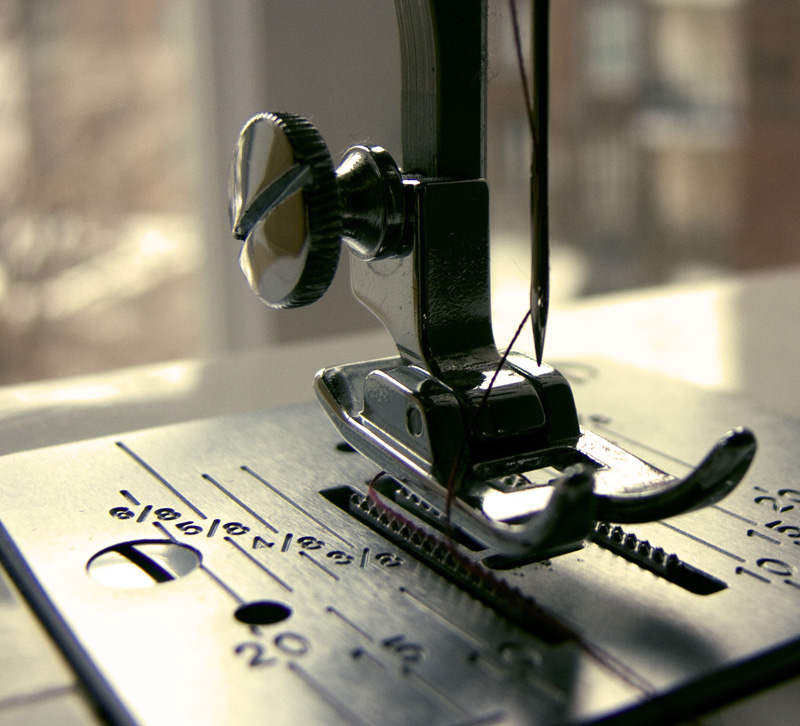 Speed Control: Choose a machine which allows your kid to control its speed according to your kid's feasibility. Also, a push-button speed control will be easier for the infants than the pedal-controlled models.
Bobbin Winder: Go for a kids sewing machine that has an easy to find bobbin winder. Also, make sure that your child's fingers fit in effortlessly. The winding process should be designed in such a way that your child doesn't have a problem with the process. Otherwise, he would be much irritated with the process leaving behind this crafty hobby.
Stitch Selection: A child wouldn't even use more than 10-15 stitch variables during his early days. Therefore, opting for an expensive machine which offers 100 stitch types is utterly useless. Make sure that while you choose the perfect one, it has all the basic stitches that'd be required in your child's sewing process.
Push start/stop button or pedal: This choice while buying a machine entirely depends on your child's comfort levels. If he/she is better with the pedaling while sewing, it is not advisable to change his style of sewing by getting a push-button model. However, most of the kids in the current generation use the latter automatic ones.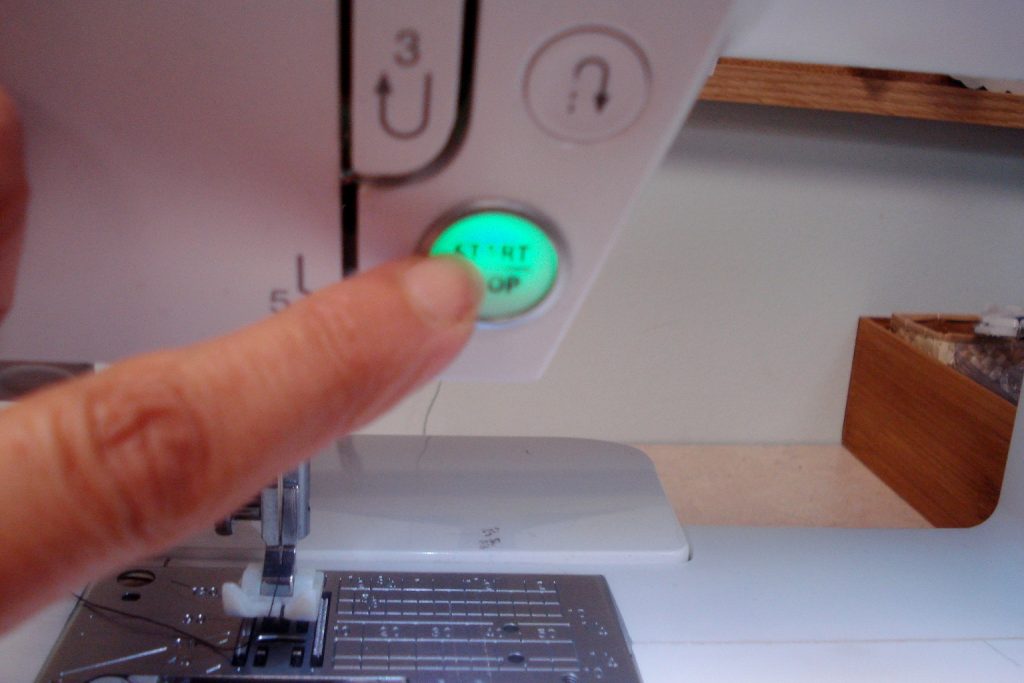 Thread Feeder: The newest machines with auto thread feeder would be most loved by the young sewing enthusiasts. If these machines don't fit in the budget, one should opt for machines that have easy to follow diagrams to assist kids in threading the needle in a jiff. For any seamstress, it is the most intriguing part of the sewing process. If it takes too long to get the thread on the needle, you child might drop his/her wonderful hobby of sewing.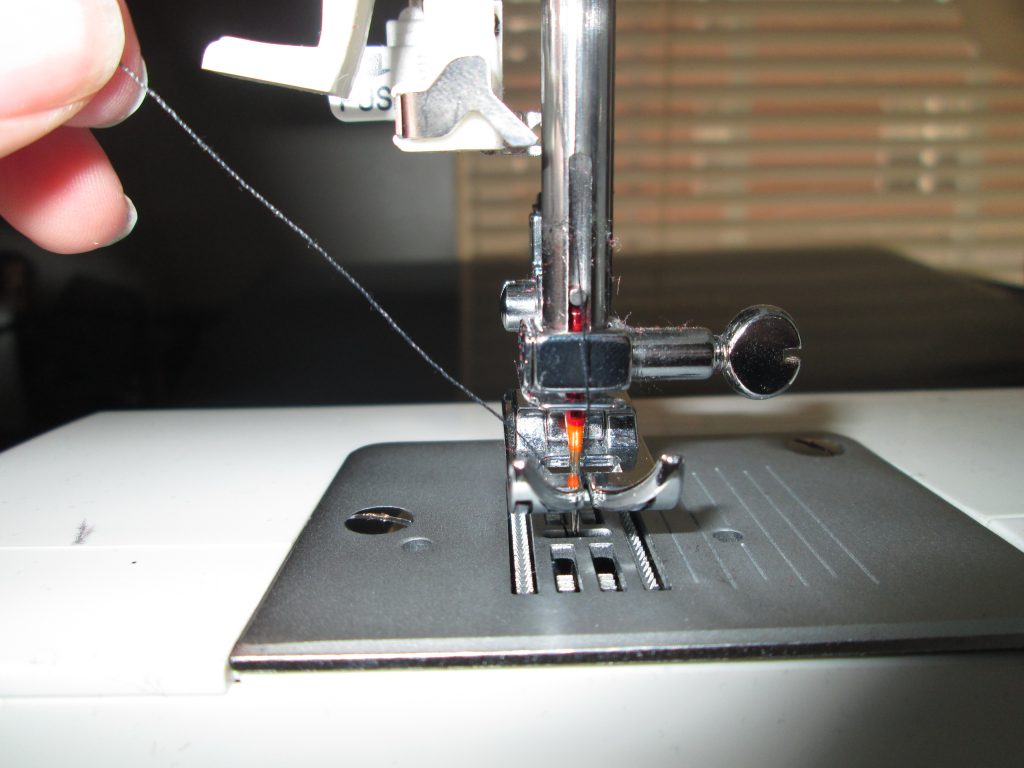 Children might get little rough on their machines while commuting with it or handling it roughly. Therefore, you can consider a sewing machine which comes with a longer warranty period. With expert recommendations and user reviews, we sorted down the best sewing machines for children.
Best Sewing Machines For Kids
| Model | Built-in Stitch | Stitch Per Minute | Buttonhole Style | Ratings | Buy Now |
| --- | --- | --- | --- | --- | --- |
| Singer 3232 Simple Sewing Machine | 32 | 750 | 1 | 4.0 | |
| Michley LSS-505 Multipurpose Sewing machine | 8 | Not mentioned | 1 | 3.4 | |
| Michley Lil'Sew & Sew Sewing Machine | Not mentioned | 550 | 1 | 3.1 | |
| Janome Fast Lane Fuchsia Portable | 10 | Not mentioned | 1 | 3.5 | |
| Janome 11706 Hello Kitty Sewing Machine | 11 | Not mentioned | 1 | 4.0 | |
| Janome 2212 | 12 | 860 | 1 | 4.6 | |
| Janome 2206 Sewing Machine | 6 | 860 | 1 | 3.9 | |
| Brother XL2610 Free-Arm | 25 | 800 | 1 | 4.4 | |
| Brother Project Runway CS5055PRW Electric Sewing Machine | 50 | 850 | 5 | 4.4 | |
| Brother LS2125i Easy To Use Sewing Machine | 10 | 900 | 1 | 4.3 | |
| Brother CS6000i | 60 | 850 | 7 | 4.6 | |
| Singer 1507 WC Easy To Use Sewing Machine | 8 | 750 | 1 | 4.3 | |
Reviews for Best Children's Sewing Machine
Its vibrant colors are what make this machine the kids' favorite. With so many appealing bright colors to choose from, children are attracted towards the fancy design which is specially designed after keeping the kids in mind.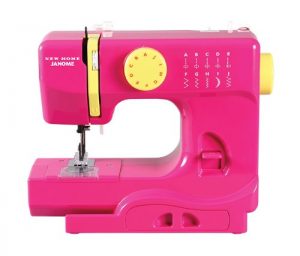 Apart from the exciting colors, the machine comes with the inbuilt 10 stitch features and a comparatively smaller size which sum it up to call it cute. Also, it is lightweight even after giving different compartments for accessory storage, free arm, and reverse stitches. It is well equipped with easy-to-understand diagrams and uncomplicated top drop-in bobbin making it one of the best machines for the toddlers.
The Best Reviews: A grandmother who gifted this machine to her 8-year-old granddaughter said that she is impressed how the machine has fared out with her grand-daughter. According to her, it was very easy for the juvenile to learn the machine. She finds joy in watching her grand-daughter thread it herself and assemble the machine with ultimate ease.
The machine is built to carry out easy sewing methods because of its well-mannered design, structure, and full fledges accessibilities. Nothing in the machine is difficult to understand. It's a simple and easy sewing machine which provides a huge boost for the children.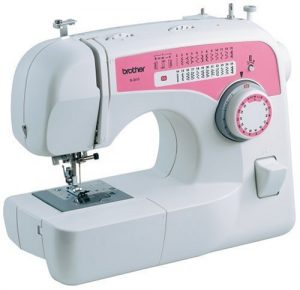 Brother launches this powerful machine with 25 built-in stitches and 59 stitch functions. It has an automatic buttonholer, bobbin winding, and a handle for carrying. The 25-year limited warranty makes it an interesting prospect when it comes to toddlers.
The Best Reviews: The mom who gifted this machine to her daughter was happy to see her daughter get acquainted with the new machine so fast. She mastered the art of sewing within days with the help of this machine and her grandmother's guidance. Another user stressed on its ultra lightweight which makes it super easy to carry it from one place to another.
The machine is built in such a way that it refrain its users from making too many mistakes while sewing. It is well rounded and packed with outstanding features making it one of the favorite machines with the experts as well as juveniles.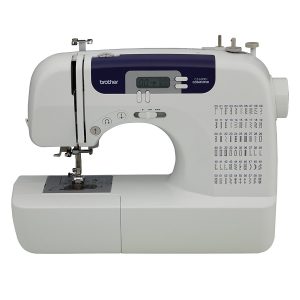 Brother CS6000i is packed with 60 built-in stitches, 7 stitch types, and a one-step buttonholer. It also has a quilting table which can be useful in creating bigger projects. It has a hard cover which protects it from accidental damage from small children. The lightning-quick top drop-in bobbin makes it easier for you to thread the needle.
The Best Reviews: A retired old lady who brought the machine to pass her free time was astonished by the machines working. She felt that the instructions were clearly mentioned which made the set-up very easy. Another user mentioned a long list of perks of the machine which included its one-stop start/stop button, smooth feeding, and a great variety of stitches and pressure foot.
It is one of the most sorted machines for the people who are trying to polish their sewing skills to become a top-notch professional. It doesn't have full-fledged features, but the basic amenities included in the machine are enough for a toddler to put his first step in the realm of the seamstress.http://amzn.to/2iWsV7s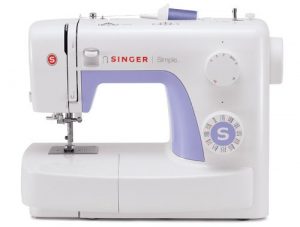 The attendance of an automatic needle threader makes it suitable for small kids. You can even adjust the length of your stitch in the machine which wouldn't let the fabric clot. Full automatic 1-step buttonholes make it easier for children to create their masterpieces. It is equipped with 32 built-in stitches and heavy-duty metal structure for hassle-free sewing.
The Best Reviews: Many of the reviewers tag it as a great beginner machine at appropriate prices. The automatic needle threader is a bonus for all the toddlers out there. The dad who got it for her 7-year-old daughter said that he loved the machine. He was fascinated by the insights provided in the DVD which made its use even easier. Its heavy metal structure is liked by many of its users that help to keep its bobbin winder aligned.
If you want your daughter to be glued to a sewing machine, Janome Hello Kitty edition is the perfect machine you can buy for her. It is cute at its looks and looks only. In fact, it is deceptive on its looks and gives extremely power packed performances.
Don't let the design fool you by stereotyping into the machine meant for young girls. It can perform heavy duties with much ease and can be used by boys too. It comes with eleven stitches and the four-step buttonhole. It is coupled with a free arm and an accessory storage compartment. Its 3/4th side model is ideal for beginners. The snap-on presser feet and push-pull bobbin winder make it simpler for children to get acquainted with the machine.
The Best Reviews: Many users pointed out it is the extreme lightweight portable sewing machine which can be carried along to the sewing classes, or vacation homes. The vibrant design has always attracted young lads towards the machine. The front-loading bobbin is much-loved by its users. The user finds it handy and does most of the heavy-duty work without any tussle. Some users even said that it has an even sound which doesn't disturb the rhythm while sewing.
It is clean, neat, and précised machine packed with several interesting features which can keep any child interested in it for a longer time. However, so many features wouldn't confuse the toddler and help them perform their task with straightforwardness.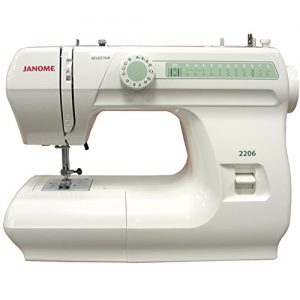 Janome 2206 sewing machine comes with the basic 6 built-in stitches, presser feet, and a four-step buttonhole. Although the machine is based on simple features, it can perform wonderful tasks without choking or breaking down. With all these basic features, it is also loaded with drop feed dog, front loading bobbin, and an adjustable speed which can reach up to 860 stitches per minute. Therefore, this machine is merely perfect for beginners who are putting their first steps in the world of sewing. The pattern selection and the stitch width adjuster are set along on the front of the machine making it easier for the young seamstress.
The Best Reviews: A reviewer on an online website said that it was a great machine at a very affordable price. Some users even claimed that the machine was easy to use and the instructions that came with the machine were easy to assemble the machine. The review section of the same is flooded with the all the positive reviews.
As the company advertises this machine, it is just the thing for the entry level in the sewing world. The machine is designed in such a way that it can carry out all the fundamentals without difficulty.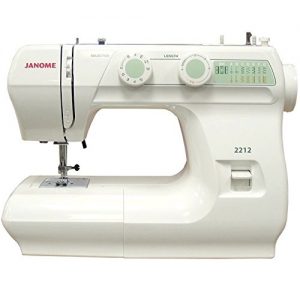 The machine is equipped with 12 built-in stitches, four-step buttonhole, and an easy dial pattern selector to choose different designs easily. The machine also has a free arm and drop feed that adds to the versatility of the machine. At very affordable prices, these fantastic traits in the machine make it a good choice for the beginners. Also, its stitch length adjuster makes it a super fun device for young kids.
The Best Reviews: Users have considered being the best in the class of mechanical devices. One of the users from the United States said that it was a great domestic machine with affordable prices. It doesn't break down like other matches. Also few claim about the machine being sturdy enough to last the test of time.
If you wish to buy an electric sewing machine for your toddler, this is the exact machine that will suffice all your needs and requirements. It gives all the amenities required for your child to create top-class clothing designs. The workspace is highly lit with LED lights making it easier for children to view dark fabrics.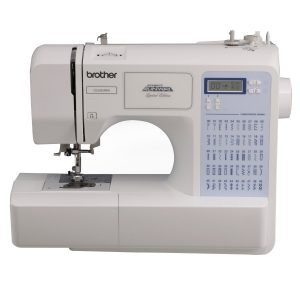 The machine is packed with 50 built-in utility stitches, each with multiple stitch functions. There are several decorative and heirloom stitches for your kids to make wonderful designs using their creativity. It is capable of sewing any hard or soft fabric with extreme simplicity. The quick set drop-in bobbin is another feature that can woo the younger kids. It is ultra lightweight which makes it portable and helps kids to carry it for their sewing classes. There are 5 different one-step buttonholes which add to the efficiency of the machine.
The Best Reviews: A user of the machine listed a few points in the appraisal of it. He said that the machine was quieter than the most of the machines he has ever worked on. The loading and placing of bobbin were quite simpler than other machines. Automatic threading mechanism is to the point. The user also stressed its superior built-in quality and flawless mechanism.
The machine stands tall to the dignity of its name. As the company suggests, it is really an easy to use sewing machine which is nicely built to suit the beginners and young people. Although it is a very basic machine with basic features, the kids will be glued to the machine due to its faster work rate and overly simplified features.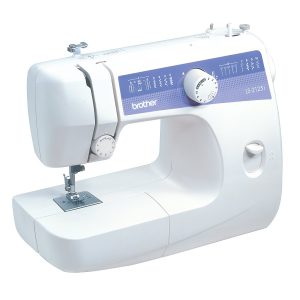 Brother LS2125i has a very easy bobbin winding approach. It comes along with the threading diagrams which make it easier for people of all ages to understand and get desired results from the sewing projects. Children will also grow fonder of the machine with its full-size lightweight and added features that will allow him/her to take personal alteration projects.
The price and warranty that comes with the machine are worth considering to the parents. It comes with 10 built-in stitches including the blind hem, zigzag, and stretch stitches. 3 presser feet, free arm, and a larger working space add to the value of the machine. The bilingual user manual is very smooth to understand which makes sewing better for younger children.
The Best Reviews: The users found out that the instruction manual was neatly written coupled with the graphics to ease the set-up of the sewing machine. It doesn't offer a variety of decorative stitches but is inherited with the all the necessary standard stitches required to make any projects. Many buyers thought that the basic machine is a value for money and stands out at the given price.
The machine is designed to suit the requirements of any toddler. It's well-rounded shape and sharp features make it one of the best in the market for young children. The multi-purpose sewing machine is the best for seamstress of any age. However big or small the projects, they are easily doable on the Michley LS505.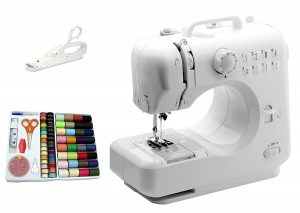 It comes with 8 built-in stitches patterns and automatic thread rewind system. The two-speed settings are one of the many perks of the machine. The user manual comes with all the troubleshooting ideas which make it easier for toddlers to undo their mistakes. The machine can sew any hard or soft fabrics including jeans. Also, it comes with a dual option of either choosing the pedal or one-step start/stop button.  It doesn't have any sharp edges and is ultra lightweight which makes it suitable for all young children and novices.
The Best Reviews: A verified buyer posted a review of the product on a site stating that the machine is very easy to thread. In case people still get messy about the same, there is an instructional video available on their website. Also, he said that the bobbin winder comes in with a user manual which makes it easy for children to fix it. According to the user,it can't be heavy duty machine but would be a perfect choice if you wish to buy it for your young kid.
The machine is inherited with a 2-speed motor that offers double thread and perfect stitch control. The dual option with the pedal or hand switch makes it popular amongst the young seamstress. It is cordially designed keeping in mind the nuances caused by the small children. It is not at all edge, nor heavy making it suitable equipment for children to start their sewing process.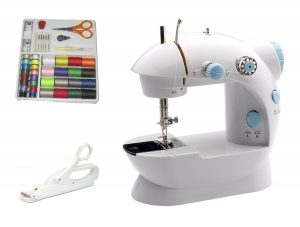 It is easy to thread due to the presence of the top bobbin. The bobbin is easily aligned by simply pushing it and turning it if needed. It is packed with an extra 42-piece kids sewing kit and electrical scissors making it lovable equipment for children. It is extremely lightweight and smaller in size specially made by keeping the toddler's requirements in mind.
The Best Reviews: One of the toddlers wrote in the reviews that it is not that great but just works fine. It offers everything that is stated in its description and is a proficient device for kids trying to learn the art of sewing. It comes at the best price of just $20 which makes it easy for children to buy the machine from the pocket money.
As its tagline suggests, the machine is entirely built for easy use. The singer 1507WC can be used by the children considering its super-easy features and easy accessibility. Sewing got much simpler with the help of this machine.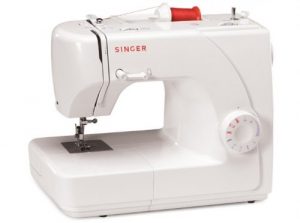 It has an efficient needle threading system that helps to do the threading quickly saving a lot of time. Stitches could be customized with its adjustable stitch length and zigzag stitches. It is equipped with 8 built-in stitches, 1 fully automatic 4-step buttonhole, and other decorative features required to design house decorative, designer wears, and alterations. It also comes with 4 snap-on presser feet that increase your sewing possibilities. The Canvas cover helps the children to protect the machine from dust and debris or fatal accidental injuries.
The Best Reviews: The users found this machine a handy one in terms of sewing basic projects. It would be best-used for by the beginners and children who are in the early phase of sewing. The lightweight and considerable use of the machine makes it an apt within children. It is sturdy automatic sewing equipment for all the beginners out there.
How to teach a child to sew?
Sewing is an art which once inherited can be highly addictive which would lead your child, to construct something as good as a designer wear. If not, it can easily help you with your daily household chores that require sewing. For example, a stranded button or alterations can be done easily once you get your hands on the basics of sewing.
It is a good art to be inculcated within your child. But to get attracted towards it takes some doing. After you pass your test by luring your child into sewing, you'd see him/her become a better seamstress. Therefore, we mentioned some points which required are essential for your child to learn the beautiful art of sewing.
Age is just not a number: Knowing the potential of your child and his love towards sewing are two of the most important things to be glorified before pushing him to take this art. Hand-eye coordination is important. So in case, your child is doing the basic sewing with a needle perfectly, it is time for him to shift to a machine. Some professional tutors feel that 6 should be the minimum age for a child to get into mainstream sewing. Trust us; if he/she manages to strike the love chord with sewing, you are going to see some masterpieces in future from your child's sewing abilities.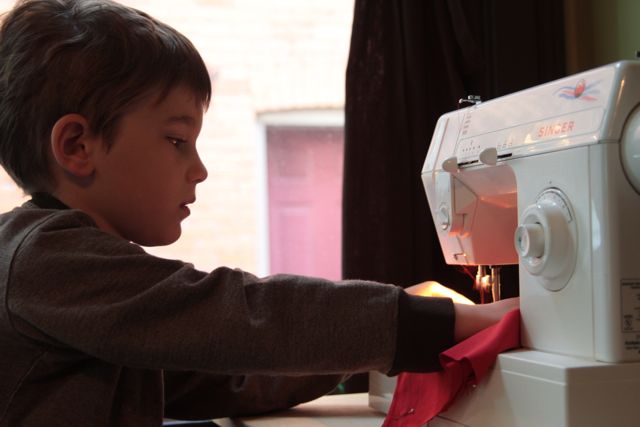 A sewing machine would entice your toddler: While your child might get bored sewing with a needle and a thread and watching you use an electronic machine, you need to figure out the appropriate time to get his hands on the machine. Before starting with the machine, you need to talk to your kid about the safety measures.
Your kid needs to know the dynamics of the machine before using it. Also, make him understand the areas he needs to use his hands, and areas he/she should avoid putting hands. You can also break down the process of pedaling and handling the fabric to him. You can just let him pedal for the initial days and you handle the fabric. After he attains his comfort over the pedal, he can get close to the needle.
Time matters, but not when comprised of the quality: Children can get intimidating with the dynamics of the machine and would pedal fast in quest of getting the job done fast. But this method can cause fatal injuries to their little hands and also run the risk of getting the entire fabric spoilt with unaligned stitches. Not only machine, but the idea of slow and steady sewing can also come in handy while sewing with just needles. You can make them understand that a better and précised project can be more appreciated than a failed project which would require more time in repairing it.
Let them take their own decisions: Allow your kids to follow their intuition while selecting the thread, needle, fabric, and other sewing related accessories. It may leave them vulnerable in choosing odd threads on fabrics, but in the early stages, it is all about having fun, isn't it? And also, children love it when the entire project is accomplished single-handedly by them. Give them the required freedom and watch your child fall in love with the art if sewing.
Practice makes a man perfect: It is best to see your child master a pattern. No matter how many times he works on it, seeing him get better and better with a particular pattern will help him boost his confidence. For your child to not get bored by doing the same pattern, again and again, you can add a new colored fabric or a thread to add some freshness to the project.
Assist them with linear shapes for perfection: You can draw lines on the fabric to assist your toddler in stitching within a line or cutting the fabric to perfection. To get their projects done with precision will do a whole lot to their confidence. Also, it will inspire them to take up new projects and master the art of sewing.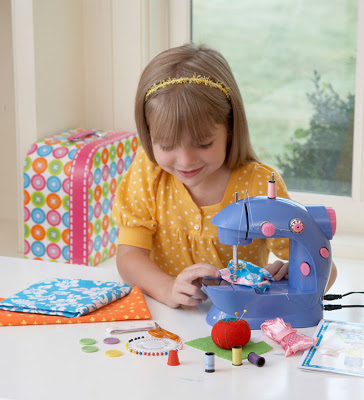 The wiser fabric use: As young kids, many tend to cut in the middle of the fabric wasting a larger part of it. Therefore, you can teach your child about how to use the fabric wisely by cutting from edges. You can simplify the entire project to them by telling them that if the fabric is used wisely, they can do several projects with the remaining fabric.
Thicker threads for beginners: The first difficulty in the process of sewing is getting the thread through the needle. Children might get irritated with the inability to do so and simply give up the hobby. For your children to stick to the art, you can give them a thick thread that would ease their threading process. Also, slowly they'll start gaining expertise with the same and can take these projects easily.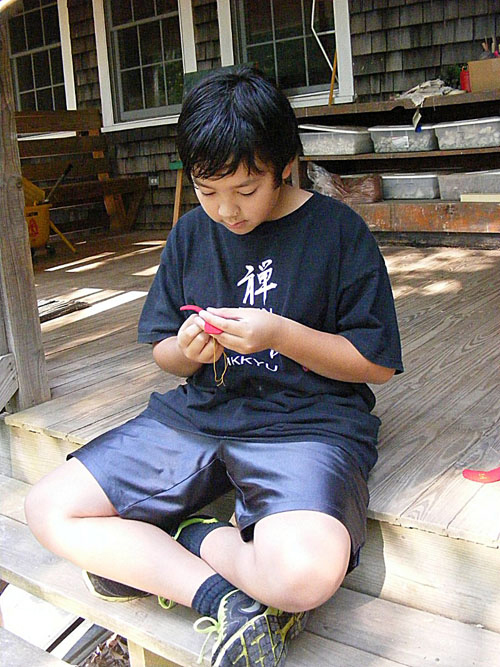 Getting them acquainted with the different stitches: You should teach your children to know different types of stitches. You can start with letting your child sew a straight line along the edge of the fabric. At time passes by, you can gradually give them various stitches. Continue the practice until your child masters very straight lines. This would help in growing in confidence and also get better with the art of sewing.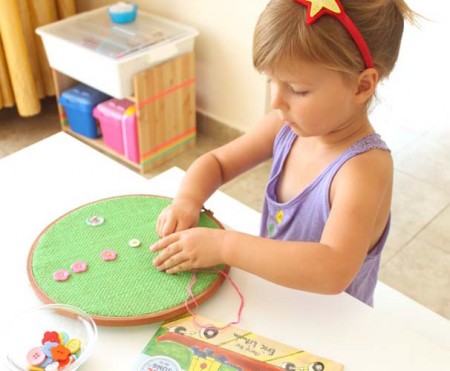 Things to reflect on before opting for a sewing machine for kids
Safety First: Whilst sewing, your child is vulnerable to very sharp objects which can cause fatal injuries to his/her tiny hands. Therefore, the safety of your child needs to be given the top priority. With things like electricity, needles, and motors running at a considerable speed, one needs to be dead sure that their machine is sturdy and comes with additional safety features like finger guards. Top quality machines will be sturdier, safer, and smooth in their working which would allow your child to enjoy hassle-free sewing sessions.
Stick to the basics: Buy a machine which is packed with simple yet efficient features instead of opting for a machine with complicated additional features. As children, they won't require that many features while they polish their sewing technique. A complicated machine with multi-functionality will not only confuse the kids but will also shift their attention from the basics. As time progresses, one can always upgrade their basic machines depending on the progress of your child.
No Toy Machines Please: Toy machines are cheaply made and don't even provide a firm stitch quality. The fact that it is made for children makes the makers focus on their vivid colors and quirky designs. Also, toy machines do not last the test of time. Therefore, a real machine with the basic features is what is required for your child to hone his/her sewing skills. If your child is really very young for the age and still wants to try his hand at sewing, you can opt for a toy machine.
A machine that will complement their skills: Choose a machine depending on the mannerism acquired by the toddler on the machine. A machine that offers all the basic features along with some additional features to create some fantastic masterpieces can do the trick. For a first-timer, an automatic threading machine will be a boon owing to the fact that it is the most difficult part to carry out in the early sewing days. An easy bobbin loading machine and simplified mechanism of the foot pedal are some other features to consider while choosing the best for your kids.
Buy from a reliable brand: Top quality brands like Janome, Singer, Brother, etc. provide sturdy and proficient machines. They come along will all the required safety features and great sewing ability. The motors are well designed that doesn't let your machine choke constantly. These companies even offer machines that are exclusively designed for toddlers.
Some other factors to be considered: Along with the safety features, other aspects that should be given attention to our weight, stitches, presser feet, design, features, and price. Lightweight of the machine will help your child to make it accessible to the sewing classes. The very fact that it is meant for a kid requires it to be a flashy design. The workings of the presser feet are equally important.
Now that you have all the tips and multiple choices to pick up some of the best brand  sewing machines for kids, you can browse through the market to find the appropriate machine to suffice all the needs of your child at a budget. Not only that, but we also mentioned a variety of tips that can help your child grow as a seamstress.
Watching your child grow as seamstress can be a soothing visual for you as parents. You never know, if this hobby gets his career started. If your toddler inculcates the hobby of sewing within him, there are more chances of him turning into a fine designer. If not, the sewing hobby does come in handy in day to day life.
Kids can get bored of it at early stages. But once you introduce them to the kids sewing machines, they are surely going to have a fun time stitching some fabric together.