The Best Sewing Machines for Leather
Have you felt the urge of sewing a material as hard as leather? The leather is one of the most durable fabrics and never goes out of trend. Therefore, there is a point of time when you feel like getting the leather fabric under the needle. It is a difficult task because of the consistency and the roughness of the fabric. The needle tends to stick and abrupt the stitching pattern. Thus, to carry out the entire process swiftly, one needs to have an appropriate leather sewing machine which can ease the process of sewing a fabric as hard as the leather. This is the only reason we decided to mention few machines that are tailor-made to sew leather.
Are leather sewing machines different from the normal ones?
Rightly so, they differ considerably when compared with the ordinary machines one uses to sew for domestic use. However, some domestic machines can serve as leather machines considering the higher power output and adjustable presser feet.
The features required to sew a tough fabric like leather are completely different from the machines that sew lighter fabrics like cotton. The needle and the presser foot play an integral role. The needle needs to be strong and rigid so as to pierce through the hard fabric without damaging it. The machine's heavy duty performance is what makes the difference for the specially designed leather machines.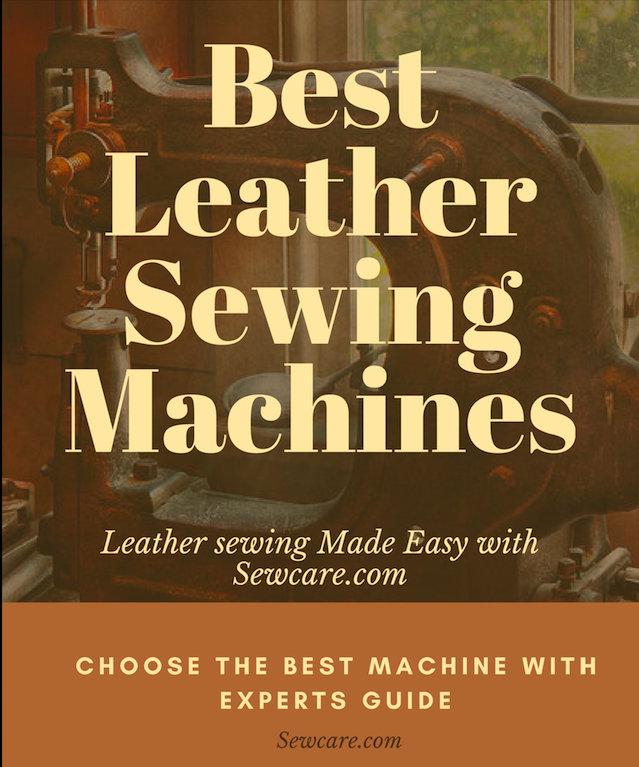 A list of best sewing machines for leather
This heavy leather sewing machine is built for heavy duty work as its name suggests. It can sew any fabric including leather, canvas, jute, or any other hard material with extreme ease.  It is well equipped with a powerful motor that helps to sew or quilt huge fleece blankets, and multiple layers of a fabric. There is a larger work space provided by the makers so that you have the entire fabric close to each other while sewing a leather project.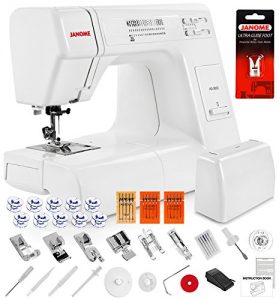 Specifications: The machine comes in with an automatic needle threader, and jam-resistant top bobbin loading. Also, it has 18 built-in stitches which can be easily selected with a simplified selection dial. Adjustable pressure foot is one such trait that makes this machine one of the best when sewing fabrics like leather.
Our Expert Opinions: If you indulge in heavy duty projects like sewing harder fabrics, leather, canvas, etc. This machine is apt for all the seamstresses out there. It can quilt, sew, and stitch any fabric of your choice with extreme ease.
This singer machine is packed with extremely high-end features which are essential for a professional seamstress. A bigger workspace than the rest of the machines and an adjustable presser foot makes it a perfect machine to undertake sewing projects that require working with leather and other hard fabrics. It is a cost-effective product that provides all the amenities that are required to sew together a top-quality project.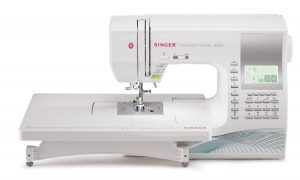 Specifications: The machine is well-equipped with 600 different in-built stitches, 13 fully automatic buttonhole styles, and 5 different fonts for embroidery projects. Also, it has an automatic needle threader and the thread cutter coupled with an extension table that assists you to sew projects like leather. It has 19 different presser feet styles, that makes it easier for the machine to sew any kind of fabrics with ultimate ease.
Our Expert Opinions: Overall, with so many outstanding features, a heavy duty metal frame, and outstanding machine quality, this machine is apt for people who are looking out for sewing, quilting, and embroidery all in one machine.  Also, it is extremely cost-effective compared to other machines which make it one of the hottest products in the sewing markets.
Many seamstresses are up to an opinion that always hands stitch a project when it is related to fabric like leather. Because most of the machines cause errors due to the miss-feeding of the stitches. Therefore, to avoid potential mistakes, going mechanical and trusting your own self than the machine is an apt choice. But you don't need to worry if you owe a Sailrite Heavy Duty Machine because 99.99 % of the time, it doesn't miss-feed giving an extra edge to its users to carry out heavy projects without hassle.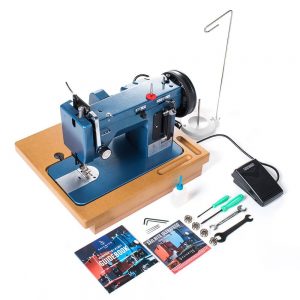 Specifications: The machine is built with extremely powerful a well-laid motor that can easily sew through 10 layers of canvas without jamming or breaking down. It comes with zigzag and straight built-in stitches with walking foot which can sew past the heaviest of materials known to a sewing machine.
The presence of power plus balance wheel gives more power to the machine than offered by the regular simple machines. Its unique patented clutching system transforms the complete power from the balance wheel to the needle making it easy to pierce through hardest of materials.
Our Expert Opinions: It is a touch on the pricey side but with the features it provides, and the work it is capable of doing does equal justice to the cost. It is an easy-to-set-up machine that comes with a user manual which is very easy to understand. From a newbie to a professional, this machine proves its worth to all its users. All kind of sewing projects, from basic alteration to quilting blankets, this machine does it all without breaking down a bit.
Well, this machine comes from the makers of heavy duty automobiles. Needless to question the power it provides because of the heavy duty metal frame. It is one of the best machines when you are a heavy worker on the leather sewing machine. The company stands to its name for providing top quality services, good performance, and reliability. The machine can get past multiple layers of denim with extreme ease. Taking that into considerations, leather is an easy fabric for the machine to pass by.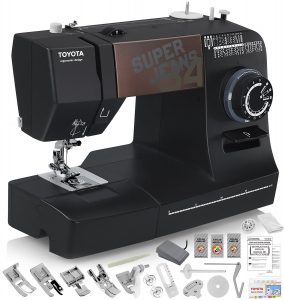 Specifications: The machine comes with 32 built-in stitches that include stretch stitches, decorative stitches, blind hem stitches, and much more. It is equipped with an automatic needle threader and a 4-step single buttonhole stitch. It can easily glide through multiple layers of denim, making it a perfect heavy duty work machine. It is also packed with several features, designs, and other related amenities that are tailor-made for any kind of sewing.
Our Expert Opinions: You can always trust Toyota when it comes to heavy duty work. This machine is custom-made for heavy duty. Leather and other hard fabrics can be easily sewed. It also offers a larger workspace to add to the efficiency of the machine.  The gliding foot makes it easy for sewing and quilting larger products that require working with fabrics like the leather, jeans, and jute.
This machine comes with a drawback and it is a noticeable one. The machine fails to efficiently work while sewing larger leather projects. However, this machine can stitch thinner and smaller projects of leather competently. But with a considerably cheap price, it is an option for the beginners to look forward too.
Don't be fooled by its plastic body as it provides much efficient work efficiency than the most of the metal body machines. Your effectiveness to use the foot pedal determines the work that can be carried away by the machine.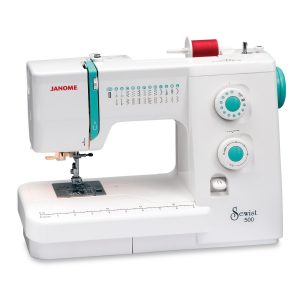 Specifications: The machine has 25 built-in stitches including the stretch stitches and a single step buttonhole. Automatic needle threading is one of the perks of the machine. The adjustable pressure foot allows you to deal with any kind of fabric including leather. It also has a free arm that makes it easy for sewing pants, collars, cuffs, and drop feed for daring and stippling.
Our Expert Opinions: The performance of the machine is satisfactory and its durability stands the test of time. It is quite a product for the beginners as well as a professional seamstress. It does have its drawbacks, but for household or smaller in size leather projects, this is an ideal machine.
It looks like this machine is completely customized to sew materials such as leather. This machine is loaded with a single straight needle with its top and bottom feeds designed in such a way that there is no slippage while sewing a leather project.
The slippery can cause to ruin the entire project, but with its advanced technology, the machine has cut down the mistakes to almost zero. A bigger workspace and its M-shaped design make it an extra efficient machine which helps you to complete larger products with ease.
Specifications: Many machines on the market today manual lubrication of their spare parts. But with this machine, you're like to stay casual about its lubrication as it comes with an automatic lubrication system. It can sew up to 1600 stitches per minute, making it one of the fastest machines you can have at your disposal. Another luxury of this machine is its longevity. You can use this machine for a long time without it being rammed up.
Our Expert Opinions: Many users are up to a conclusion that it is the fastest ever machine which boasts tremendous power and precision. Although it doesn't look elegant as other machines, its design is specially designed for the industries purpose machines which make it apt for rough use. Leather projects are eased out on this machine giving you a perfect view point and perfection while sewing.
From sewing, a lighter fabric like linen to piercing through the harder fabrics like leather, this machine is proficient of carrying any tasks thrown at it. Also, unlike other machines which give a stitch length of 5-7 mm while dealing with leather, Consew 206 RB-5 offers stitch length of 10mm. Withdrawing the bobbin was never this easy as this machine doesn't require its users to take the complete fabric out while removing the bobbin. All you need is a perfect set of needles to sew best of the projects, and the machine wouldn't disappoint you.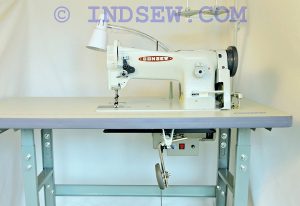 Specifications: It comes with an extra long stitch and high presser foot that measures up to 14mm. Also, it is packed with a tread release finger to deal with heavier threads efficiently. It is sturdy and doesn't vibrate at all. But it being an industrial machine, it needs a proper set-up and a sewing table for it to function without glitches. You need to oil this machine constantly for it to function properly.
Our Expert Opinions: No matter what amount of leather you put under the needle, the machine is going to get it stitched as long as it is situated on a proper sewing table in a complete industrial environment. So if you wanna take sewing to the next level, this machine is the least you need to suffice all your sewing desires.
Although it is noisier than the most of the machines available in the market, this machine has the capability to carry the most difficult of tasks with utmost ease. Due to its intricate design, leather projects can be smoothly accomplished with the help of this machine. This machine is a touch on the heavier side of its cost, but since it comes with a sewing table and other integral appliances, it is negotiable.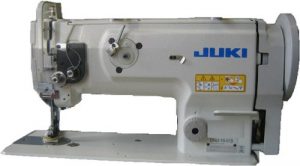 Specifications: The machine can sew up to 2500 stitches in a minute making it faster than most of the machines. It offers the maximum stitch length of 9mm which is still better than its counterparts. It measures 40 inches* 48 inches* 20 inches in size giving its users a larger workspace to deal with their designs. It is packed with a safety feature that automatically defuses the entire sewing project once it detects a problem so as to avoid ruining the further project.
Our Expert Opinions: From the performances point of view, this machine easily excels in all the levels. It may outperform quite a number of machines of the same class. However, as the company sorts it under the industrialist section, the machine might come in with few scratches or dings.
At no point, these dents and scratches affect the overall output of the machine. It performs in all conditions and with all kind of fabrics. This machine doesn't disappoint its customer when it comes to its harsher use in the long run.
The inclusion of a servomotor is what makes the difference in the machine. It enhances the output of the machine which assists you to sew leather and other rough fabrics smoothly. It's large bobbin capacity allows its users to work for hours without being troubled to change the bobbins. Not only leather, but it works equally fine with other fabrics as well.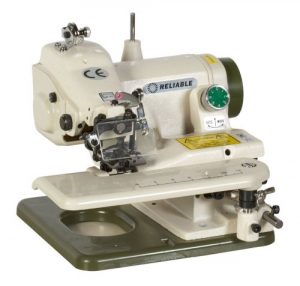 Specifications: The heavyweight machine that weighs around 85 pounds is loaded with an extremely powerful motor that works relentlessly without any major drawbacks. It can speed stitch up to 2000 stitches per minute and other added applications make it worth while. The machine needs to be oiled regularly, and in return, it will provide you a swift sewing experience regardless of the material.
Leather projects can be easily carried out due to the bobbins link feed type mechanism. It is an out and out no-nonsense basic machine that is appropriate to carry out sewing programs of any kind involving the hardest of fabrics. Once equipped with the hardest of needles, the machine glides through the thickest of leathers with extreme ease.
Our Expert Opinions: It is an out and out no-nonsense basic machine that is appropriate to carry out sewing programs of any kind involving the hardest of fabrics. Once equipped with the hardest of needles, the machine glides through the thickest of leathers with extreme ease. That doesn't completely outcast the use of lighter needles.
Even they are effective but might cause a few nibbles during the process of sewing. This machine is fast, simple, and can save a lot of time of the users due to its high-end efficiency. In case you have a lot of leather projects at your disposal, this industrial machine proves its worth as one of the very bests in its class.
The Fundamentals of Leather Stitching
One should watch out for scars, dents, hinges, and holes on the leather hides before starting to carve the pattern on the workpiece. Knowing the fact that the leather comes from the animals who loiter in the jungles, indulging in fights, entangling in the human interventions, and harsh weather, there are high chances of the workpiece being damaged. Therefore one needs to be extra careful before tracing the pattern on the leather. You might cut the workpiece in a hurry and then end up running out of hides to complete the remaining project.
The leather is a difficult to sew because of its naturally rough nature. Thus, it cannot be pinned like other fabrics such as cotton, nylon, and other basics. One needs to have press knives or clicking press to get the leather sorted. In case you are void of such presses or knives, one can use ball pens or silver pens to make the markings visible on the leather.
Your choice of the machine completely depends on the thickness of the leather. If your leather is thinner and has slimmer seams, it can be easily done on the household machines. The machines with adjustable pressure feet can be useful while sewing projects with leather. This is the sole reason why most of the machines mentioned above are an industrial one, and not the domestic ones because of its walking or Teflon foot. Most leather projects require special machines that are specially designed to sew leather.
The choice of thread while sewing any fabric is important. Knowing the harsh and durable nature of leather, it is utterly useless to use cotton stitches on it. One should opt for pure nylon, or in that case, completely synthetic threads to sew leather projects. That will ensure the workpiece's durability, and its ends can be molten down to seal the project.
 The use of double sided tapes to keep the seams flat is a good practice. It is a daunting task to press seams open especially when garment leather fails to hold a sharp crease. Therefore, the use of double tapes can ease the process considerably. Avoid using too much of double tapes where you may require to stitch in future. As double tapes leave the glue behind on the fabric, it can clog up needles and disrupt your sewing process.
Heavy Duty Sewing Machines- The best ones for leather
Heavy Duty Sewing Machines for leather
are specially designed keeping in mind about their extended rough use in the factories and houses. The fact that these machines are tagged industrial leather sewing machines, gives the makers the courtesy to cut down on looks and pay more attention towards its power and longevity. The ample power in the motor and its efficiency to go pass the toughest of fabrics is what makes them apart from the domestic leather sewing machines.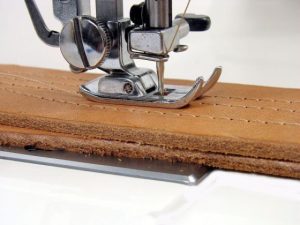 These machines are best suited for harder fabrics like denim, leather, jute, and fleece. They are extensively used in larger factories who are responsible for making products like blankets, jeans, leather jacks, car seat covers, etc. Where an ordinary portable sewing machine can give a top speed of 1500 stitches per minute, these machines can escalate up to 3000-5000 stitches in a minute. The extra speed and thrust in the motor can save a lot of time giving space for completing more projects in a shorter time.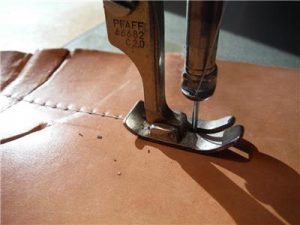 These machines can range from anywhere between $500 to $1500 depending on the features and built-in quality it offers. Most of these machines don't give you the freedom of opting for a particular color as it is particularly designed for industrial use.  They might even come with minor scratches, dents, and color fades, but to our liking, that doesn't affect the performance of the machine at all.
Criteria by which we sorted down the above list
We made our expert opinions by considering the user reviews, their valuable feedbacks, and the advantages and disadvantages of the machines after a lengthen use of it. Also, we took into the considerations the strength of the needle that a machine can handle. Leather being a tough fabric, it requires sharp and strong needles to pierce through it. There are few machines available in the market that have a standard thin needle, which abruptly stops the sewing process of a leather project.
Another feature worth considering before buying a leather sewing machine is the stitch length. Stitch length becomes very important while sewing a leather project. By the use of the stitch length, one can always improve the strength of the leather masterpiece.
We made sure that we mentioned machines that allow synthetic threads without creating a fuss. There are quite a number of machines available in the market that don't have rooms for synthetic threads. You have to opt for a machine that easily adjusts to synthetic threads if you are looking out to buy the machine for leather-centric projects. The motor power and efficiency also were given a special attention before we jotted down the list of the leather sewing machines.     
Tips to sew leather efficiently
Sewing Leather can be a daunting task and may require a special machine if the leather is too rough. On the contrary, faux leather and other thinner versions of leather can be done on the regular domestic machines. Many are up to an opinion that the best way to sew leather is by hand. But when the projects are big, and you need to assure its stitch strength and other features, one needs to run to the machine to carry out the projects efficiently.
Therefore, we decided to mention a few trickery and tips to sew leather
 1. Once done, cannot be undone
Any stitch made on the leather fabric cannot be undone again. So if you make a wrong move, you are bound to spoil the fabric of the leather. You need to be extra careful while sewing leather. Every stitch you make leaves a hole in the leather fabric. Therefore, you have to pay a keen attention and be prepared with your fitting before you began your sewing process.
2. Avoid pins
One cannot use pins to constrain leather on a sewing machine as it may leave visible holes on the project. Therefore, one needs to be extra careful while pinning down leather projects by using paper clips, double-sided tapes, binder clips, and invisible tapes. Also, there are special clips available in the market which are specially designed for quilting big size projects which can be orderly used for pinning leather projects.
3. Get precision with patterns
Tracing patterns on the wrong side of the fabric is a good habit to inherit while indulging in leather projects. Using a rotary cutter to cut patterns from the other side of the fabric is a decent exercise as well. One should avoid using transfer paper and marking wheels to figure out patterns. Instead, the use of marking pens and tailor chalks can do a lot of difference to simplify your working on the leather projects.
4. Keeping the seams raw
You can do whatever you can, but will not get a smoother finish to a leather project. Seam edges hardly eradicate from the leather projects and can give a superior raw and organic look for the project. Therefore, you need not worry about the raw unfinished seams as it may add to the natural looks of the project.
5. Seamless seaming options
There are several seam options which can be carried out on all kind of real and faux leather. There are endless options like lapped seams, plain seams, single or double top-stitched seams, faux flat fell seams, etc. which can be carried out on the leather fabrics. The kind of seam you need you need to choose depends on the desired look required after the project is sewed completely.
6. Choosing the right needle
You need a specially designed needle to sew leather. Make sure you always use a new needle while carrying out a leather project as it is a harder fabric to pierce through. This will ensure you hassle free working experience on any sort of leather regardless of its toughness.
7. Teflon foot for leather to glide
While sewing, leather might stick to throat plate or presser foot while gliding through it. Therefore, one needs to have a machine with a Teflon foot so that the leather smoothly passes through and sews without halting the process. In case you don't have a machine with a Teflon foot, you can place a small piece of scotch tape over the presser foot so that the leather glides without sticking to the universal foot. This would help you to stitch without hesitation.
8. Be sure of your stitch before implementing
Test all your stitches you are going to use on a small piece of leather before implementing them on the main project. This would figure out all the glitches and allow you to accomplish a flawless leather masterpiece. We all love mistake-free projects, don't we? And the very fact that the stitches on leather cannot be undone, it is better to be safe than to be sorry.
Now that you have all the tips, tricks, and basic instructions of sewing leather, you are good to go. Also, you have a wide variety of leather sewing machines to chose from. So in case you are confused even a bit, you can read our expert reviews on the leather machines. We have made sure that we mentioned every little aspect about every sewing machine appropriate for sewing leather.  Leather jackets, seat covers, pants, wallets, wrist bracelets, waist belts, suspenders, and every other thing, you can sew whatever you want with the help of these steps.
From basic leather sewing techniques to advanced sewing tips, we covered almost the best sewing machines for leather and everything related to the leather sewing processes, the machines used, and other handful techniques.