Sewing Machines for Quilting
A method of sewing more than two or three fabrics together to sew a thicker and heavier material is called as quilting. Not necessarily that it requires a particular number of fabrics to pass through the needle to call it quilting, but the process of sewing thicker fabrics or layers of fabrics is also categorized into quilting.
Many seamstresses love quilting, and there are millions in the world that still rely on their manual skills to quilt bigger projects. However, as technology has advanced, machines have become more efficient that has made quilting easier. Therefore, many professional seamstresses have turned towards machines in quest of finishing their projects and save plenty of time. Hence, we decided to review a few machines available on the market today that are specially designed to undertake quilting projects.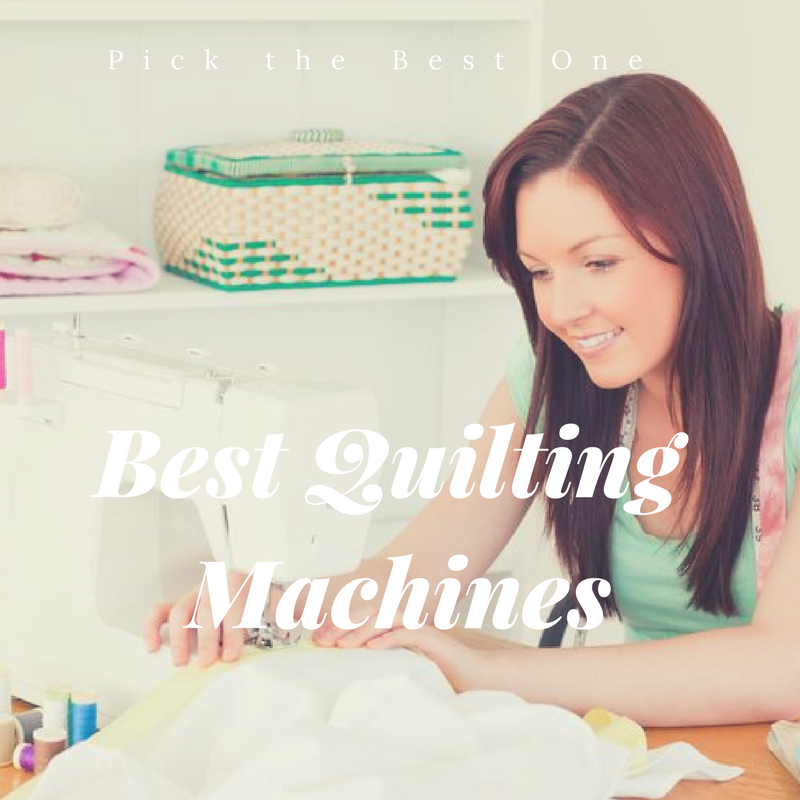 | Name of the machine | Stitches Per Minute | User Ratings | Buy it on Amazon |
| --- | --- | --- | --- |
| Janome Magnolia 7318 Sewing Machine | 830 | 4.5 | |
| Janome DC1050 Computerised Sewing Machine | 820 | 3.7 | |
| Janome 2212 Sewing Machine | 860 | 4.7 | |
| Brother XR9500PRW Project Runway Limited Edition Sewing Machine | 850 | 4.6 | |
| Brother SE400 Sewing Machine | 710 | 4.5 | |
| Brother CS6000i Sewing Machine | 850 | 4.5 | |
| Juki HZL-F600 Computerised Sewing and Quilting Machine | 900 | 4.7 | |
| Brother PQ1500SL High-speed Quilting and Sewing Machine | 1500 | 4.7 | |
| Brother Designio Series DZ2400 Computerized Quilting and Sewing Machine | 850 | 4.5 | |
| Janome HD1000 Heavy-Duty Sewing Machine | 1100 | 3.9 | |
| Janome 11706 Hello Kitty Sewing Machine | 650 | 4.1 | |
The above-mentioned machines are the best options available in the market if you are especially emphasizing on the machine that can undertake heavy quilting projects. We made sure we leave you with ample information about the machines included in the table. So that next time you are in the market to buy a quilting machine, you know which machine would suffice all your needs, and you settle down on the best machine.
It is completely a no-nonsense machine that offers such features that can put any ordinary machine to shame. The horizontal full rotary hook will allow you to speed up your work process without compromising a bit on your stitch strength. The machine is built in such a way that it carries out heavy-duty projects with extreme ease. Also, it can match the speed of the most highly efficient machines available on the market. At a very low cost, this machine allows you to create heavy quilting and sewing projects without making creating much hassle.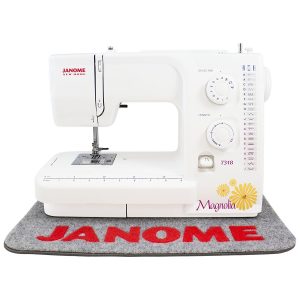 Specifications: The machine comes with a top loading bobbin that doesn't jam even after hours of rigorous work on the machine. Also, it is equipped with a carrying handle and 7-piece feed dog that gives you the much-needed command over the fabric. The machine can speed up to 830 stitches per minute which are faster than most of the machines in the category.
Janome Magnolia is one of the best quilting machines available in the market. It can quilt the hardest of fabrics and can be equally responsible for undertaking projects like fleece blankets, and cushions, and leather products.
Not only this machine offers a great variety of sewing projects but also is apt for quilting projects. DC1050 is a fully computerized machine that will provide the required sturdiness and power required to undertake projects of any difficulty level. The fact that it is fully computerized reduces the mistakes and helps you to sew pinpoint projects with ultimate ease. The LCD screen equipped with the machine allows its users to know exactly about the stitch and stitch length is used on the fabric. The 7 piece dog feed allows the fabric to pass through the needle smoothly.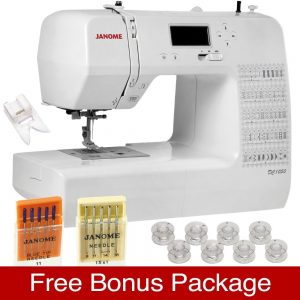 Specifications: The machine comprises of 50 built-in stitches that include 3 one-step buttonholes and memorized needle movement. Also, you can control the speed of the machine according to your requirements. The start-stop button adds some extra value to the machine along with the backlit LED light. All these extravagant features can make any machine on this planet more than simple efficient.
This computerized machine can put any sewing process to rest regardless of the difficulty you throw at it. Whether it is quilting or sewing high-quality fabrics, this machine stands the test of time and provide brilliant results. If you want to indulge at a professional level, spending a bit extra on the computerized sewing machine won't be a big issue.
Janome doesn't offer many detailed features in 2212 but makes it apt for someone who is in the early stages of learning the art of sewing. The machine offers 33 percent larger workspace that eases your process while undertaking quilting projects. Even after being able to provide a larger workspace, it fits in a corner and is very precisely compact for its size. That gives you the courtesy of keeping the machine a corner of the room when not in use.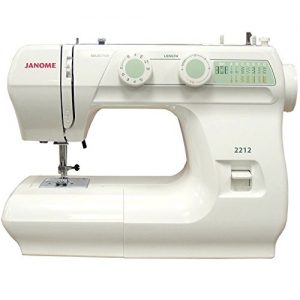 Specifications: The machine comprises of 12 built in stitches and a single four-step buttonhole. Apart from small options of stitches to select from, it offers you the Dial pattern selection and also includes zigzag stitch. It is also fed with a free arm and drop feed which enhances any type of sewing or quilting projects undertaken on the machine. Other features include the stitch length selector and width adjuster so that you get deadly précised with your end product.
This is one of the best machines for beginners to get their basics right in the world of sewing. Entry-level quilting can be undertaken on the machine too. It doesn't disappoint you because of its loaded features. It keeps a novice engaged and entertained without getting entangled.
If we had to describe this machine in a line, we would say that it is a small package that can surprise you with never ending options. Yes, it does exactly that. This machine is capable of working longer hours due to its well-structured motor and design. Apart from its stature, another thing that comes with the machine is its fully loaded high-end features. With more than 100 stitch options available for your disposal, this machine is a boon for those who love to experiment with their projects.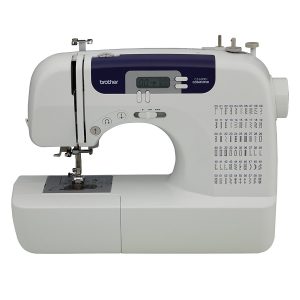 Specifications: The machine comes with inbuilt 100 stitches including heirloom stitches and decorative stitches. It stitch comes with multiple stitch option that allows you to customize projects at your own will. Although the machine is compact, the company has sufficed all the needs of the people who love to quilt with an oversized table and a free arm. Basic Monogramming can be done on the projects using this tiny monster.
The best part of the machine that it can accomplish any task thrown at it with extreme suaveness. Also, it offers a wide fleet of options that are equally useful for people who like to experiment with their projects. This machine doesn't disappoint the quilters as well. And therefore, makes the list of the best quilting machines in the market.
It is fast, sleek, and can get done with the most difficult of tasks with extreme ease. SE400 is a fantastic fully automated computerized machine that stresses of high-quality performance regardless of the sewing process done. It just doesn't simplify the sewing process but becomes extremely handy while doing embroidery and quilting projects. For a price that is negotiable for such kind of beast, this machine is an absolute bargain. This machine can sew, quilt, and embroider with the same speed and power. This machine is a 3-in-1 machine that gives you the extra versatility to exhibit your creativity.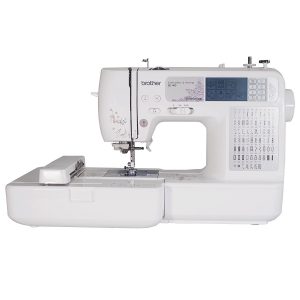 Specifications: The machine is packed with 67 built-in stitches and 70 embroidery designs. Also, you can add to your creativity by importing designs or stitches you desire by connecting the machine to the computer. Automatic thread cutter and backlit LED add to the efficiency of the machine.
It is a great embroidery machine that can easily do all your sewing and quilting projects within no matter of time. Also, it allows you to download embroidery and stitch designs from the computer. This feature allows you to add a dash of creativity to your projects. The computerized machine is a total bargain for the price it is offered and features that it is loaded with.
This machine stands the test of time and skill as it works perfectly fine with all intermediate as well as professional levels. It can sew or quilt any type of fabric without breaking down that too at a greater speed. The adjustable speed of the needles is an important aspect that makes this machine useful for adults, learners, as well as young toddlers. The machine can be a boon for a beginner as well as a skilled seamstress. It has the ability to perform all the heavy work without wearing out.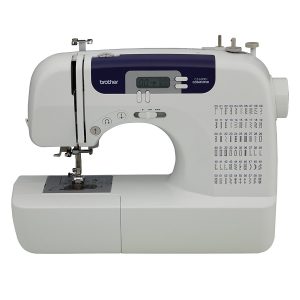 Specifications: Brother makes sure they make CS6000i extremely versatile in terms of performance and skill. The inclusion of LCD display makes it easier for the user to select the stitch, stitch length, and width. Top bobbin drop-in can be quickly set without jamming, therefore, enhancing your sewing experience. There are so many useful accessories available with the machine that you don't need to buy extra equipment to improve the efficiency of the machine.
As we went through the reviews of the machine online, many consider it to be the best sewing machine in its class available at such a low price. The machine's performance is the long run is undoubted, and versatility of the features provided by the company add few brownie points. It can deliver outstanding results for a newbie as well as a skilled seamstress.
This is evidently the best in the list when it comes to quilting sewing machine. The machine is a complete workhorse which can power through multiple layers of fabric with extreme ease. However, it doesn't allow the user to indulge in embroidery work. Apart from that, throw any sewing or quilting project at the machine, and you'll be done is jiff. This machine is capable of pulling off the hardest of fabric and sew through the thickest layer of fabric without any tussle. As the name suggests, this machine is built to quilt. Rest other basic processes are very primary for the machine.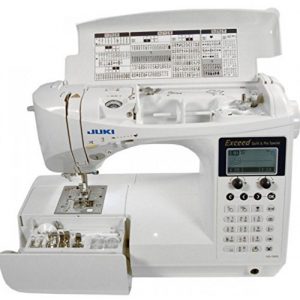 Specifications: The machine is equipped with the box-feed technology that helps to improve the machine in a productive manner. A wide sewing table is given with the machine so that one can undertake quilting projects without running out of space. Free motion sewing helps the users to create and work on bigger projects quite efficiently.
The speed and the power the motor possesses cannot be overlooked. Therefore, this machine stands out comfortably when we talk about quilting machines. It is very affordable and the last model you might want to settle on as this model provides you all the fundamental features required for sewing. To top that, it is more efficient in undertaking quilting projects. The machine glides through several layers of fabric with ease giving you the liberty to complete difficult projects without making any mistakes.
Quilters know the exact value of owning a designated quilting machine, and this machine proves its worth. PQ1500SL is a fantastic quilting machine with can pierce through several layers of fabrics without breaking or slowing down. One just needs to get acquainted with the rhythm of the machine to get hold of it. Once you master that skill, there is no stopping for you to gain the ultimate quilter's status. However, this machine doesn't offer a variety of built-in stitches or buttholes.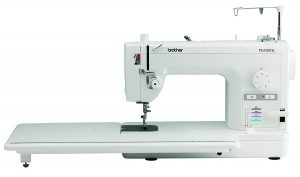 Specifications: The machine is equipped with a start-stop push button for easier use. Also, it has extra added features like auto thread trimmers, auto needle positioner, and knee lever for presser foot lift. The machine can glide through the toughest of fabric and can sew at the rate of 1500 stitches per minute. That is more than enough and can outclass almost all machines in the list in the speed department. An extension table is provided so that users can quilt or sew bigger projects with extreme ease.
It is a magnificent machine if you want the machine for quilting. It can let you down if you want to create decorative products using lucrative designs as it offers a single straight stitch. The USP of the machine is its higher speed levels. It can zip past multiple layers of fabrics completing your work in lesser time. It is a heavy-duty sewing machine and we strongly recommend it for people who indulge in quilting for the most time of their sewing process.
The DZ2400 is a simple yet powerful machine that can create wonderful designs on the desired fabrics. The drop-in bobbin doesn't jam nor does bobbin winder give you any problem during the sewing process. Apart from the loaded features, the weight plays an important role in the success of the machine. It is extremely lightweight and portable sewing machine which makes it famous amongst the professional as well as the intermediate seamstress.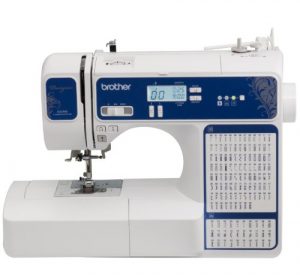 Specifications: The machine is packed with 7-point feed dog system which allows the fabric to smoothly pass through the needle. The speed of the machine can be varied with the speed control dial, and the automated start/stop button gives you an option for the use of foot pedal. Also, the machine comes with 11 built-in stitches and needle position button. Apart from the built-in stitches, other features the machine offers include 8 buttonholes and drop feed dogs for hands-free quilting. The machine comes along with an accessory bag which is packed with excellent features. 11 different feet are provided so that user has plenty of options in terms of selecting the right foot for desired quilting and sewing project.
It is a great overall machine and could be nothing less than a perfect machine for an intermediate seamstress. The machine can be useful to create all kind of designer clothes without much hassle. It can produce wonderful projects and gives a wide array of options for its users for sewing and quilting projects.
The start/stop machine offered at the machine is the main highlight of the machine. Also, the replacement of the foot pedal with a single button makes it a more efficient machine. The inclusion of an excellent feeding system doesn't let the fabric clog in the dog feed. It smoothens the process of the sewing without jamming. The stitch selector also adds to the competence of the machine. The fact that it is a heavy duty sewing machine makes it easier for the user to take heavy-duty quilting and sewing projects.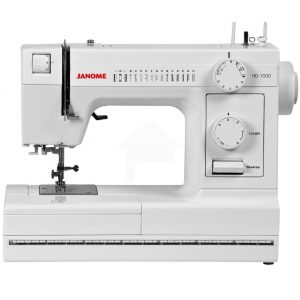 Specifications: HD1000 comprises of 14 built-in stitches that include stretch stitches, utility stitches, and a single 4-step buttonhole. The frame of the machine is built to last which makes it an effective machine in the longer run. The automatic needle threader reduces the strain on your eyes which save a lot of time. A free arm is provided to undertake several other projects apart from basic sewing and quilting.
The heavy-duty sewing machine stands out as a performer. Whether it is a quilting project or sewing one, this machine is capable of completing any project thrown at it with much comfort. Janome doesn't disappoint a bit with its built and quality. The machine can compete with any industrial sewing machine and can help you create wonderful designs.
Don't let the name or the appearance of the machine fool you. Janome 11706 Hello Kitty Sewing Machine can easily accomplish any household project that includes sewing and quilting of harder fabrics like jeans and leather. It can also be useful for completing curtains, wallets, cushions, fleece blankets, etc. This machine is a beast when it comes to quilting too. Although it is diminished in size, the machine out powers all the machines in its class and give surprising results.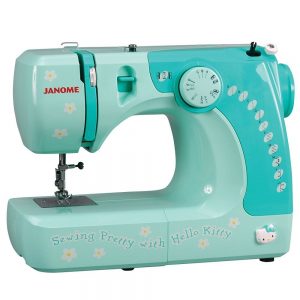 Specifications: The machine comprises of 11 built-in stitches and a single 4-step buttonhole. It also consists of a free arm that allows its users to undertake quilting projects. The larger workspace offered by the machine gives the freedom to the users to carry ou projects effectively. It is extremely lightweight which makes it very comfortable for taking it to sewing classes or door to door. An accessory storage adds to the efficiency of the machine as you don't have to wander your entire house in search of needles and other parts. You can find them all in one corner of the compartment offered by the machine.
It is a classy machine and one of the best machines to have it as a second option for professional seamstresses or primary option for the beginners. The machine suffices the needs of the seamstresses of all levels. It can easily undertake every possible household project thrown at it. Its quirky design and vibrant colors make it an instant amongst the children too. The machine is extremely lightweight which makes it highly portable. Although it is light, the machine is durable and provides you with ample steadiness to carry any difficult quilting project with extreme smoothness.
Reasons to purchase a quilting machine
Most of the regular machines can undertake basic quilting projects. But many of them just don't work as smoothly as desired when heavy quilting work is carried out on them. Therefore, an outright quilting machine is required so that you enjoy hassle-free sewing experience. So why it necessary to purchase a designated quilting machine? We answer all your questions below. Have a look.
Quilting process requires larger workspace in order to provide a good quality stitch and outcome. Designated quilting machines provide just that. They have a free arm and wider tables that allow the users to quilt the biggest of projects with ultimate ease.
Those machines come with variable design options that allow your creativity to flow at your own will. The encourage you to design outstanding projects. Also, the stitch and embroidery options are in abundance that gives it an extra edge over the regular machines.
Unlike other entry-level machines, these machines are easy to thread. Most of the quilting machine are equipped with an automatic threader which eases the work of a seamstress. This gives its users the extra flexibility to produce world class designs within a short period of time.
These machines are capable of providing stronger thread tension in respect to the usual machines. Quilting requires the needle to pierce through 4 or even 5 layers of fabrics. Therefore, thread tension becomes an integral feature to stress upon while buying a quilting machine. Otherwise, there are high chances of the thread being cut with an inferior thread tension.
Why quilt with the hand when you have a machine that can do the same work with same precision 10 times faster? These machines are designed by keeping in mind the problems faced while quilting. Therefore, they do not disappoint at the point of time, not even when a major problem surfaces. Apart from that, these machines are a time saver and can give you stronger, efficient, and more effective products. After all, fingers can be raised at manual quilting, but when done on machines, there is hardly any room for mistakes.
What makes a quilting machine the best in its class?
The best machines are equipped with a larger workspace and a free arm that gives the freedom to its user to glide past multiple layers of fabrics with suaveness. The free arm helps the users to put down their creativity on their quilting projects. They give you the option to adjust the stitch length and stitch width to create customized products. Therefore, you can decide upon the stitch length, width, and type depending upon your project, design, and requirement. Also, these machines offer a stronger stitch that one can extract from the free hand quilting.
Most of the times, these machines are loaded with a top loading bobbin which allows easy access to load the thread. Also, it gives you a clear view of the bobbin so that you can find out how much thread is remaining in the bobbin. Custom bobbins might trouble you a bit. Therefore, make sure such kind of machines doesn't harm your fluency of sewing.
Another feature that matters the most with the quilting machines is the needle lock. Basic models won't offer you this fantastic feature. Hence, you will need to rely on your timing to set the needle at the right position. However, the best quilting machines will have an automatic lock, that will allow you to set the location of the needle according to your needs. Not only that, this will also reduce the stress on you while threading and give you the freedom to sew mistake-free projects.
Now that you have all the information about the quilting machines, jot down your requirements, sort down on your budget, and settle down on one of the machines mentioned above. From computerized to entry-level machines, quilting is an integral part which requires some special set of features to be done efficiently. Therefore, think wisely and select the best machine to suit your requirements.
We hope we have answered all your doubts in regards to a quilting machine. In case, if you feel that we have missed out on any machine that should replace the above-mentioned machines, we welcome your suggestions too. Leave your suggestions in the comments section below, and we will try to include the machines you suggest in the upcoming blogs. Till then, Happy Quilitng Guys!