Knowledgeable seamstresses know what a walking foot sewing machine is. However, this term might sound alien to seamstresses who are new to the art of sewing. It is no brainer that most of the serious seamstress would resort to the internet when they come across the term for the very first time. Thus, in a genuine attempt to address all those seamstresses, we dedicated an entire blog that speaks about not only the sewing machines but also gives you insights of some of the best machines available on the market today.
What is a Walking Foot Sewing Machine?
A machine that inherits a mechanism of feeding the workpiece through a machine while a project is being stitched is known as the walking foot sewing machine. Such mechanisms are mostly found in the industrial or commercial grade sewing machines because it helps you deal with heavy fabrics with utmost ease. It is an important trait for a machine to have a walking foot if you intend on buying a machine to get done with your quilting and other heavy duty projects.
In most cases, you wouldn't find the walking foot attachment in the regular sewing machines made for the home user. However, any sewing machine that boasts superior quilting qualities would certainly have a walking foot. This feed mechanism is commonly found in the commercial grade sewing machines. But with the general connector on most of the regular sewing machines, add-on walking foot attachments can be inherited to fasten the sewing processes.
Why is a Walking Foot Sewing Machine used?
A walking foot sewing machine is mainly used so as to smoothen your sewing processes while one has to deal with tough, spongy, and super smooth fabrics. Also, it is used to get the quilting projects to get completed with absolute precision.
While these are the general reasons why such sewing machines are used, there are some technical aspects that separate these machines from the regular ones. Not all machines have room for accommodating a walking foot. Sewing machines may normally boast one or two other feed mechanisms along with the walking foot. This is to ensure that the machine deals with basic fabrics without causing a hiatus.
The main reasons why a walking foot sewing machine is largely preferred by professionals are:-
Ability to deal with tougher fabrics.
Assisting you to quilt faster.
Dealing with stubborn fabrics without causing any slippage.
Assist the sewing machine to pull the ends of the fabrics together.
There are always two sides to a coin. And this kind of sewing machines is no different. Along with their perks and advantages, they do have their particular set of drawbacks. However, most of them shouldn't hamper your sewing assignments but would only cause you little discomfort while you are at it. A professional seamstress is always seasoned to deal with such conditions, and wouldn't find these traits much annoying. Here are some of the drawbacks of sewing machines with walking foot.
Walking foot can make your machine noisier.

It may stick on to the connector and would take quite an effort to detach itself.

These machines are generally on the heavier side of the weight.

A regular use of the walking foot may affect the overall performance of the machine.

Proper maintenance is required in order to sew efficiently.
Walking Foot Sewing Machine Reviews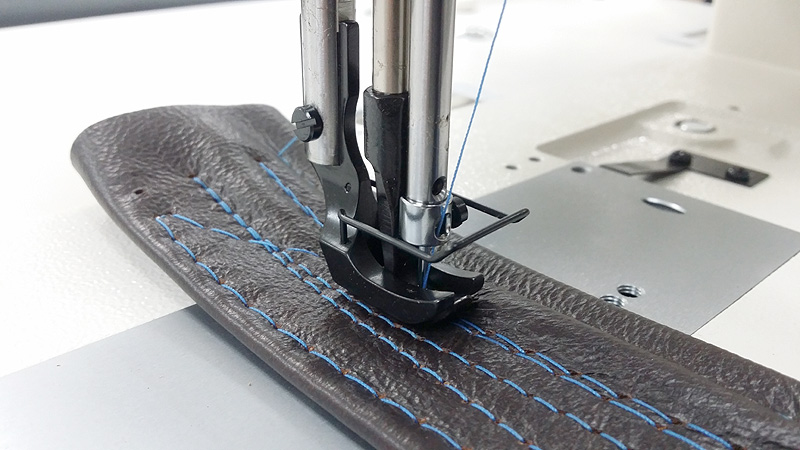 In the space below, we will review some of the best walking foot sewing machines available on the market today. We hope that you find your explanation so as to which sewing machine would suffice your sewing requirements. Also, you would get to review all the sewing machines in the category all under a space. This way, it would be easy for you to understand the dynamics of each of the sewing machine resulting in better decision making while you head to the market in search of sewing machines.
Now that you are here looking for a particular type of sewing machines, it is more than evident that you need a sewing machine to deal with stubborn fabrics or quilting assignments. Sewing machines can only go about their work smoothly when a strong motor and heavy-duty metal frame are inherited. Sailrite HD LSZ-1 is one such machine structured to carry out all the heavy duty projects without complaints. It is an incredibly powerful machine which can go past stubborn fabrics like leather in a breeze. The professional seamstress would love to have this machine at their disposal.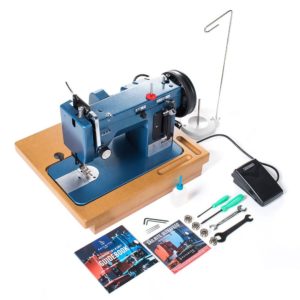 This isn't a sewing machine where you would want to begin your sewing journey. It is simply not mean for the beginners and they should refrain from such machines (at least in their early days at sewing). It boasts two different type of walking foot adjustments, viz. zigzag and straight stitch walking foot. Power plus balance wheel, a mechanism that gives ample strength to the machine to deal with heavy fabrics, is included.
Specifications & Features: The machine is said to be tried and tested by making it sew multiple (up to 8-10) layers of stubborn fabric at one go. It can perform straight/zigzag stitch efficiently without causing any problems. It derives all its power from the balance wheel which proves more efficient than that of the traditional flywheel. The power from the motor to the needle is transferred smoothly because of the presence of the position-pin clutching system.
There is an extra wide presser foot included so as to give the users a creative edge over their machines. One can vary the stitch length and width up to 6 mm and 5mm respectively. It comes with an instruction manual which would help you to get acquainted with machine faster. Other important features include a built-in piping tunnel and an adjustable extra high presser foot lift.
Our Expert Opinions: The heavy duty sewing machine proves worthy of all its advertisements. It is powerful, boasts incredible strength, and therefore, has the ability to deal with the most stubborn fabrics with utmost ease. It is believed to sew through 10 layers of leather or 8 layers of Dacron at a single go. It is a robust machine that provides you with top-notch sturdiness while you perform the most critical of sewing processes Apart from all the features, another aspect that it stands out from the rest is its customer support. It is said to have one of the best customer services in the industry.
The only drawback we could figure out in the machine was its weight. It is too heavy to the liking. However, one has to consider the fact that most industrial grade sewing machines are heavy due to their power-packed motors and robust metal frames.
It is one of those purely commercial grade sewing machines designed to sew at higher speeds through multiple layers of fabrics without any hiatus. The machine is easy to use and can be a perfect fit for the intermediate seamstresses. Professional seamstresses love the ease of which the machine can be used to its full effects. It can perform all types of tasks that even include dealing with the lightweight fabrics along with the most stubborn ones as well. It gives you an option to choose the motor according to your sewing preferences. Therefore, a thorough study of the future projects and the motor needed to complete them might prove helpful.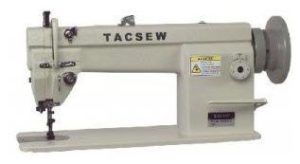 The machine is befitted with a fixed clutch motor which can be later upgraded splurging a few dollars for the servo motor. It is one of the fast-paced sewing machines that will give you a professional result every time you stitch a project. It does not include a lot of features which is the case in most of the computerized sewing machines. However, considering that it is an out and out the industrial sewing machine, it is robust, powerful, sturdy, and made to last, just like a commercial grade machine is supposed to be.
Specifications & Features: The machine, just like most of the heavy duty sewing machines, comes with a single needle straight stitch. The presence of the walking foot makes it almost impossible for the layers of fabrics to cause slippage. It can even perform a straight lock stitch, which can attract a lot of seamstresses towards it. Stitch length can be adjusted up to 8mm. The machine can clock the top speed of 1600 stitches per minute which can increase with the inclusion of servo motor.
Tacsew GC6-6 is structured in a Big Bobbin M Style which lets you take a wide range of products, right from free arm sewing to quilting processes. It automatically lubricates itself until the oil does not get extinct. It is easy to maintain and can even perform a reverse stitch.
Our Expert Opinion: This machine works wonders of tough fabrics like leather. Upholstery jobs can be undertaken on the machine. Professional seamstresses are full of praises for the overall performance of the machine. For the price that it is offered, it is safe to say that it a total value for all your hard-earned money. The best trait of the machine has to be its speed. It is fast and does not skip a stitch even after sewing consistently at higher speeds.
It might not offer you the suaveness that of a computerized sewing machine. In fact, no industrial sewing machine does. Therefore, one can overlook its trait and focus on the ample positives instead. One has to break his back to know the machine properly before he can master the art of sewing on this particular sewing machine.
For those who are unheard of the brand name REX, it is one of the oldest sewing machine brands to produce excellent quality industrial sewing machines. It specializes in producing machines that are meant for the commercial purposes. It is a robust sewing machine with a heavy duty metal frame that is able to perform any sewing tasks thrown at it.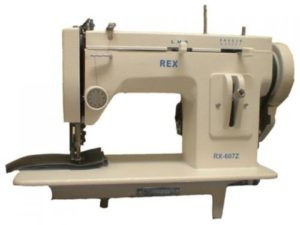 It can deal with a wide variety of fabrics including leather and jeans. It is surprisingly speedy and manages to produce outstanding results regardless of the fabric. The best trait of the machine has to be its portability. Unlike most of the commercial sewing machines, it is lightweight giving it an extra edge for the home users as well.
There are not many fancy options available in the machine. It is a single needle sewing machine which can sew in a straight line. Comparing it to the other sewing machine counterparts can be a little demeaning to the REX model. But with proper use of thread and needle, one can derive outstanding results from the sewing machine.
Specifications & Features: The machine is built for the industrial use. However, it could be best used by the boat users, serious quilters, and people running small-time businesses. For the price that it is offered, it is one of the most economical sewing machines available on the market. It is structured using the good old style including a 900RPM motor. It can sew in a straight line for canvas work and can perform zigzag stitches for sails. The length of the stitches can be adjusted to 5mm.
Our Expert Opinions: It is a simple yet robust sewing machine capable of undertaking all sorts of sewing assignments with extreme ease. It might not be as sturdy as you would like to be, but with proper sewing machine stand, you can overcome the problem of the steadiness. The foot pedal makes it easy for the users to work on the machine quite effectively. One thing that stands apart from its counterpart is its superior speed control. Also, it can sew through multiple layers of fabrics with one go.
The machine is a bit difficult to maintain considering the absence of holes in the machine. One would struggle to keep the machine well-oiled for a longer period of time. The machine is problematic to use in the initial days. However, with consistent use, the machine gets better for the general use.
You might be taken aback by surprise when you find out what this compact-sized machine can deliver. It is a supremely well-constructed machine built for the heavy duty work. Not only it is strong and powerful, but it can adjust itself depending on the project thrown at it. That being said, its versatility cannot be compared to any other models on this list. It can be used effectively by seamstresses of all skill levels. Right from a beginner to someone who is highly skilled, this sewing machine is apt for users of all types.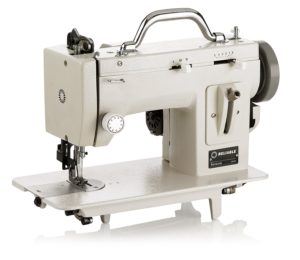 Although it is not an industrial sewing machine, the stitch quality and the power produced by its motor can be compared to that of an industrial sewing machine. The walking foot allows the users to combat projects that involve quilting or sewing multiple layers of stubborn fabrics. It is believed that each of the machines is tested with 10-point quality check before it is handed to the market for sale. That speaks more about the quality that the machine is able to offer. It could be an apt sewing machine for basic home projects, upholstery assignments, and boat users.
Specifications & Features: The machine comes with a 3-year manufacturer guarantee that speaks volume of its quality. There is this mechanism known as the built-in speed reducer which assists the machine with extra torque enabling more power and efficiency to deal with tougher fabrics. It can sew almost 8-10 layers of heavy canvas without complaints. Although it is not considered as an industrial grade machine, its overall performance is as good as an average-rated commercial machine.
It is a lightweight machine that comes with a strong carry handle that allows you to carry the machine from place A to place B. Switching from normal stitch to reverse stitch is simple and easy. There is a dedicated lever for the reverse stitch. Unlike most of the machines on the list, the speed drops down to 800 stitches per minute. Maybe one of the reasons that it is not categorized under industrial sewing machine types. It can sew up to 4 stitches per inch that are still a very good result. Stitch length is adjustable at 6mm in length and 5mm in width.
Our Expert Opinions: Although it is not an industrial sewing machine, it is definitely a heavy duty sewing machine capable of piercing through multiple layers of toughened fabrics. It is a decent option for a seamstress to begin with a heavy duty sewing machine. It is noisier than expected but can be overlooked considering what the machine has to offer in terms of power. With the table that comes along with the machine, it could be used effectively.
It can be used to its maximum capacity without any hassle. You might feel a pinch on the pocket for paying a hefty amount for a machine that comes with a standard flywheel. However, it is more than enough to get done with your basic sewing assignments with extreme ease. Do refer to the instruction manual before you start using the machine.
The fastest of the lot, it is surely one of the best industrial sewing machines on the market today. It does have walking foot abilities and is one of the obvious reasons why we decided to include this machine on the list. It can sew as fast as 5500 stitches per minute which is a way better speed than most of the machines included on the blog. Apart from its conclusive speed and pace, its durability and ease of use make it stand apart from the rest.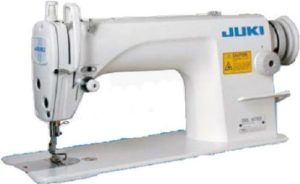 Even though with the greater speeds, the machine is capable of being sturdy even when the most stubborn fabrics are thrown at it. However, it tends to slow down a bit while dealing with tough fabrics. It works smoothly of medium and lightweight fabrics. The presence of servo motor provides the necessary strength to the machine.
Specifications & Features: The best trait of the machine has to be its speed which is calculated at 5500 stitches per minute. The stitch length can be adjusted up to 5mm. Even with a powerful servo motor, the company has managed to keep the noise of the machine on the lower side.
Our Expert Opinions: One can bestow trust on Juki when it comes to producing top-notch industrial grade sewing machine. It works well on most of the fabrics thrown at it. It may act sluggish when multiple layers of a stubborn fabric are thrown at it, but that isn't as big a problem to deal with. With a proper understanding of the machine, one can get best efficient results out of the machine. Apart from the speed, one can get a sturdy machine in the form of Juki DDL-8700. Its autolubricating features give you yet another reason to buy the machine.
After reviewing as many as 5 walking foot sewing machines in the article, we decide that it is enough for the readers to pick one from the list. Apart from reviewing sewing machines, we have described how such kind of sewing machines prove helpful to the users. Also, we hope that we were informative enough for our readers to pick the best sewing machine from this category.
For sewing machine reviews that are nicely channeled into several categories, you can log on to our website www.sewcare.com. Along with the reviews, one would also find a lot of useful tips and tricks to hone their sewing skills. We are open to suggestions, and hence, any inputs regarding the articles will be highly appreciated. You can write to us in the comments section below and we would be glad to inherit your valuable feedback in the upcoming blogs.
With this, we conclude our blog that thoroughly spoke of walking foot sewing machines. We hope you found the answers to the confusion you had in mind before you turned towards the internet for solutions.