Bernina is an international manufacturer of sewing and embroidery machines. The Swiss-born company was headquartered in Steckborn in 1983. The company has excelled in the sewing world in terms of producing machines for the domestic use. Bernina produces a wide fleet of sewing machines under their banner which includes machines for embroidery, quilting, crafting, and home textiles. The company also has an invention under their banner in regards to the sewing machines for hemstitch. It was first invented by a Swiss inventor named Karl Friedrich Gegauf in 1893.
Why Bernina Sewing Machines have a Unique Recognition in the World of Sewing?
Bernina, right from their inception, have stressed on producing sewing machines that are versatile and outright innovative. Also, these machines are made with intense care and advanced technology so as to feed the needs of a home seamstresses.
The main agenda of the Bernina has been to produce quality sewing machines and make a distinctive name for themselves in the textile industry. Therefore, the giant company has thrived on constructing sewing and embroidery machines with superior Swiss quality.  They have reinforced their profits in order to produce innovative and efficient sewing machines.
Bernina Sewing Machines are popular amongst the seamstresses solely because of the BSR (Bernina Stitch Regulator) feature. This feature allows the machine to make stitches on a consistent basis without squandering its length and the width. Free motion embroidery and quilting projects can be accomplished without creating any fuss.
Pros & Cons of using a Bernina Machine
Every machine comes with its particular set of pros and drawbacks. Machines produced under the wing of Bernina are no different. They too have their flaws and good points too. We went through several reviews on multiple online portals and figured out the general flaws and positive remarks of the Bernina Sewing Machines.
Pros
BSR Feature

Technically advanced features

Efficient & easy to use

High on Consistency

Unique yet effective
Cons
Worth every penny but still on the higher side of the price

Very costly especially when it is marketed for the domestic use
Bernina Sewing Machine Reviews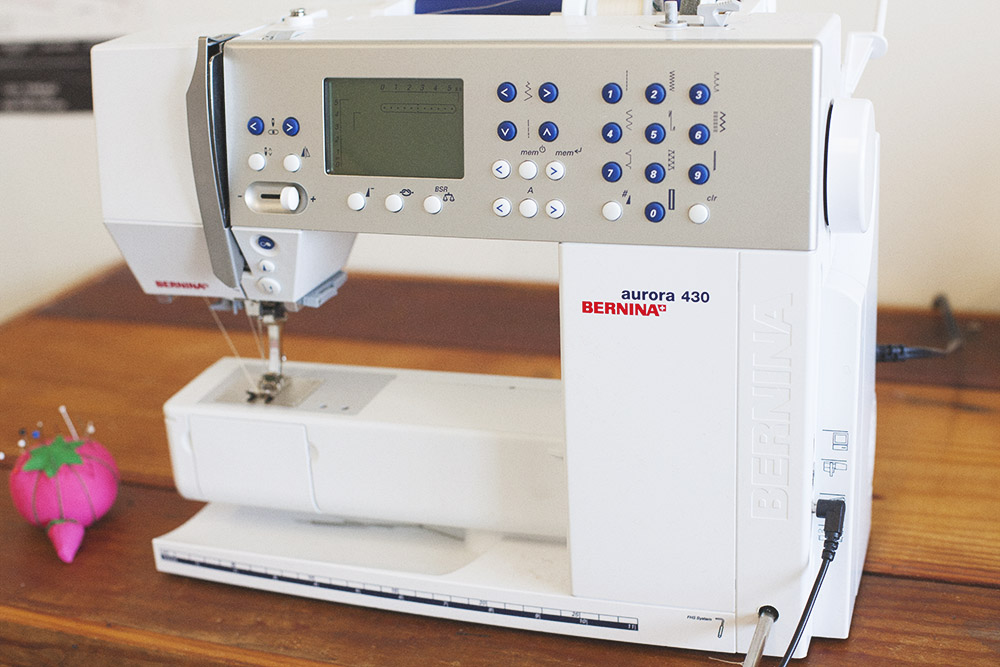 Most of the machines produced under the banner of Bernina are expensive. Therefore, the company decided to launch a new line in form of Bernette which focused on producing machines that are exclusively designed for the home user. Chicago 7 is supposedly the first of the lot produced under the wing of Bernette. However, the machine failed to match the excellence of the expensive Bernina models. It lacked the desired speed, made a way too much noise, and dropped considerably on its performance when compared to its other counterparts.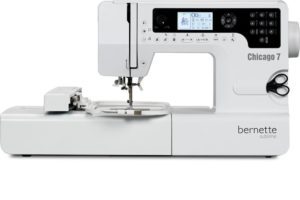 With all the drawbacks that it comes with, it still manages to attract a particular set of people. Beginners and novices who are unsure about how long their sewing stint would last can rely on the machine. Even though we think, there are too many other options available from brands like Singer and Brother which would make you fall in love with the art of sewing. It could be an excellent machine for someone who wants to try his or her hands on a combination sewing machine and excel with his or her embroidery projects.
Specifications & Features: It is a computerized sewing machine which also gives you an edge over your embroidery projects. Chicago 7 comprises of 200 built-in stitches, and a couple of automatic buttonholes. Along with that, a monogramming font and 20 quilting stitches are also included. It boasts features such as secure stitching, speed control, manual thread cutter, free motion sewing, and drop feed dogs. The best part of this machine is its weight. It is extremely light which adds to the portability of the machine. Also, the company offers a 10-year extended warranty on mechanical parts.
Apart from these features, the machine inherits a start/ stop button so that a seamstress gets the liberty to use the machine without having to use the foot control. It also consists of the automatic needle up-down button and a wide array of features that are necessary for smooth functioning of a machine. The widest stitch available on the machine is that of 7mm wide.
Our Expert Opinion: Although we picked out quite a few drawbacks of the machine right in the start of the review, the users on the Amazon section don't seem to have many complaints about the machine. The most intriguing feature according to the users is its weight. It is ultra-light and works like a breeze. It may make some more noise in comparison to other models, but for the price at which it is offered makes it a decent choice for the entry-level seamstresses.
The machine works smoothly on the regular fabrics like cotton, linen, etc. However, it might drop its performance while sewing heavy fabrics like jeans, leather, and fleece. It comes with a bag full of accessories which can easily attract any newbie towards it. Its simplistic approach and a user-friendly interface make it an efficient machines for young toddlers as well. If one wants to master the skill of embroidery, one should consider this machine before turning to a professional sewing machine.
Now that we are discussing Bernina sewing machines, we tried to include a sewing machine from each category. As we can see, the above-mentioned was a computerized machine, this one exactly contradicts the previous one as it is a mechanical machine with no computer brains whatsoever. One can get acquainted with the machine just within few uses. It has a very user-friendly interface and setting up this machine requires no-brainer. A wide range of built-in features gives the users a creative edge while using the machine. With a decent stitching speed of 850 stitches per minute, it can be a decent option for intermediate and professional seamstresses alike.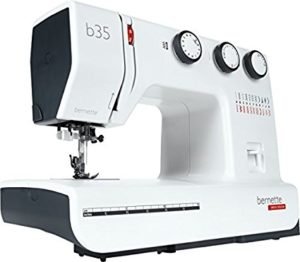 There are a whole lot of accessories that come along with the machine. The accessories included in the box of the machine are seam ripper, screwdrivers, zigzag foot hemmer, 4 bobbins, and many more. It is a very efficient machine that is available at the market at very affordable prices. One has to use the accessible wheel in order to adjust the tensions.
Specifications & Features: Not many mechanical sewing machines afford to give so many inbuilt stitches that this machine has offered to its users. In total, it comprises of 23 inbuilt stitches and 7 automatic buttonholes. One gets to decide the width of the length of the stitches according to one's requirements. Also, professional results are guaranteed with the automated buttonholes. It also inherits a feed dog drop lever to smoothen your sewing process even more.
Our Expert Opinion: We were absolutely thrilled to watch this machine work. It is a complete workhorse, to say the least. Also, it can work on a wide fleet fabrics with utmost ease. This machine is compatible with all age groups. Children would love to sew on the machine given to it ease of use. It can undertake all the basic sewing projects flawlessly. Easily, this machine has to be on the top of our suggestions when one is looking out to buy a mechanical sewing machine.
This is, again, a mechanical sewing machine that redefines simplicity when it comes to usability. Bernette 33 is apt for the users who require a sewing machine that doesn't complicate and confuse them. It can do all the basic tasks of sewing without creating any fuss. Also, the absence of a computer brain makes it less complicated than the most of the machines. Void of computerization also means that the machine is low on inbuilt features. However, there are more than enough built-in designs inherited in the machine to keep an intermediate level seamstress busy.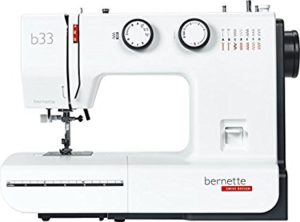 This Bernette product has only two knobs that don't create a lot of complications and confusions while selecting a gift. Features like automatic needle threader and manual thread cutter add to the ease of use of the machine. One thing for which you can blindly rely on this machine is its stitch quality. Regardless of the stubbornness of the fabric, one would acquire a nice, strong, and professional-looking stitch after every sewing assignment. There is a reverse lever which allows you to cut down on your mistakes. It boasts extra space so that one can undertake larger quilting or sewing projects.
Specifications & Features: Bernette 33 exhibits a front load bobbin so that the user can keep an eye on the thread remaining on the bobbin. One can even adjust the stitch lengths and widths to get the desired look on their projects. Apart from its basic features, the machine excels in the speed department sewing at the speed of 850 stitches per minute. One can adjust the sewing speeds according to one's comfort levels. There are, in all, 15-speed variable options from which a seamstress can choose from while working on this model.
It comprises of 14 inbuilt stitches that can be inherited on a fabric with 4 steps. You can choose the multiple settings on the machine with the help of the simple knobs. It comes with 5 different presser feet and a loaded accessory box. You can rely on the Swiss design that provides top-notch quality. All and out, it is a wonderful sewing machine for the beginners.
Our Expert Opinion: Although the company advertises it as an affordable sewing machine, it isn't as compatible with price as its other counterparts from different models. The machine is made to last and can prove helpful in the longer run. Also, one will be satisfied with the results produced by the sewing machine. Each time you sew on it, you can expect a professional finish. The quality of the stitch is impeccable. This makes it a great option for the professional seamstresses to have this machine as a backup.
Bernette 33 is fast and excels to glory when it comes to consistency. It can sew through multiple layers of fabric with utmost ease. Therefore, it becomes an automatic choice for the heavy quilters as well. The only thing about the sewing machine that hit us is its price. $200 for a mechanical sewing machine with limited built-in features seem far from affordable. Overall, it is a wonderful sewing machine that thrives on simplicity, quality, and durability for it to do wonders in the sewing fraternity.
From a machine with very limited features to a machine that is packed with innumerable features, Bernina has produced a machine in each of its types. Bernette 38, unlike the previous model, is a computerized sewing machine which is loaded with a plenty of built-in features. Even after having a lot of features configured in the device, the simplicity of the machine allows you to select the desired options just within few touches. The fully automatic sewing machine can provide a tough competition to most of the industrial sewing machines in its class.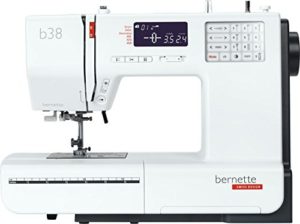 The machine is capable of undertaking large quilting projects like curtains because of the presence of an extended table. It has a free arm space of 170mm for you to undertake oversized assignments with extreme ease. With all the features that come in the Bernette 38, the machine doesn't drop down on speed. It can sew at the maximum speed of 800 stitches per minute. The one thing common to all the Bernina sewing machines is its quality of stitch, and this model is no alien to that.
Specifications & Features: As it is a computerized machine, most of the features like thread cutter and threading options are automated. Also, similar to several computerized sewing machines on the market today, it has a lot of built-in options that give you a creative edge. We doubt that a regular seamstress would be able to use all the features even in a lifetime. The simple design and dependability make it one of the better selling sewing machines from the Bernina.
Bernina 38 comprises of as many as 394 built-in stitches that include decorative, utility, buttonholes, and stretch stitches. It boasts 8 buttonhole styles and 3 alphabetical fonts for monogramming projects. One can adjust the speed to the desired sewing capacity with the help of the regulator which is placed right in the front of the machine. The box contains 8 presser feet for a wide array of projects.
Our Expert Opinion: We went through the comments section of several online portals. The users were up to an opinion that the machine excelled in all its categories except its price. The features are nice and easy. The abundance of features automatically gives a lot of options for the seamstresses to express his thoughts on the fabric. It is sturdy, and the user manual would guide you home through most of the complicated features. It comes in with a really well-designed user manual.
It may ticker a little bit when a thin fabric is fed through it, but once a tissue paper is placed, the tinkering would vanish. It is sturdy to a level that it competes with any industrial standard sewing machine. Although it may nearly costly half a thousand dollars, with all the features and Bernina's dependability, it is all worth it. By far, it has to be the best Bernina sewing machine that we have reviewed till the date.
Quite evidently, one of the costliest machines on the list has to be the most versatile sewing machine Bernina has ever produced. The name of the machine speaks volume about the versatility that this machine possesses. It can sew, quilt, and embroidery all with the same finesse. It has the ability to undertake the most intriguing embroidery projects and get it completed at a lightning fast speed. With an extensive range of built-in options, innovative features, and Bernina's dependability, 630E stands true on all the aspects a seamstress looks for in a sewing machine.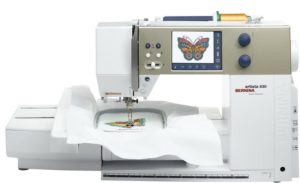 One can attain nice and crisp results when sewing with this machine. It can sew at very high speeds on a consistent basis. All of this, without skipping a stitch or two. Also, the fact that it is computerized allows the users to attain pinpoint accuracy with the projects. This machine would make an average seamstress feel like a professional one because of its ease of use and high efficiency. Without a second doubt, it is one of the best versatile sewing machines present on the market today.
Specifications & Features: It is a versatile sewing machine that features as many as 480 built-in stitches. These 480 built-in stitches include 27 practical stitches, 188 decorative stitches, and 25 quilting stitches. It also inherits 7 automated buttonhole styles, 4 monogramming options, and 2 mending programs.  One can browse through all the stitch options with the help of the LCD touch screen which is very easy to navigate. Also, it comes with a USB port that allows you to download designs. It is an exciting sewing machine that would give you the liberty to sew, quilt, and do embroidery, all at once.
Maximum stitch can be adjusted to 5.5 mm while the length can be stretched to 5mm. It can sew with two needles with a time which fastens the sewing processes. Features like automatic needle threader and thread cutter help the users to save a lot of time while sewing. The inclusion of a wide table allows us to undertake large quilting projects like curtains. One can vary the speed with the speed control level and sew at the desired pace.
Our Expert Opinion: This machine is so good that it can compete with some of the top sewing machines on the market today. It can even rub shoulders with some of the high-efficiency industrial sewing machines. In fact, it can excel many of those just because of its advanced innovation that has gone in the machine. The company has managed to inherit almost every feature that a seamstress looks forward in a machine. It could be used for all type of professional works without hiatus.
It is sturdy to the core and provides effective results. The quality of the stitch is over par. One can rest assured of getting professional results every time you sew with the machine. It has the ability to deal with a wide range of fabrics regardless of its stubbornness. From rugged sewing to intricate embroidery work, this machine can handle all type of assignments without much complaint. Yes, spending $2000 on a sewing machine can be a daunting affair, but every penny spent on the 630E is worth it.
Now that we have discussed almost everything about Bernina sewing machines, we would like to conclude our blog dedicated to the reviews of sewing machines from Bernina. For those mixed up with Bernina and Bernette, Bernina is the parent company of Bernette. They use the name Bernette to produce sewing machines for the domestic market.
One thing we found out about the Bernina sewing machines is its quality. The Swiss makers haven't compromised on the quality of product and are second to none in terms of efficiency. However, with quality comes a hefty price tag which is quite obvious considering the productivity that Bernina provides.
Seamstresses who are serious about sewing or people who sew to run small-time businesses, these machines can be a boon. You can loom up to the Bernina/Bernette sewing machines as a one-time investment. At no point in time, you would feel less good about the amount of money you spend to buy Bernina products.
We hope that we had answers to all the questions you had in mind before reading this blog. If at all, any one of our readers thinks that a particular sewing machine is worthy of a mention on the list, write to us in the comments section below. We would be happy to review it for you.