Teenagers, in most of the cases, can be considered as beginners. They are either starting up with picking up the art of sewing or either trying to hone their skills. Thus, an entry-level sewing machine is more than enough to suffice the needs of a teenager. In the blog today, we discuss 7 superlative sewing machines for teenagers that would help them to build on their particular set of skills.
Sewing is an art, and it takes a lot of effort and skill to master it. Having said that, it is always a good habit to learn the skill right from the early days. This not only helps you to understand things in a better way but also gets you acquainted with the dynamics of a sewing machine.
Top Sewing Machines for Teenagers on the Market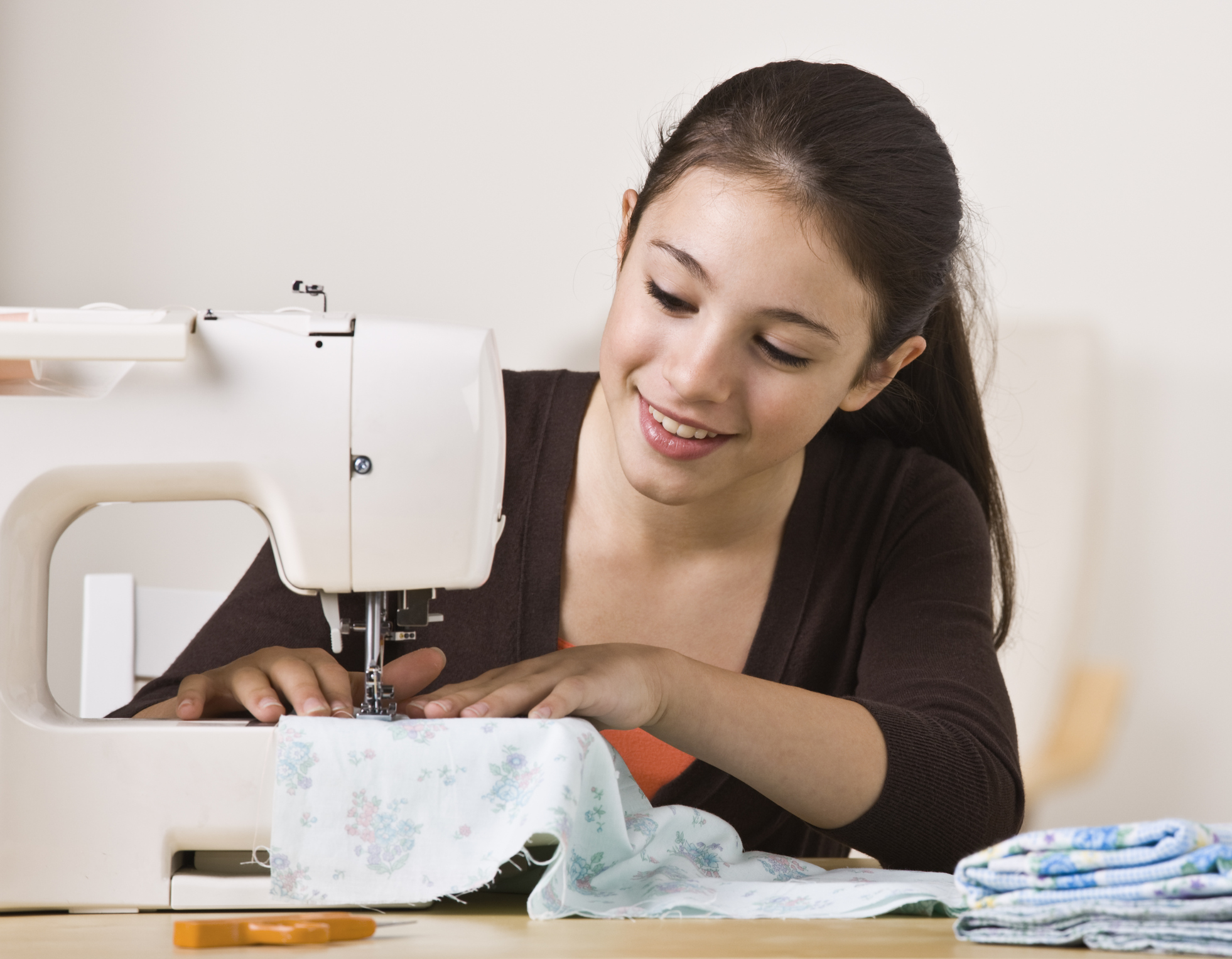 Considering what an average teenager needs from a sewing machine, it is a non-arguable fact that an entry-level or at the most, an intermediate-level machine could be apt. It completely depends on the skills acquired by the teen and the level of difficulty. There are numerous machines on the market in the present day, and choosing out the best one can indeed be a daunting task. Therefore, we review some of the best sewing machines for teenagers that suffice all their needs and demands.
Which could be an ideal sewing machine for teenagers?
There are a lot of factors that make a particular sewing machine apt for a particular age. In this case, the features that are most searched in a machine are:-
Easy to use
Automatic needle threader
Automatic bobbin winder
Speed Control
Ample number of built-in stitches
Versatility
Ability to deal with an extensive range of fabrics
Lightweight and Portable
It is an undoubted fact that brands like Janome, Singer, and Brother have an impact on the market, especially when it comes down to producing entry-level sewing machines. No surprise that most of the machines we are going to review are produced under these three banners. Qualities such as ease of use would be given top priority while reviewing a sewing machine. We don't want our teenagers to get bored and give up on the art of sewing by getting bugged up by their respective sewing machines.
In a hope that many teenaged seamstresses would find the blog useful in order to find the perfect sewing machine, we take on some of the models to simplify the choosing process.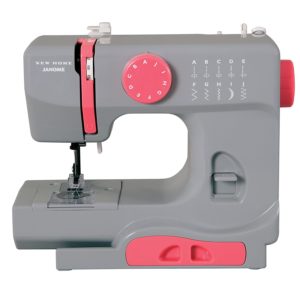 Janome is one of the best brands that deliver outstanding products at an affordable price range. This sewing machine is no different. It is well-equipped, full of features, lightweight, and could do about any basic project with utmost ease. Graceful gray is a nice simple machine where a person can learn the dynamics that go into the art of sewing. It serves as a decent machine for the home-users along with young students and small children. Also, it could be used as a backup by the professional seamstresses in case their primary machine runs out power.
Specifications & Features: The portable sewing machine is apt for undertaking basic sewing assignments along with all kind of alterations. It inherits as many as 11 built-in stitches that include a zigzag stitch, crescent stitch, and a straight stitch. It also boasts 2 needle positions in all. The machine is easy to thread as one can rely on the threading diagram to fasten up their threading processes. Top drop-in bobbin is fitted with a clear cover which smoothens the setting up process. Finger guard makes it an effective sewing machine for kids as it protects the tiny fingers from running under the needle.
Our Expert Opinion: The best trait of the machine is it allows the users to flip through the settings with ease. It is a decent machine for the users who are new to the art of sewing. It would help them go through each sewing process slowly and steadily. Also, the fact that it weighs around the 5-pound mark makes it an excellent machine to be carried around, especially in the sewing classes.
Not all seamstresses would be happy with the number of preset stitches. 11 is fairly a low number compared to what its counterparts have to offer. Also, one cannot deal with stubborn fabrics with the machine. It is simply good for the basic fabrics like cotton. It is not an ideal machine for someone who has worked on a nice sturdy machine. Overall, it is a great machine for the beginners, but even they would have to upgrade when they acquire a particular set of skills.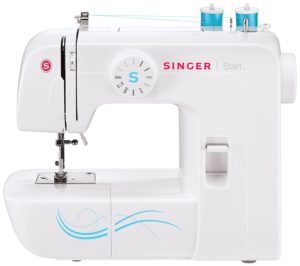 Singer 1304 is a great machine for seamstresses of all entry-level and intermediate-level seamstresses. It is not just packed with all the necessary features, but also has a very simplistic approach and is offered at a very low price. Thus, it attracts a lot of newcomers and people who are trying to take up sewing as a hobby. Its compact design is much-loved by the seamstresses along with its weight. It may not have fancy features but boasts enough of them to accomplish any basic project thrown at it. The heavy-duty metal frame from which the machine is built with help to provide the desired sturdiness to the users.
Specifications & Features: It is a free arm portable machine designed for the entry-level and intermediate seamstresses. Singer 1304 consists of only 6 built-in stitches. However, the restricted amount of built-in options allows the company to inherit the desired simplicity on their machine. It is inherited with the twin-needle system that allows you to stitch at a fast pace. The automatic bobbin winding system is one to lure the beginners. 25-year limited warranty from Singer can assure you that the machine is built for the longer run.
Our Expert Opinions: All and out, it is a safe investment in a first place. Singer 1304 wouldn't disappoint you at any stage, especially when you are in the learning curve. Setting up this machine is a cakewalk. Easy as it gets, one can simply follow the diagrams to set up the machine and start sewing immediately. Although it has a limited number of built-in features, there are enough for one to complete the project without getting confused. The compactness of the machine makes it an apt device for the home user.
Not everything can be perfect when a machine is offered at such a low price. One does not get the desired automatic speed control as one has no option but to control the speed using the foot pedal. Having said that, it is also a nice exercise for the learners to sew with the foot pedals. There are infrequent jams which might ridicule a seamstress. But once a seamstress understands the machine and its dynamics completely, it is an excellent go-to option. It is safe to term it as one of the best sewing machines for teenagers.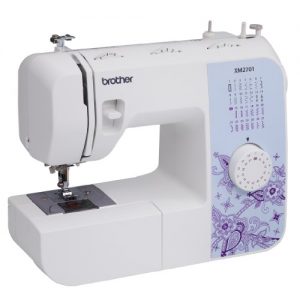 This is one of the top contenders when we consider all the sewing machines for teenagers. It has all the necessary features that a seamstress looks forward to especially in his or her early days at sewing. It is a versatile sewing machine unlike most of the machines on the list. Not only it can sew but can also deal with quilting assignments. It offers you all the elements to bring your ideas to life. It is a quiet machine that is efficient to carry out almost all the work thrown at it. It is also capable of undertaking some intricate projects without creating a fuss.
Specifications & Features: Brother XM2701 consists of 27 built-in stitches that include blind, hem, decorative, and zigzag stitches. Along with an extensive range of stitches, it also consists of a single-step buttonhole. It includes 6 sewing feet which can be used to undertake a wide array of projects. It boasts a very easy needle threading system. Also, the top drop-in bobbin is one to look forward to. The free arm lets you work on large projects and sewing assignments that include stitching of cufflinks or collars. Just like the Singer model mentioned above, it gives a 25-year warranty to its customers.
Our Expert Opinion: The feature-packed machine is great for seamstresses of all skill levels. It is lightweight and can be around quite easily. 15 pounds is nothing when it comes to the overall weight of a machine that can produce such excellent results. Also, apart from a wide range of built-in features, it boasts an automatic buttonholer which attracts a lot of seamstresses towards the machine.
One thing that the machine lacks it is the ability to deal with stubborn fabrics. It cannot deal with harsh fabrics like leather and jeans. However, it is wise to overlook this feature considering that the machine is offered at a very low price. It is safe to call it a beginner's delight. It is quiet, efficient, productive, and can manage a lot of sewing assignments with utmost ease.
The computerized sewing machine is one of the best budget-friendly sewing machines on the list. It is not only feature-rich but produces excellent results with a greater speed. Designed in a vintage style, it boasts a large working space for the seamstresses who desire to undertake big projects. Also, it is versatile, like most of the computerized sewing machines are supposed to be. It can undertake a wide array or sewing assignments like quilting. Decorative stitches and basic embroidery stitches can be undertaken.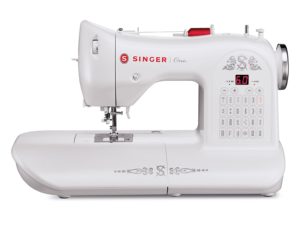 It consists of a SwiftSmart threading system that fastens up the entire threading system. It does save a lot of time and patience of the seamstress. Hence, this trait could come in handy to a teenager who can get annoyed quite fast. It is a strong and sturdy sewing machine which is supposedly made to last for a very long time.
Specifications & Features: The machines consists of more than 200 built-in stitches. To be précised, it boasts an extensive range of 220 stitches. Each of the stitches can be customized in regards to its width and height. The heavy-duty metal frame makes it a machine apt for seamstresses who want to dig deep in the world of sewing. Also, 25 years limited warranty tends to attract a lot of seamstresses from around the sewing fraternity.
The fact that it is computerized makes it easy for the seamstresses to browse through 200 odd designs. One can have a complete control over the speed. Such features allow the beginners to grow with the machine. You can even magnify and rectify your stitches before putting it into effect. This gives you the freedom to bring your well-thought designs to life.
Our Expert Opinions: It is a great device that can churn really surprising results. However, all machines have their own set of perks and flaws, and it is no different. One of the best features we found out in the machine was the chain stitch. However, one cannot edit once the final stitch is applied. It is easy to pick out all the basic and necessary stitches from the front side of the machine using a push button. When one considers a sewing machine for teenagers, this should be on the top of the priority list.
We love the fact that it is computerized which definitely offers some creative edge to the users. Also, most of the features are automatic making it easy for the entry-level seamstresses to get the knack for the machine. It is sturdy, powerful, automated, and very easy to use making it one of the best machines to use on the list.
Magnolia 7318 is a machine produced by the Japanese company Janome in order to smoothen all the basic and intermediate-level sewing assignments. Having said that it is a simple machine packed with features and easy usability. Even a novice can learn the art of sewing on the machine. Everything is well-laid in order to get acquainted with the machine without cribbing and banging your head behind the dynamics. Although it does not boast a lot of features, it consists of few but very efficient ones. Right from sewing to quilting, the machine is capable of dealing with an extensive range of projects.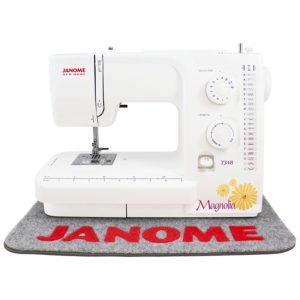 Without a doubt, Janome Magnolia has to be one of the easiest machines to be sold on the market in the present age. The end product of the machine is good too. The stitch quality is over-par and proves worth for every penny spent on it. It is compatible with sewing feet from other brands in case one is not happy with the 3 feet that come with the machine.
Specifications & Features: Apart from the core unit, Janome Magnolia 7318 comes with a wide range of accessories. These accessories include a muffling mat, 14 needles on one pack size, 10 bobbins, etc. Now coming back to the machine, it consists of 18 built-in stitches and a single 4-step buttonhole. The buttonhole is fitted with balance adjuster for it to work smoothly on stubborn fabrics. The top drop-in bobbin is jam resistant to greater functionality. The machine is inherited with a 7-piece dog feed system that ensures precision with every fabric that is thrown at the machine.
Our Expert Opinions: One of the very reason that seamstresses of all levels are inclined towards this machine has to be its versatility. Whether it is quilting assignments or sewing projects that require simple straight sewing, the machine is capable of all of it. Also, its ability to perform decently on stubborn fabrics is an added advantage. Although it is befitted with a strong and powerful motor, it is quite enough when the operations are being carried.
The machine tends to provide professional-looking results every time a project is being sewed on it. The design is well within the marks of ergonomics. The only drawback we could figure out in the machine was the position of the drop feed. One has to get up from the seat every time to readjust it. It is considered as the Amazon's top choice which speaks volume of the machine. This could, well, be the perfect sewing machine for teens.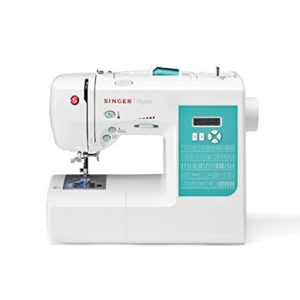 It is one of the fastest-selling models of Singer which reflects upon the make and break of the machine. Singer 7258 is a well-designed machine known to provide excellent results within a limited time period. It has a lot of innovative features that make sewing comparatively easy than working on the other models. It might look delicate on the very first look but is powered by a very sturdy motor that is capable of dealing with a wide range of fabrics. For the price at which it is offered, it is no brainer that it is worth every penny. In fact, it is safe to say that it exceeds the expectations and the market value for which it is sold at.
Specifications & Features: The machine, as suggested in the name itself comprises of 100 built-in stitches that include 9 basic, 8 stretches, and 76 decorative stitches. Along with a decent number of stitches, it also boasts as many as 7 fully-automated buttonholes. Therefore, regardless of the sewing assignment, the machine would have a store for the proposed project in the store. One can guarantee that the creativity wouldn't die a natural death when you have an efficient machine like this one at your disposal.
It is believed that the needle can be threaded in just 6 seconds. That is definitely a turn-on feature for the restless teenagers who might get frustrated with the time consumed by other sewing machines to thread the needle. Singer 7258 is said to sew at the top speed of 750 stitches per minute. 25-year limited warranty adds yet another reason for the seamstresses to turn towards this machine.
Our Expert Opinion: Being in the top ranks of the consumer's digest for a couple of years, the machine reflects the excellence and proficiency that is required to construct an overall component product. Regardless of how bad a seamstress you are, you would eventually pick up the art of sewing by working on this machine on a consistent basis. Personally, I wouldn't mind spending 50 odd dollars extra to have this machine at my disposal.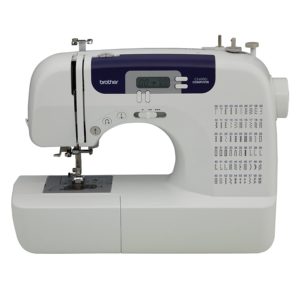 We saved the best for the last. Without a second thought, Brother CS6000i is the best machine you will use as a teenager. It has all the features that would suffice the talented seamstress in you. Not only will it let you know the dynamics of using a full-fledged computerized sewing machine but would also help you to put your ideas to great effect. There is no second to the machine when we discuss sewing machines for the beginners. Versatile as it gets, you may encounter this machine in every third blog of ours.
Specifications & Features: The machine is packed with 60 built-in stitches along with 7 styles of buttonholes. Along with the elongated features, it comes with a quilting table and a clear cover. One can select the stitches using the LCD screen. Also, speed can be varied according to one's preferences. It is easy to thread and the top drop bobbin is equally easy to wind. One can get started with a lot of features with just a push of the button.
Our Expert Opinions: The less we talk about the machine, the better. It is an absolute peach of a machine. Brother CS6000i is powerful, sturdy, easy to use, feature-rich, and affordable. We do not think any of the machines on the list can put a green tick on each of the factors put forward before buying a sewing machine. We can assure you that we are not hyping the machine even for a bit. For the price at which it is offered, it has to be one of the cost-efficient yet productive sewing machines on the market.
We hope that you got the perfect sewing machine for teenagers from the distinct list of top 7. For more sewing machine reviews and tips, you can log on to our website www.sewcare.com.